Wanna know how to make chocolate pie recipes for Christmas??? Got down to the right place.Stop struggling between choosing a healthy or a tasty chocolate pie recipe. Because here, you'll find both coexisting.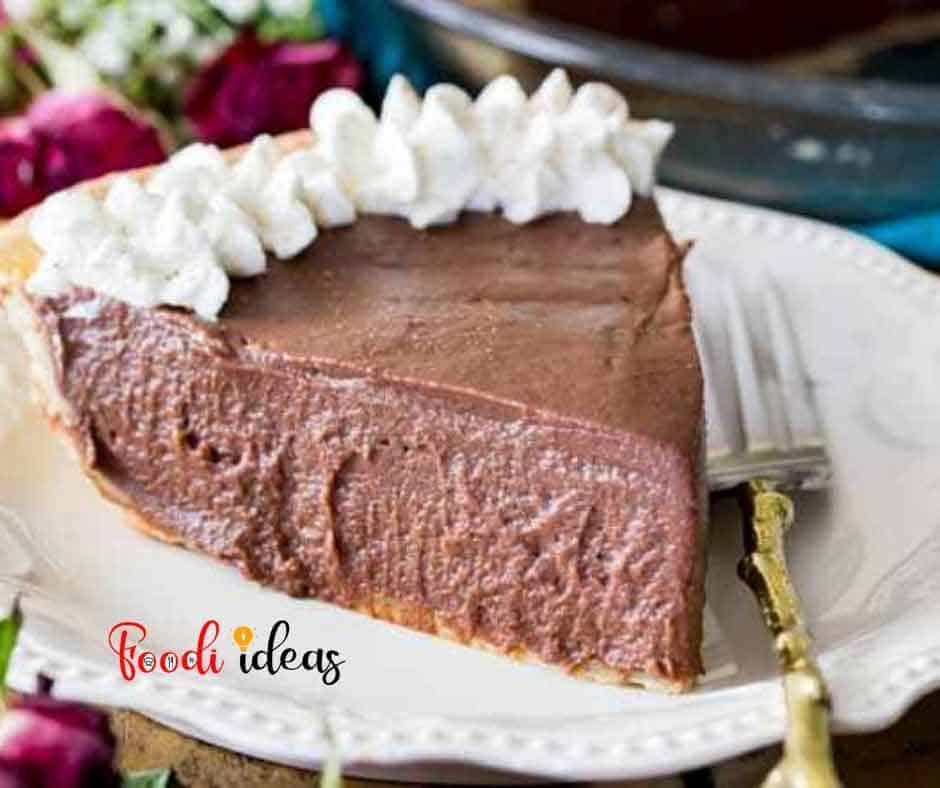 Either you want to make a Christmas pie for your family or even the neighbors', relax and keep following the given recipe. It will surely pay off beneficial.
Savor your Christmas with the added effect of chocolate, butter, and cream put together on a crusty and crackling pie base.
Beguile your taste buds with the slaying essence of this chocolate pie and stay tuned up for more but first have a look at the equipment that is needed for this recipe.
Equipements Required For The Chocolate Pie
Measuring cups
Measuring spoons
Mixing bowls
A hand whisk
An electric beater
A food processor
Wax paper
Tinfoil or parchment paper
An oven-safe glass pie mold
Rolling pin
Plastic sheet
A knife
A Fork
Saucepan
An electronic balance
A spatula
A double boiler
An oven
Oven gloves
A cutter
Nutrition Facts
18 servings per container
---
Calories430
Amount Per Serving% Daily Value *
Total Fat 29g

45

%
Cholesterol 75mg

25

%
Sodium 240mg

10

%
Amount Per Serving% Daily Value *
Total Carbohydrate 38g

13

%

Dietary Fiber 1g

4

%
Sugars 25g

Protein 4g

8

%
Vitamin A

10

%
Calcium

6

%
Iron

8

%
* The % Daily Value tells you how much a nutrient in a serving of food contributes to a daily diet. 2,000 calories a day is used for general nutrition advice.
Top Servings
Banana topping: layer a few slices of banana on the top
Cherry topping: cut the cherries in half and layer on the top
The cocoa powder: you may sprinkle some cocoa powder on the top
Blazed creamy topping: bake the pie topped with cream in the oven for 5 minutes
Peanut butter topping: you may add peanut butter to your frosting if desired
Oreo topping: put some whole Oreo biscuits on the top or even crushed
Mint essence: add a few drops of the mint essence to your frosting
Almond essence:  you can also add it to the frosting
What Is Chocolate Pie Made of?
This chocolate pie recipe is just a mousse exalted by the magical effects of chocolate, butter, eggs, sugar, and cream.
Conclusion
This tempting recipe is ranked terrific amongst all the chocolate pie recipes for Christmas. As you take the very first bite of it, you revel in the real goodness of creamy, fluffy palate of the actual chocolate pie.
Try this enticing recipe and let us know if this savory pie melted your heart.
Let me know after trying this recipe in the comment box or share the best recipe for this Christmas that you make at your home and I will share it on my blog with your name and photo.
Check Also:
Quick and Easy White Christmas Pie Recipe
Authentic Italian Chicken Pasta Recipe
Alfredo Sauce Recipe With Milk – A Quick And Easy Method
Better Than Olive Garden Alfredo Sauce Recipe in 8 Easy Steps
Olive Garden Fettuccine Alfredo Pasta Recipe
For the past three years, I have been consciously making efforts for a healthy lifestyle, and I must say it has done wonders! From the better appearance, energized body to a peaceful soul, It has helped me attain it all and Now I am here at foodiideas with all my expertise and experiences. Read More…