Dates are eaten as a whole and incorporated in a variety of recipes all across the world. However, when it comes to dates, they can be ground into a paste that can be included in many dishes.
Can date paste be substituted if you don't have any on hand or want to experiment with something different in your dish?
Date paste can be substituted with a raisin paste, jaggery, fig paste, honey, or prune paste, to name a few substitutes.
Keep scrolling to read all the reasons why and how you should swap date paste in your recipes.
5 Best Date Paste Substitutes
Don't worry if you find it difficult to substitute dates due to their natural sweetness and ripeness. I researched the most delicious date paste substitutions so that you can prepare your dish while creating the most delicious and exquisite meals for your family or loved ones.
Dates are widely available and popular owing to the nutritional advantages they provide. In addition, they have a naturally sweet flavor, which is useful in certain dishes.
Listed below are the best replacements for date paste that are likely to yield similar outcomes.
Raisin Paste
Jaggery
Fig Paste
Honey
Prune Paste
1. Raisin Paste
If you are on a tight budget and need a perfect alternative for date paste, raisin paste is a terrific choice. You will enjoy this wonderful low-calorie sweetener while using it in place of date paste.
Raisin paste is prepared by soaking raisins in hot water for an extended period. They are then blended until they have a very fine creamy texture, nearly similar to peanut butter, after around 10 minutes.
Because raisins contain a significant quantity of natural sugar, they are somewhat sweet. As a result, raisin paste is an excellent way to add sweetness to sweets without adding calories.
You can use raisin paste to sweeten baked items such as muffins or scones, which will make them taste even better. For instance, try a spoonful of this paste on top of vanilla ice cream or over one of your favorite bread.
Raisin paste is much easier to store than an entire bunch of fruits. As a bonus, they are less expensive than dates, making them an excellent substitute for those on a tight budget.
How Much Can You Substitute Raisin Paste for Date Paste?
Substitute in a 1:1 ratio. For example, if a recipe asks for two tablespoons of date paste, you should substitute two tablespoons of raisin paste to replace the date paste.
Health Benefits of Raisin Paste
Raisins are high in natural sugars and complex carbs and fiber, which provides the body with a fast burst of nutritional energy(1).
One gram of iron is found in 2 ounces of raisins. Iron is a mineral necessary for blood oxygen circulation and immune system maintenance(2).
Iron, calcium, and a plethora of antioxidants are found in raisin paste, which can aid in the removal of free radicals from your bloodstream thus, preventing cell damage(3).
Drawbacks of Using Raisin Paste as Date Paste Substitute
Raisins contain a lot of calories. Approximately 299 kcals are included in a 100-gram serving of raisins. Therefore, it is recommended that you consume raisins in moderation if you are on a weight-loss regimen and attempting to shed those excess pounds.
Raisins are a great source of various nutrients with numerous health and aesthetic advantages. Some people, however, may be allergic to raisins, and they should avoid eating them(4).
Raisins are high in antioxidants and dietary fiber. Even though dietary fiber is beneficial to our digestive system, it is best to consume raisins in moderation to be on the safe side. Because consuming an excessive amount of dietary fiber is detrimental to your digestive health and may result in poor nutrient absorption, intestinal obstruction, and intestinal gas(5).
2. Jaggery
Jaggery is mostly used as a sweetener in baked goods and sweets. But, on the other hand, it is not far behind white sugar in terms of calorie content.
It is an unprocessed, pure kind of sugar that contains the natural benefits of minerals and vitamins derived from sugarcane. Jaggery is a natural sweetener that beneficial for your health.
It is available in three different forms: solid, liquid, and powder.
Jaggery is steadily gaining popularity as a healthier alternative to traditional white sugar. It is also referred to as 'medicinal sugar,' as it is advantageous in various ways.
When it comes to substituting date paste with jaggery, it is most commonly used as a sweetener, notably in confectionery products.
How Much Can You Substitute Jaggery for Date Paste?
It is not rocket science to substitute jaggery for date paste in any recipe.
In general, I recommend substituting jaggery for the date paste in a 1:1 ratio. You can adjust the sweetness according to your taste as well.
For example, instead of one cup of date paste, one cup of jaggery would be used.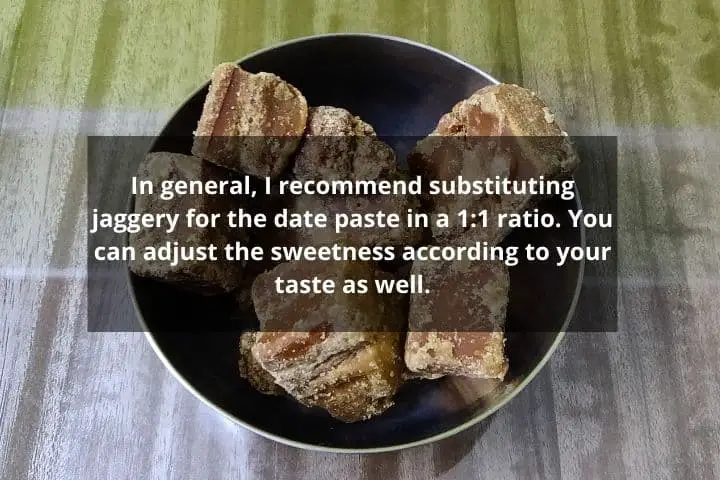 Health Benefits of Jaggery
Jaggery is well-known for its ability to deliver instantaneous energy to the human body.
Because of its laxative properties, jaggery helps to avoid constipation and stimulates the production of digestive enzymes.
Its health benefits are attributed to the antioxidants and minerals present, which means that it helps to remove mucus from the lungs and helps clean the respiratory and digestive systems from the inside. In addition, eating jaggery at least once a day can aid in cleansing your entire body from harmful toxins(6).
Jaggery has a high concentration of minerals such as iron and phosphorus, which are essential for forming hemoglobin in the body. Therefore, consuming jaggery is an excellent choice for persons who have a poor iron diet or are at risk of developing iron-deficiency anemia(7).
Drawbacks of Using Jaggery as Date Paste Substitute
It is recommended to prevent excessive use of jaggery since it might cause stomach upset.
Jaggery is still simply sugar, and whatever additional nutrients you obtain come at the expense of many calories.
Although jaggery has a better nutritional profile than dates, it is still heavy in calories and should only be used in moderation as a sweetener.
3. Fig Paste
Fig Paste is a thick liquid created by cooking dried figs in water until they are soft. It's perfect for adding in sweets, pastries, pancakes, and hot drinks.
Figs have a tremendous amount of sweetness, making them a perfect date substitute. In addition, the paste is better than keeping a huge stock of figs since it requires less storage.
It is possible to use your fig paste as a date substitute in any recipe that calls for date paste.
You can top your ice cream with fig paste. Fig-flavored delights are a healthier alternative to traditional desserts.
Fig paste is a fantastic binding ingredient for waffles and cereal bars, as well as other baked goods. It can also be used as a basis for desserts such as puddings. In addition, it can be used to enhance the color of baked items and enhance their flavor. 
How Much Can You Substitute Fig Paste for Date Paste?
If you want a true fresh fig flavor, use dried figs instead of fresh figs. Any alternative substitute will have a distinct flavor of its own.
You must replace the date paste with a 1:1 ratio of fig paste.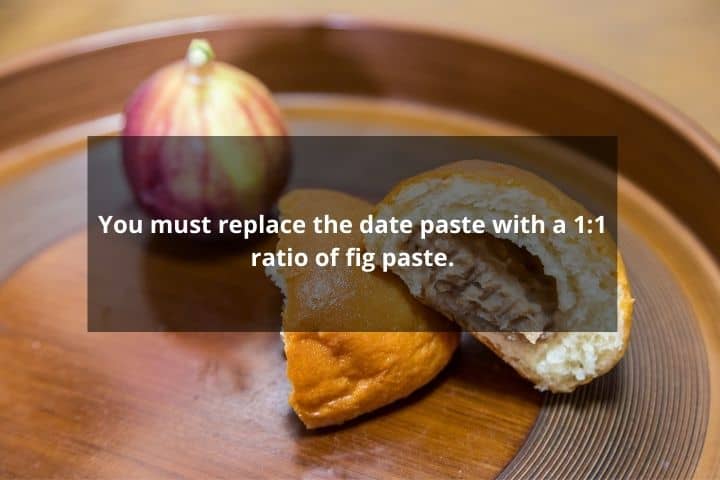 Health Benefits of Fig Paste
Figs have high fiber content. That is why they are advised as a natural laxative. Dietary fiber aid in the management of one's weight. It promotes feelings of satiety, which in turn leads to reduced sweet cravings(8).
Figs are high in potassium. The presence of potassium aids in the regulation of sodium imbalance, reducing the likelihood of developing hypertension.
The calcium in fig paste is beneficial in terms of boosting bone density in the body.
Prebiotics are found in fig paste, which is essential for maintaining a healthy digestive system.
Drawbacks of Using Fig Paste as Date Paste Substitute
Given the limited season and shelf life of figs, they can be tough to obtain. They are also a difficult fruit to substitute in a recipe.
Figs, both fresh and dried, contain a significant amount of vitamin K. It is recommended that people on blood-thinning drugs avoid eating figs since the vitamin K levels in their diet must be maintained at a normal level(9).
Figs contain a large amount of fiber. So, consuming an excessive number of figs, particularly dried figs, might result in diarrhea.
4. Honey
In baking, honey can be used as a substitute for dates to reduce calories and sugar intake. However, it is crucial to realize that different varieties of honey might have differing effects on the taste of your food when you are substituting honey for dates in baking.
Light & Mild honey is ideal when you are looking for a basic sweetness from your baked goods, and you want the honey flavor to be more of a supporting flavor.
When you want the flavor of the honey to come through and be the star of your dish, then dark & rich flavor is the way to go.
Honey retains moisture, which is fantastic news for bakers because it helps make biscuits, cookies, and cakes moist.
How Much Can You Substitute Honey for Date Paste?
You can replace honey for the date paste as per your liking.
It is recommended that you use 1/2 cup of honey for every 2/3 cup of date paste.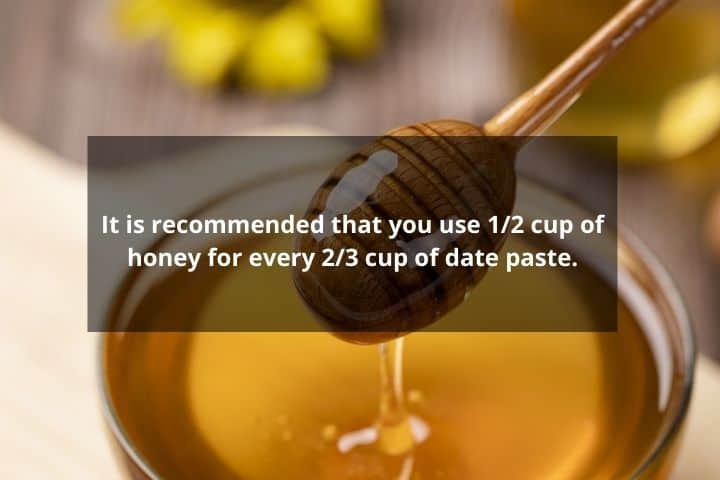 Health Benefits of Honey
Honey of high grade provides a significant amount of essential antioxidants(10).
Honey has a long shelf life as compared to date paste. A high source of phenols and other antioxidant components present in honey makes it have a longer shelf life.
Honey has been shown to lower the chance of developing heart disease(12).
Drawbacks of Using Honey as Date Paste Substitute
Honey bakes more quickly, so reduce the temperature of your oven by 25 degrees to avoid over-browning your baked goods.
Honey has more calories than dates. Dates have 277 calories per 100 grams of weight, whereas honey has 304 calories per 100 grams.
Honey has been shown to reduce the risk of heart disease in patients with diabetes. However, because it also elevates blood sugar levels, it cannot be considered healthful for those with diabetes.
If you don't have honey, you can use these honey substitutes.
5. Prune Paste
For me, prunes would be the favorite fruit that can be used to substitute dates properly. They have a plum-like flavor with hints of sweetness.
Prunes have a sticky and chewy texture. The most significant distinction between the prunes and dates is that: date is fruit on their own, whereas prunes are derived from plums.
 As a result of their comparable texture and flavor, they make for excellent substitutions for one another.
Did you know that prune puree may be used in baking to substitute fat?
Prunes also benefit from not altering the flavor of baked products while lowering their fat content, allowing them to remain wonderfully moist. This property of prunes is such a blessing for bakers.
It is possible to grind, blend, and emulsify prune paste to use it in various sweet or savory dishes instead of date paste.
Because of the presence of sorbitol in prune paste, it tastes sweeter than other pastes while containing less sugar.
It can also be combined with other fruit pastes to create a more complex flavor. For example, you can try a 50/50 combination of prune and date paste for a delicious dessert.
How Much Can You Substitute Prune Paste for Date Paste?
You can substitute prune paste with date paste in a 1:1 ratio.
That means 1 cup of date paste can be substituted by one cup of prune paste.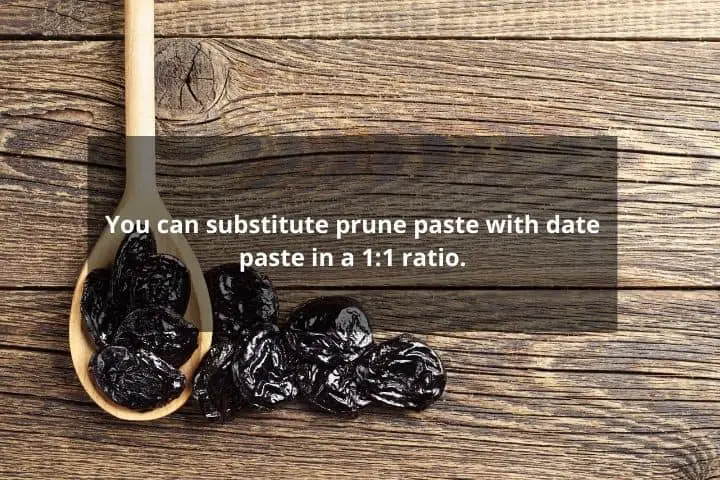 Health Benefits of Prune Paste
Prunes have a lot of fiber, which helps to avoid hemorrhoids that are caused by constipation. In addition, because of the high sorbitol level in prune paste, it has laxative properties(13).
The potassium included in prunes is a rich supply of electrolytes, which is important for a range of key body activities. For example, this mineral is beneficial for digestion, heart rhythm, nerve impulses, muscular contractions, and blood pressure control and regulation(14).
Prunes are not only high in potassium, but they also contain several important vitamins. In addition, prunes also contain significant minerals such as manganese, copper, and magnesium, among others.
Drawbacks of Using Prune Paste as Date Paste Substitute
Prunes contain sorbitol, a sugar that can produce gas and bloating if consumed in large quantities. In addition, prunes have a lot of fiber, which might induce gas and bloating in certain people.
Prune fruits contain a high concentration of insoluble fiber, which can induce or aggravate diarrhea.
It is possible to develop an allergy to prunes due to some levels of histamine in the fruit.
Take Away
Many individuals believe that dates are bad for them since they are high in natural sugar. As a result, they attempt to substitute them with more beneficial alternatives.
However, while none of these above-explained alternatives is the final solution for replacing date paste, they do have the advantage of having more influence on blood sugar and providing at least a little nutritional content than dates.
It is important to consume these substitutes such as raisin paste, jaggery, honey, prune, and fig pastes in moderation to obtain the optimum health benefits.
In the comment section below, let me know which date substitute you will be using in your next recipe paste?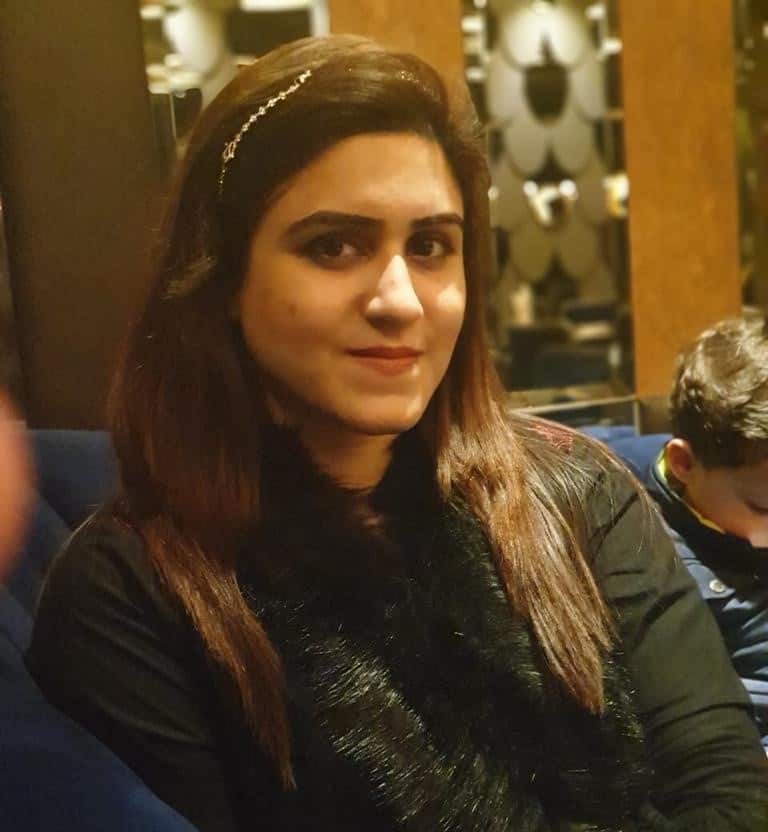 A nutrition degree holder and a foodie by heart, Madiha Saad loves to inspire people through her writings and uses her knowledge and experience to write articles on trending nutrition topics. She loves to develop new recipes in her pastime. Read More…