Missing out on a key herb such as rosemary?
Are you looking for a Rosemary Substitute that is readily available and also easy to use?
We got your back!
We tried and tested more than 15 herbs and found out the 6 most fantastic rosemary substitutes that are sure to spare you a last-minute trip to the grocery store.
Most of them are either already in your spice rack or growing in your backyard.
If not, we highly recommend you start planting these herbs in your home even if you don't have a backyard.
These herbs grow surprisingly well, even in small pots. There are tons of DIY ideas over the internet that can help you with it.
If you are not a plant person, another way is to stock up on dried herbs! Dried herbs and spices can be kept for years if stored properly, and they always, always come in super handy!
Moving on to the rosemary substitutes:
Sage, Thyme, and Tarragon all make an amazing substitute for rosemary in most dishes. But what works best is dried rosemary because it has the exact same taste profile as fresh rosemary. All you have to do is tweak the amount used.
Did you know rosemary is the most strongly flavored and aromatic herb out of all?
It has a distinguishable pine-like flavor with clear citrusy notes. This particular herb is mostly used in Mediterranean cuisine.
Here is the list of substitutes along with their total calories and fats.
| # | Substitute | Total Calories | Fats |
| --- | --- | --- | --- |
| 1. | Sage | 4.1/ 1Tbsp | 22% |
| 2. | Tarragon | 1.5/ 1Tbsp | 21% |
| 3. | Thyme | 2.8/ 1Tbsp | 23% |
| 4. | Basil | 0.6/ 1Tbsp | 9.68% |
| 5. | Caraway Seeds | 22/ 1Tbsp | 0.9 grams |
| 6. | Dried Rosemary | 11/ 1Tbsp | 0.5g |
1. Can Sage Be Substituted For Rosemary?
The first substitute is a culinary favorite, Sage. It makes for a good Rosemary substitute in most dishes, as it has a strong and distinct flavor that goes well with most European and Mediterranean cuisines.
Like Rosemary, Sage too belongs to the mint family.
It has a similar pine-like flavor, which makes it a holiday favorite herb.
Although it's not as strong a herb as rosemary, it has its own distinct taste, which pairs well as a substitute in recipes that call for rosemary.
However, we recommend using it in minute quantities when substituting rosemary, for it has its own very distinct fragrance, which although may not contradict the dish. Still, if used in large quantities, it may not pass off as rosemary.
How Does Sage Look and Taste Like?
The sage herb is made up of oval-shaped, slightly large velvety leaves. The velvety texture of the leaves makes it impossible to use the herb raw. However, when cooked, the texture goes unnoticeable.
Sage has pine-like, warm, and earthy flavors that best remind us of warmth during a cold winter feast.
How Much Sage Should You Substitute In Place Of Rosemary?
Use ½ tsp of dried sage to substitute 2 tbsp of rosemary
Use 1 tbsp of fresh sage to substitute 2 tbsp of rosemary
Sage Is Widely Burnt and Used as A Cleanser
It is widely burnt and used as a cleanser in many cultures.
It is thought that it purifies the soul and cleanses the aura. (1)
Other Uses:
Sage tastes amazing when paired with eggs and meat.
Sage infused butter is another popular condiment that pairs well with Mediterranean dishes.
2. Can Tarragon Be Used In Place Of Rosemary?
Tarragon makes an amazing rosemary substitute because of its similar taste profile.
Tarragon adds the right amount of spice and pine-like flavor to the dish, similar to rosemary. However, it does have its own distinct smell, so less is more when replacing Rosemary with Tarragon.
How Does Tarragon Taste and Look?
Tarragon, also known as the dragon herb, has bright green pointed and perky leaves. Both the leaf and stalk of the tarragon are used to flavor dishes.
Tarragon has an intense set of flavors with a distinct and favorable hint of citrus, just like Rosemary that binds well with every dish. However, due to the estragole presence, the tarragon has a pungent, licorice-like taste, unlike that of Rosemary. 
How Much Tarragon Should You Substitute In Place Of Rosemary?
Use 1 tsp of dried Tarragon to replace 2 tbsp of fresh rosemary
Use ¼ cup of fresh Tarragon to replace ½ cup of rosemary
Tarragon Works As A Natural Period Stimulator
Tarragon is widely used in cooking for its tremendous benefits, which include:
It promotes good gut health. Anyone suffering from indigestion can benefit from it. (5)
It helps heal toothaches. A compound called Eugenol in Tarragon is known for its numbing properties. For centuries it had been used as a mild anesthetic, which works well on minor pains. (6)(7)
Tarragon also works as a natural period stimulator, making it an amazing ingredient for those who fight with irregular or delayed menstruation. (8)
We have compiled an image for you that contains all the names of the substitutes along with the amount to be substituted in place of rosemary. The best part is you can save it on your phone for later use.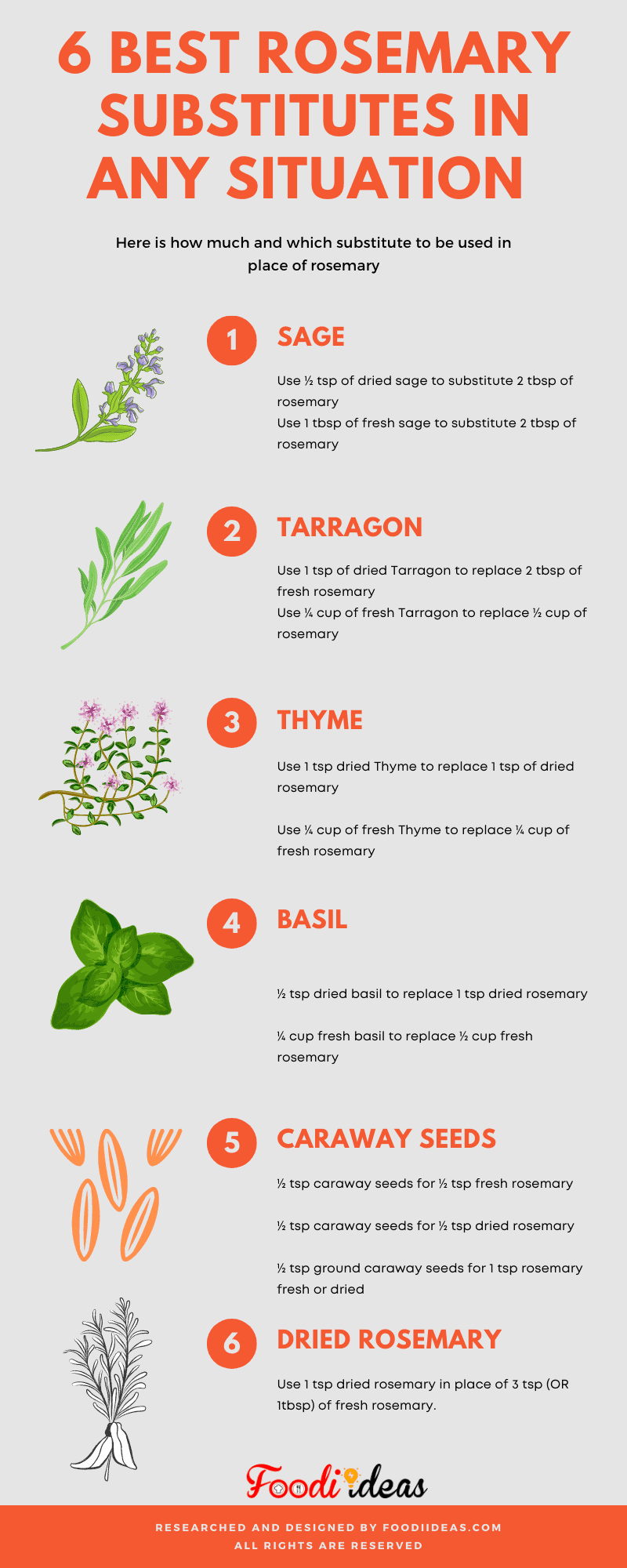 3. Can Thyme Be Substituted For Rosemary?
Thyme belongs to the family of mint plants. It can make an amazing substitute for rosemary in most dishes, as it has the right amount of earthy, pepper-like flavors, with hints of citrus, just like rosemary.
However, rosemary is a tad bit stronger than thyme and has more pine-y, wood-like flavors, which are absent in Thyme.
Either way, thyme is popular in the Mediterranean and French cuisines; hence it can be incorporated in most meals.
Thyme is one of the few herbs that take heat well, and hence can be used to season meats for BBQ and making broths.
While thyme is milder in taste than rosemary, adding too much can affect the dish's flavors.
So make sure to substitute equal amounts or less.
How Does Thyme Taste and Look?
Although they both belong to the same family of mint plants, they are widely different in appearance. Thyme leaves are generally round and green, that grow in clusters around the thin stem. In contrast, dried thyme leaves turn into a more greyish green color.
Thyme is packed with flavor that reminds us of eucalyptus, lemon, and caraway. Which means it has the right kind of heat, mintiness, and citrusy notes.
How Much Thyme Should You Substitute In Place Of Rosemary?
Use 1 tsp dried Thyme to replace 1 tsp of dried rosemary
Use ¼ cup of fresh Thyme to replace ¼ cup of fresh rosemary
Important Uses of Thyme
Thyme has a wide array of benefits.
It is used in medicines for its anti-inflammatory properties. Thyme is used in drugs that cure cancer. (9)
Its antibacterial properties make it a cosmetic friendly ingredient and can be seen under plenty of cosmetic labels.
It also has antiseptic properties, making it a favorite ingredient in many fragrances, creams, and other skincare products. (10)
Recommended Read: The Ultimate List of Paprika Substitutes
4. Can Basil Be Used As A Substitute For Rosemary?
Basil can be used as a substitute for rosemary. However, when substituting Basil for Rosemary, there is one thing that needs to be taken care of: the different flavors of basil.
Basil comes in a variety of different flavors, depending on where and how it was cultivated. So before you add the basil to a dish that requires rosemary, make sure to taste one leaf and see if it would match the overall dish's taste profile.
How Does Basil Look and Taste?
Belonging to the family of mint plants, basil leaves look and smell similar to Rosemary. However, they have their own distinct flavor profile that resembles that of star anise and lemons. Also, Different varieties of basil have different tastes, despite looking the same.
Basil also has its own distinct shape and texture of leaves. Its leaves are round and large and are soft to touch.
How Much Basil Should You Substitute In Place Of Rosemary?
½ tsp dried basil to replace 1 tsp dried rosemary
¼ cup fresh basil to replace ½ cup fresh rosemary
Basil Helps in Digestion and Cough
Basil has a lot of varieties, and the most useful kind is the holy basil. It has a lot of medicinal and healing benefits.
Other homely benefits of basil include ease of digestion. If you feel full or have an upset tummy, boil a kettle of water and put some basil leaves in it. Let the leaves infuse in hot water for 15 mins. Then drink. (11)
Not only this, basil leaves are widely used in many parts of the world, especially the south Asian region, as a natural cough remedy. Chew up some fresh basil if you have an itchy throat, and you'll be surprised to see how well it works!
5. Can Caraway Seeds Be Used To Replace Rosemary?
This might sound like a crazy substitution, but believe me, it works great. Although it is a spice and not a herb, it works just as good as any herb substitute. The reason is that it has a similar taste profile.
Caraway seeds are a common kitchen spice that are present in almost every kitchen. They are used in a wide variety of cuisines, especially South Asian, Mexican, and middle eastern cuisines. Like rosemary, caraway seeds should also be added towards the end of preparing any dish to accentuate and keep flavors intact!
How Do Caraway Seeds Taste and Look?
In appearance, the caraway seeds are far different than rosemary. The caraway is a seed, unlike rosemary, which is a herb. The seeds are thin and crescent-shaped and are usually dark brown. They also come in ground powdered form, which makes them easier to use in any dish.
While they may be too different in terms of appearance, their flavor is a good match. Caraway has similar earthy and citrusy notes like rosemary. It also has a heat similar to that of star anise along with a spicy or bitter aftertaste.
Note: Don't confuse caraway with cumin seeds. They look almost similar but differ widely both in taste and appearance!
Cumin seeds are bigger and usually lighter in color, while the Caraway seeds are thin and dark in color.
How Many Caraway Seeds Should You Substitute In Place Of Rosemary?
½ tsp caraway seeds for ½ tsp fresh rosemary
½ tsp caraway seeds for ½ tsp dried rosemary
½ tsp ground caraway seeds for 1 tsp rosemary fresh or dried
Caraway Tea Helps in Digestion:
Caraway seeds are popularly used in baking. From biscuits to bread and cakes, caraway is a key ingredient.
Caraway seeds are good for digestion. Brew some fresh caraway tea or chew some as it is, and see the benefits for yourself. (12)
It is used to add a bit of heat to desserts, and it goes well with most desserts, especially jams, custards, tarts, and pies.
Disclaimer: While caraway has an array of benefits, it should be avoided by anyone facing a gallbladder or liver disease, as according to research, it may cause adverse effects. (13)
Recommended Read: Top 10 Cumin Substitutes
6. Can Dried Rosemary Be Substituted For Rosemary?
As the name suggests, dried rosemary is rosemary that has been dried off to preserve its flavor and use for a longer period.
Can We Dry Rosemary At Home?
Just as you can plant rosemary in your backyard, you can dry and preserve it for later too.
It's easy, and there is nothing you require other than fresh rosemary, a dry place, and some time.
An oven or a dehydrator can also work well in case you want to fasten the procedure.
How to Dry Rosemary at Home?
Wash and pat dry each sprig of rosemary.
Now bundle 6 to 7 sprigs together and tie them.
Hang these bundles in a dry and airy place.
It may take up to 2-3 days for them to dry up completely.
Fill in a jar and store in a dry and humid place.
Oven/dehydrator:
Spread the pre-washed and towel-dried sprigs on a lined baking tray.
Set the oven to the warm or dehydrator at the lowest setting and keep in until the herb dries out completely and is hard and crumbly to touch.
Appearance and Flavor:
Dried rosemary looks dark green to brown in color and is hard and crumbly to touch.
The taste of rosemary intensifies when dried. Hence little goes a long way.
How Much Dried Rosemary Should You Substitute In Place Of Rosemary?
Use 1 tsp dried rosemary in place of 3 tsp (OR 1tbsp) of fresh rosemary.
Rosemary is One of The Best and Widely Used Ingredient for Preparing Infusions
Rosemary makes the best infusions! Whether it's an infused oil, infused honey, infused tea, or even infused salt! Rosemary makes everything taste better. The best tho is infused salt.
To make rosemary infused salt keep a bunch of fresh rosemary in a bowl and sprinkle all of the salt over it. Mix well and let sit for at least a couple of weeks. Now add this to any dish, and voila, you can literally taste the rosemary aroma on your palate!
 Other Rosemary uses:
Fresh Rosemary is known for its insect repellent properties. Keep sprigs of fresh rosemary near nooks and corners to keep mosquitos and other insects away. (14)
Sick of the clothes smelling damp when out of the dryers? Don't worry, throw in a pouch filled with dried rosemary into the drier, and voila, fresh-smelling laundry coming right up!!
What to Take Away?
So to conclude, there is no better rosemary substitute than dried rosemary. But in case there is no dried rosemary at hand, any of the herbs mentioned above – sage, thyme, tarragon, and basil, can work amazingly well.
Not only this, caraway seeds, which are an essential spice, also work as good as all the other herbs and can be substituted for rosemary without a doubt.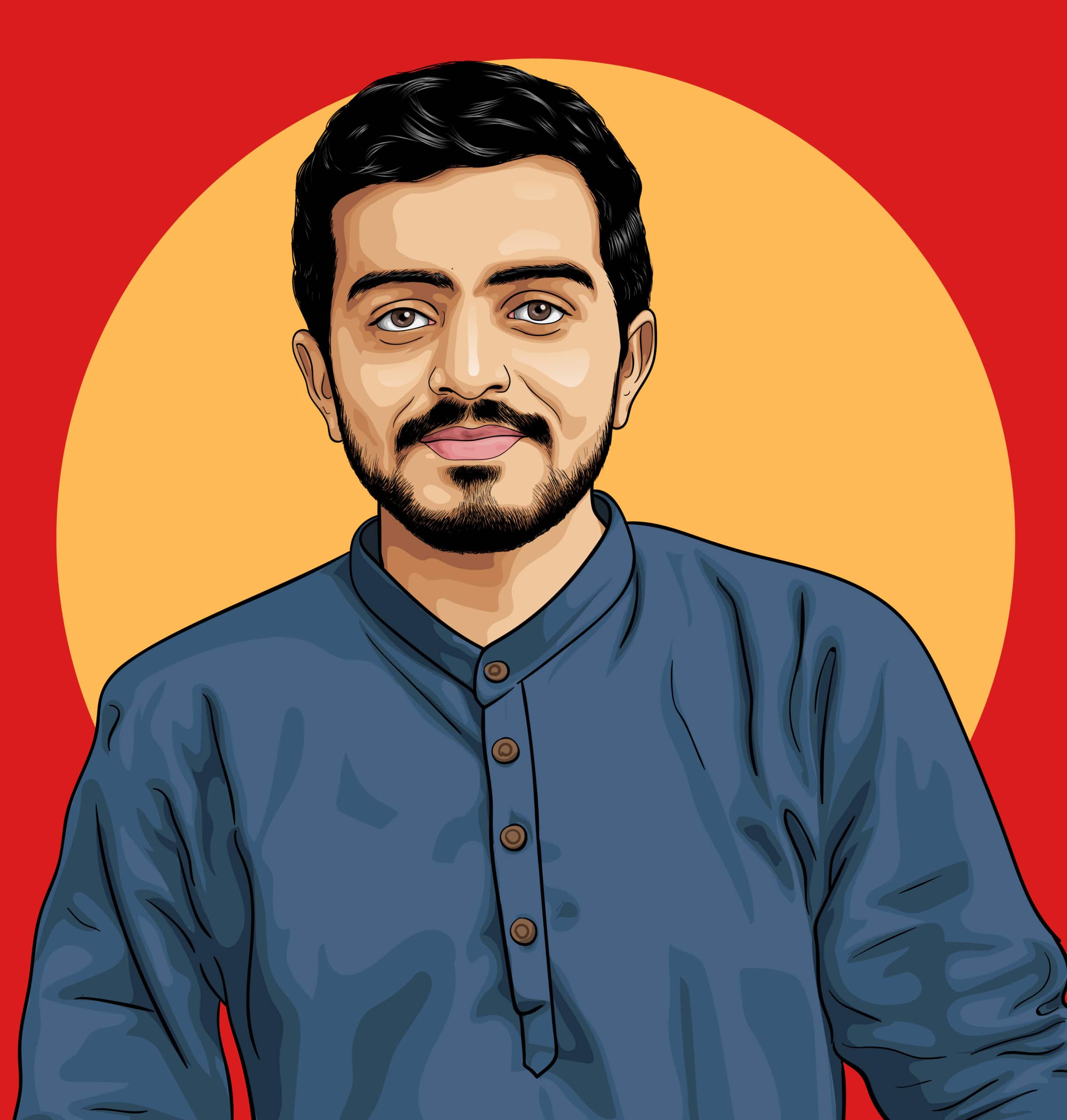 Tauseeq Magsi is the owner of Foodi ideas and a digital marketer but he loves to learn about health, food, and nutrition and he is just crazy to share his findings with you guys about it.