If you're considering rhinoplasty, you should be aware that the foods you consume post-surgery can have a substantial influence on healing time, edema, scarring, and the risk of infection.
Many people who are considering nose surgery raise the question, "What should I eat after the rhinoplasty procedure?" Along with the question of "what sort of foods should I consume after rhinoplasty for a quick healing process?"
Chicken soup, fish, eggs, spinach, fresh fruits, cooked vegetables, whole wheat pasta, yogurt, oatmeal, beans, and pineapple are a few of the foods which you should eat after rhinoplasty to ensure quick recovery following the procedure.
It is important to follow a healthy diet after rhinoplasty to recover quickly. The following post is for you if you are interested in learning more about what to eat after a rhinoplasty procedure.
10 Foods to Eat After Rhinoplasty for Quick Recovery
A post-rhinoplasty recovery diet is as crucial as the surgical procedure itself for successful results.
However, it is not necessary to make big changes to your diet after having a rhinoplasty. Being careful and avoiding certain foods and making sure you get enough nutrients in your diet can ease your recovery process.
In most cases, the stress of surgery causes digestion to become compromised. So, you will want to consume soft, readily digested foods for at least 72 hours after the procedure.
Oatmeal, apple sauce, chicken soup, scrambled eggs, and yogurt are all healthy options to include in your diet after rhinoplasty.
As your hunger returns after the rhinoplasty procedure, start consuming foods high in good fats, such as avocado, extra-virgin olive oil, and nut butter, to help you feel full. These foods will aid in the reduction of swelling in the body after surgery.
In addition, fruits such as blueberries, raspberries, blackberries, and cherries are also high in antioxidants(1). As a result, you must eat these fruits as often as you like after the surgical procedure.
Maintaining a consistent protein intake after rhinoplasty is also vital to ensure that your body gets the basic components it needs to restore and recover. You can get protein from fish or eggs.
Continue to drink plenty of fluids as well as you possibly can.
Following are some of the foods which you must eat after rhinoplasty to achieve quick recovery:
1. Chicken soup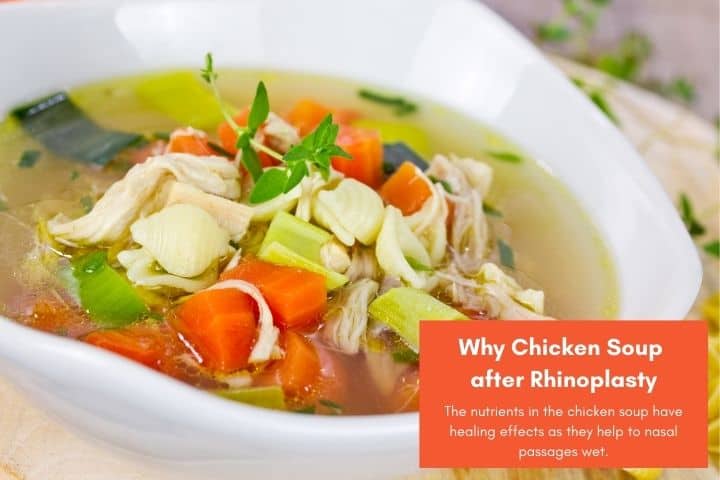 The nutrients in the chicken soup have healing effects as they help to keep nasal passages wet, thin out mucus, prevent dehydration, and soothe a sore throat.
When chicken is cooked, an amino acid known as cysteine is produced, which helps to flavor the soup(2). This amino acid helps to thin mucus in the lungs, which helps to speed up the healing process after rhinoplasty.
Aside from that, chicken is a fantastic source of protein for your body's muscular tissue. This is especially beneficial when your body is feeling weak and depleted as a result of surgery.
The more components in your soup, the better. Chicken soup made with a variety of vegetables can help relieve the symptoms of upper respiratory tract infections, such as congestion, stuffy nose, cough, and sore throat as well.
2. Fish
Foods that are rich in omega-fatty acids such as fatty fish, salmon, halibut, or mackerel aid in the quick recovery after rhinoplasty(3).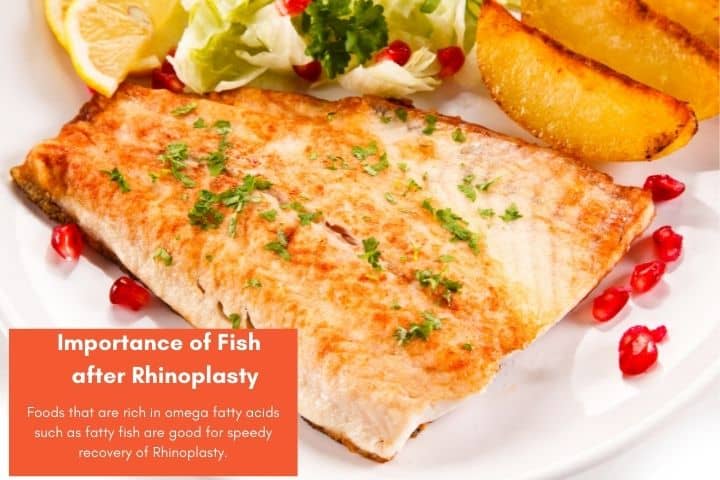 Inflammation that occurred due to surgery can be reduced and controlled by consuming foods high in omega-3 fatty acids.
You must also include omega-3 enriched foods such as fish oil, flaxseed, flaxseed oil, hemp seed, hemp seed oil, walnuts, and walnut oil to your diet after nose surgery.
3. Eggs
Nature has supplied us with a perfect therapeutic meal such as an egg that comes in a shell. When it comes to serving a sick or healing individual their first meal after surgery, eggs must be a customary choice.
Egg yolks include amino acids that are proven to alleviate inflammation, discomfort, and aid in healing after rhinoplasty(4).
Eggs are high in antioxidants, which have been shown to minimize swelling and aid in the healing process after any surgical procedure(5).
4. Spinach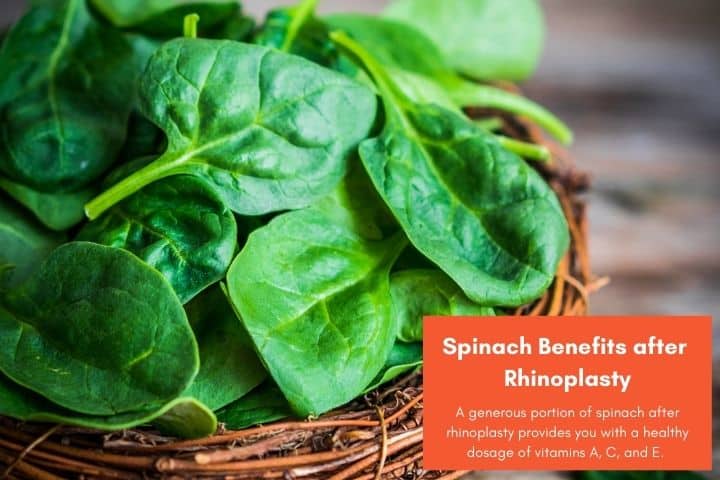 Due to its high concentration of minerals, including vitamin E, vitamin C, and beta-carotene, green leafy vegetables are considered one of the most significant diets for controlling inflammation after surgery(6).
A generous portion of sauteed spinach or spinach smoothie after rhinoplasty provides you with a healthy dosage of vitamins A, C, and E, as well as vitamin K, which is required for blood clotting.
Additionally, you will be receiving the B-complex vitamins from spinach or dark leafy green vegetables, which are beneficial for maintaining energy levels after rhinoplasty(7).
5. Fresh Fruits and Cooked Vegetables
Fresh fruits and vegetables are high in vitamins and fiber, and they are a good source of energy.
Get yourself a fruit bowl and fill it with all of your favorite fruits after a rhinoplasty procedure. Fruits are a rich source of vitamin A and vitamin C, as well as carbs, fiber, and antioxidants.
Berries are one of the greatest fruits to have after surgery. They carry a powerful nutritional punch. You can get plenty of vitamin C from them, which has been found to help regenerate collagen and soft tissue, allowing your incision site to heal more quickly(8).
If you do not feel like eating fruits after rhinoplasty, you can just blend your favorite ones into a smoothie.
When it comes to maintaining your health after rhinoplasty, vegetables supply some of the most crucial vitamins and minerals. Vegetables are also a good source of carbs, which supply you with energy and assist to prevent muscle breakdown(9).
A good intake of carbohydrates will assist you in combating some of the exhaustion that you may experience following the rhinoplasty.
 In addition to providing excellent levels of vitamin A and vitamin C, veggies also provide fiber, which can help to alleviate constipation(10), which is a typical side effect of pain medication and decreased movement after any surgical procedure.
It is better to eat cooked vegetables instead of raw after the rhinoplasty procedure for the first few days as eating them raw can put pressure on the nose while chewing them.
6. Whole Wheat Pasta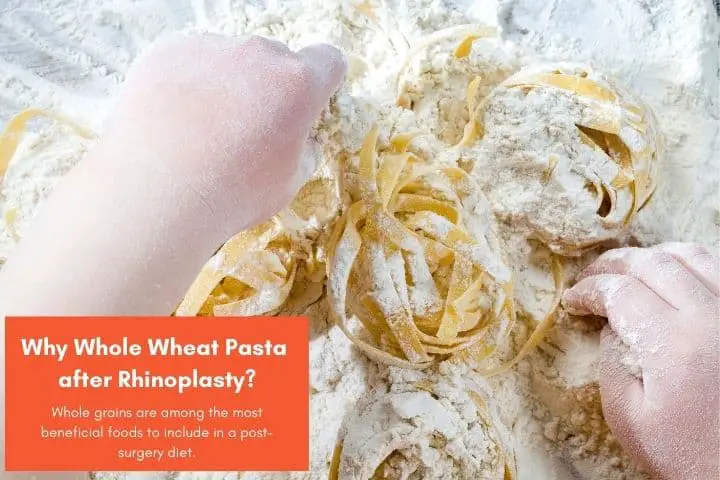 Whole grains are among the most beneficial foods to include in a post-surgery diet.
Besides being high in fiber and energy-giving carbs, meals such as whole wheat pasta are also high in vitamins and nutrients, which help to keep your body healthy and ready to recover after rhinoplasty.
7. Yogurt
Probiotics are the happy, healthy bacteria that your body requires to digest food, maintain mental equilibrium, and fight off all of the diseases and illnesses that you are susceptible to after nose surgery(11).
In addition to being a fantastic source of protein and calcium, yogurt is also beneficial in terms of wound healing following rhinoplasty.
8. Oatmeal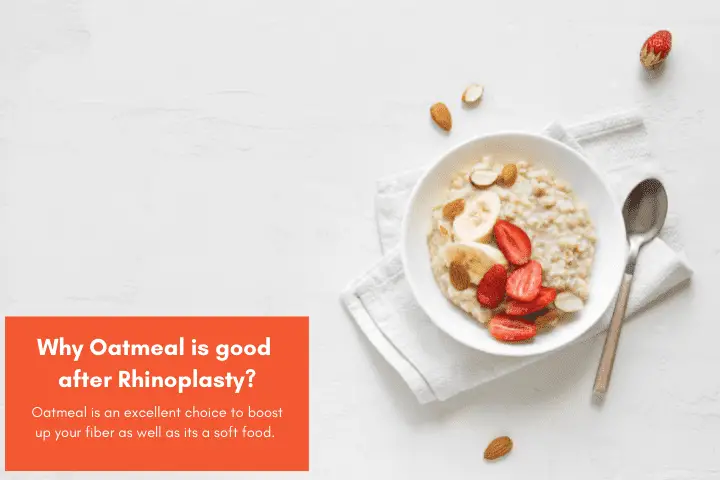 You should consume soft foods during the first few days following rhinoplasty. However, you must ensure that you get adequate fiber during this time.
Oatmeal is an excellent choice to boost your fiber. Add a hearty bowl of oatmeal at breakfast time to speed up your healing process and help fight your body infections after rhinoplasty.
9. Beans
Cooked beans are an excellent choice after the rhinoplasty procedure as they contain a good amount of lean protein(12). They not only provide essential nutrients post-surgery but also help prevent infections.
Protein sources that are low in fat are referred to as lean proteins. Fat can cause stomach distress after surgery, resulting in nausea, diarrhea, or constipation in many cases.  
Lean protein sources such as beans, nuts, and legumes serve as building blocks for your body's healing and recovery processes after surgery.
10. Pineapple
Cosmetic surgeons frequently recommend that patients consume pineapple in the days leading up to and following surgery.
Pineapple includes bromelain, a potent enzyme with unique and advantageous features that helps to accelerate healing by lowering inflammation(13).
Bromelain is found in abundance in pineapple. It also helps to reduce the occurrence of bruising, which is very beneficial during the healing period following rhinoplasty surgery.
Bromelain also aids in digestion by alleviating nausea, and it can even help to avoid nasal congestion in some cases.
I have also researched and written about the foods not to eat after rhinoplasty for you.
8 Important Points to Keep in Mind Regarding Diet After Rhinoplasty
It is a good idea to jot down some important points before moving on to the diet plan for nutrition after rhinoplasty to clear confusion later on.
I will discuss below some universal points to keep in mind regarding nutritional considerations following rhinoplasty. However, the recommendations may vary according to the individual undergoing the procedure.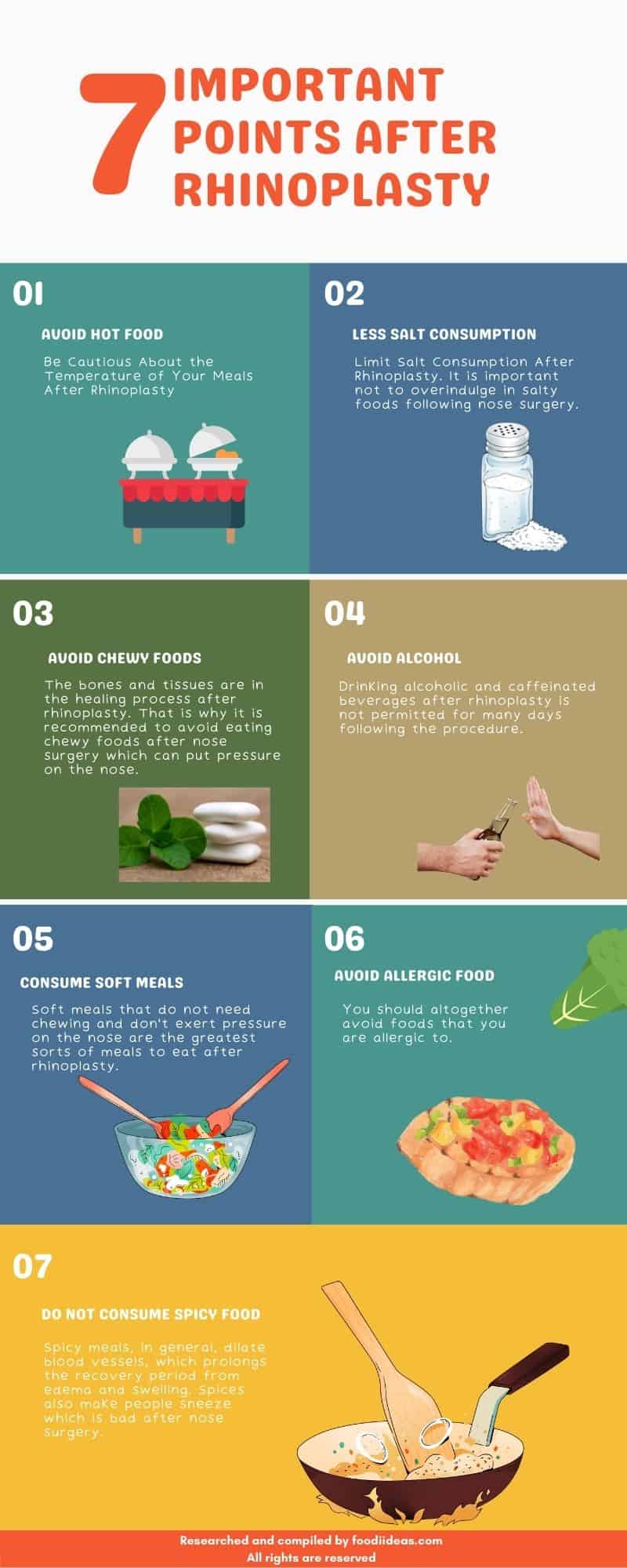 1. Be Cautious About the Temperature of Your Meals After Rhinoplasty
It would be beneficial if you keep an eye on the temperature of the meals you consume following rhinoplasty. Foods that are extremely hot or cold can make the healing process longer.
Though cold meals will not harm you much, they can create headaches and cause your tongue and teeth to be bitten, which can aggravate your condition.
You should also avoid inhaling the steam produced by very hot meals in particular.
2. Limit Salt Consumption After Rhinoplasty
Increased nasal inflammation is caused by high levels of salt and sodium in meals, which results in edema and water retention in the body(14).
It is important not to overindulge in salty foods following nose surgery. To avoid interfering with the healing process, avoid adding more salt to meals. Instead, prefer unsalted items for a while.
3. Consume Soft Meals
Soft meals that do not need chewing and don't exert pressure on the nose are the greatest sorts of meals to eat after rhinoplasty.
 It is usually recommended to consume soup and drinks for the first few days. Yogurt and lukewarm soup are good post-rhinoplasty meals.
If you are experiencing nausea after surgery, you may find it difficult to eat and prefer to drink clear liquids such as water or juices instead. Continue with a diet consisting primarily of soft meals and drinks for a few days until you begin to feel more normal.
4. Avoid Chewy Foods
The bones and tissues are in the healing process after rhinoplasty. That is why it is recommended to avoid eating chewy foods after nose surgery which can put pressure on the nose.
You must avoid heavy chewing when dining after nose surgery for a certain time following the procedure.
You should limit some foods for a while, such as dry nuts and steaks, which can cause complications later on. Additionally, you should refrain from chewing gum as well.
5. Avoid Alcohol, Caffeine, and Cigarettes After Rhinoplasty
Drinking alcoholic and caffeinated beverages after rhinoplasty is not permitted for many days following the procedure.
The use of alcohol increases the risk of bleeding, blood clots, the buildup of blood under the skin, and edema during rhinoplasty since it is a blood thinner(15).
Caffeine elevates blood pressure and has been linked to comparable problems in patients.
6. Avoid Allergic Foods
You should altogether avoid foods that you are allergic to.
It is bad for the nose to sneeze or cough when it is hurting because these allergic reactions can harm the healing process.
7. Avoid Flatulent Foods
Following rhinoplasty, you should avoid eating or drinking things that are gassy for some time and refrain from drinking sodas.
8. Do Not Consume Spicy Foods
During the first few weeks following rhinoplasty, it is recommended that you avoid spicy meals.
Spicy meals, in general, dilate blood vessels, which prolongs the recovery period from edema and swelling. Spices also make people sneeze which is bad after nose surgery.
7-Days Diet Plan After Rhinoplasty
For a successful recovery, the first 24 hours following surgery are crucial. Besides that, you must be especially cautious about what you consume to avoid triggering anesthesia-related adverse effects.
Keep meals plain to avoid nausea and other negative effects from occurring.  Once the anesthesia has been flushed from your system, you can begin reintroducing more foods into your diet.
Foods that are simple to chew should be consumed for the first seven days following rhinoplasty. Mashed potatoes, oats, soup, yogurt, and scrambled eggs are just a few of the delicious options. These are not only chewable, but they are also filling and nutritious.
During this period, you should also pay close attention to your hydration. Hydrating drinks, such as water and Gatorade, are recommended.
Make sure to include foods that are a source of hydration in your diet as well. Fruits that are high in water content, such as watermelon and strawberries, should be your first choice.
The majority of patients can return to their usual diet by the second week of recovery. Everyone's reaction after rhinoplasty is unique, so it's important to be on the lookout.
If you're having trouble or pain eating hard or crunchy food, you may have to keep eating soft foods for a few more days.
A rhinoplasty treatment typically has a one-week recovery period, but in certain rare circumstances, the recovery period can go up to two weeks.
It is therefore extremely important to stick to the following diet plan I developed during recovery time. After that, you can gradually return to your regular eating schedule.
Day
Breakfast
Lunch
Snack
Dinner
Day 1 (The day after the surgery)

Oatmeal
Strawberry
coconut
protein shake

Quinoa with pineapple and avocado salad
Day 2

Scrambled eggs
Banana
Protein shake

Mashed potatoes with cream of asparagus soup

Day 3

Smooth peanut butter on toast Pineapple juice

Grilled or baked salmon with steamed spinach

Clear broth (mutton/chicken)

Pot roast with cooked/ steamed vegetables

Day 4

Tuna salad with a drizzle of olive oil

Non-spicy turkey meatballs with rice

Day 5

Bowl of oatmeal
Apple slices

Tuna mixed with whole wheat pasta

Celery with peanut butter

Baked beans with buttered rice

Day 6

Breakfast casseroles
Berry smoothie

Egg salad in whole wheat pita bread

Whole-grain crackers with low-fat cheese

Steamed fish with lettuce wraps

Day 7

Egg and cheese quiche
Nut Butter

Grilled chicken pieces
Steamed mixed vegetables

Fruit bowl containing watermelon, strawberries, and other fruits

Chicken pot pie
What Should You Eat on the Day of Your Surgery?
Drinking water is prohibited for a short period following the procedure. After a while, you'll be told to drink a lot of water or juice, and your doctor will tell you to start eating soft foods.
Celery juice and pineapple juice, as well as any other non-acidic juice, are good to drink during your recovery period. Be sure to choose a juice that doesn't have pulp in it, though.
Soups and broths are recommended as liquid meals. Furthermore, to avoid constipation, I recommend that you consume meals that are high in fiber such as apples, avocados, berries, or beans to induce bowel movements.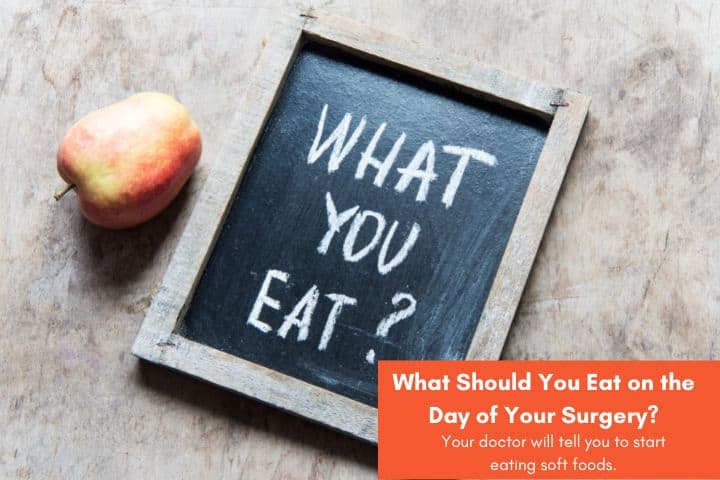 People who have wounds need a lot of protein to help them heal, which is why I always recommend that you drink a protein shake after rhinoplasty.
What Is the Importance of Nutrition Following Rhinoplasty?
The goal of following a proper diet after rhinoplasty is to speed up the healing process by boosting the immune system and minimizing discomfort, inflammation, and edema once the procedure is completed.
Your post-rhinoplasty diet is extremely important, as it may ease your discomfort while making your way to recover quickly.
A healthy diet can help you get the most out of your rhinoplasty procedure. It can also help to lessen the side effects afterward.
Therefore, it is critical to understand which foods can assist your body in recovering quickly following nose surgery, as a proper diet is critical to achieving the best possible outcome.
Because of the general anesthesia given during the process, it is hard for the body to digest food after rhinoplasty. Due to this, many people experience constipation after surgery, and the best approach to avoid and cope with this is to eat a healthy diet.
What Should I Drink After My Nose Surgery?
You should begin drinking water as soon as possible following surgery. It is better to stick to water or drinks that are room temperature. You can also have fresh juices or decaffeinated tea.
After three days of recovering, you can gradually raise the temperature of your coffee or tea, as long as it is decaffeinated.
If you absolutely must drink caffeine, begin with modest doses after three days.  Keep in mind that you will still require enough sleep throughout this period, so avoid consuming coffee if it may interfere with your ability to sleep.
To ensure complete healing, it is advisable not to drink alcohol at all post-rhinoplasty.
Will I Retain My Taste Sensation Following Rhinoplasty?
During your recovery from rhinoplasty, your ability to taste is also affected. This is because the senses of smell and taste are very closely linked.
In time, the internal and external swelling will go down, and your sense of taste will be the same as before.
Can I Eat Ice Cream After Rhinoplasty?
Extreme temperatures can make you very uncomfortable. When you are recovering from nose surgery, the last thing you want to do is get frostbite from eating ice cream.
You don't want an ice cream headache made worse by a sore nose that is still recovering from rhinoplasty.
Take Away
After a rhinoplasty, you do not have to give up your favorite meals entirely, but I recommend waiting until the swelling has gone down before reintroducing them.
Following a rhinoplasty, you should eat a lot of food that is high in nutrition, like fruits, cooked vegetables, and various sources of protein and fiber. Healthy components that are found in these foods, will help you recover and make it easier for you to get better after the surgical procedure.
The more closely you follow the above guidelines, the better your rhinoplasty outcome and recovery will be.
If you have any queries regarding what you should and should not eat after rhinoplasty, feel free to ask in the comment section below.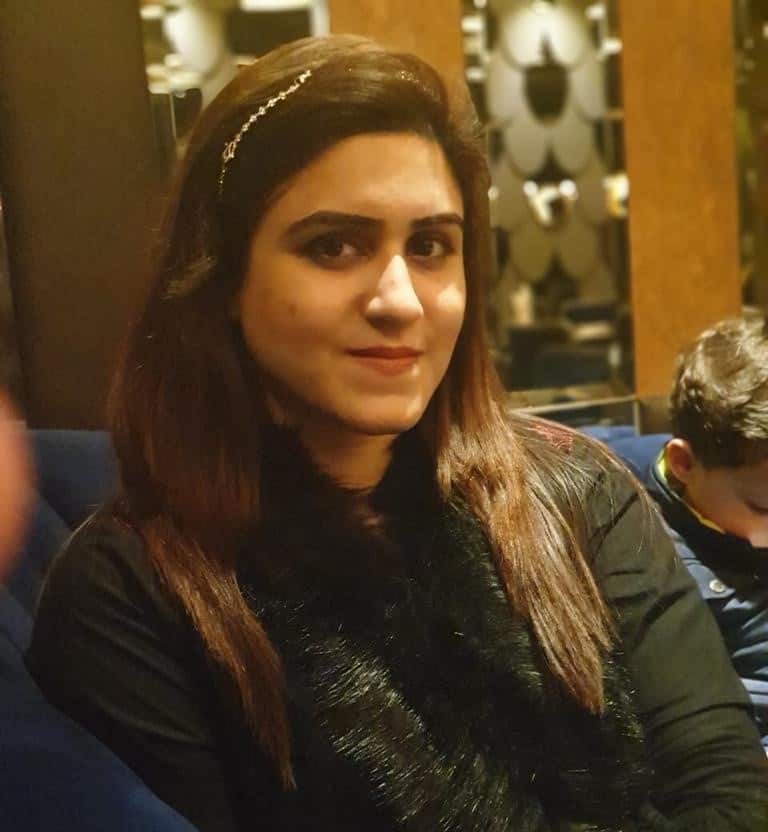 A nutrition degree holder and a foodie by heart, Madiha Saad loves to inspire people through her writings and uses her knowledge and experience to write articles on trending nutrition topics. She loves to develop new recipes in her pastime. Read More…