Rhinoplasty, also known as a "nose job," is a surgical procedure that reshapes the nose, either for functional or cosmetic reasons. It is a type of facial surgery that involves altering the bone and cartilage of the nose. Recovery time can vary, but patients can usually return to normal activities within a week or two.
If you're considering a rhinoplasty procedure, it's essential to know the foods you eat before surgery. Your diet affects healing time, scarring, and the risk of infection. To ensure a smooth recovery, it's essential to pay attention to your diet before rhinoplasty and choose foods that support the healing process.
Many people wonder what to eat before rhinoplasty to promote a smooth surgery and quick recovery.
Eating fish and beef before rhinoplasty helps heal tissues, including the skin, muscles, and blood vessels. Berries and citrus fruits boost the immune system and promote collagen production, which is essential for healthy skin. Wheat and brown rice aid in wound healing and support recovery after rhinoplasty.
Consuming an appropriate amount of the foods mentioned above will boost your immune function, reduce swelling and inflammation, and promote faster wound healing after surgery. But do you know how much your body needs? Let's explore this in this blog.
1. Lean Proteins:
Lean proteins are essential nutrients that play a variety of roles in the body, including building and repairing tissues. When you consume protein-rich foods, your body breaks down the proteins into individual amino acids, which can then be used to synthesize new proteins. These new proteins are used to build and repair tissues such as muscle and cartilage (1).
Consuming protein-rich foods will elevate the synthesis of collagen in the body, which may lead to smoother, less visible scars after a procedure like a rhinoplasty. Getting protein in your diet will help you feel fuller for longer periods of time (2).
Lean protein sources are chicken, turkey, fish, and beef. The Centers for Disease Control and Prevention recommend that adult women and men consume at least 46 and 56 grams of protein per day, respectively. It is also important to spread protein intake throughout the day by including protein sources at each meal and snack (3).
2. Nuts: 
Nuts are a beneficial addition to your diet leading up to a procedure like a rhinoplasty due to their high content of healthy fats, antioxidants, and other nutrients. These nutrients can help reduce inflammation, support cellular health, and fight infection, all of which can elevate healing. Choosing unsalted nuts is recommended to avoid consuming too much sodium, which can impair wound healing.
Eating a small handful (1-2 ounces) per day is recommended as part of a balanced diet to get the most benefit from nuts. This amount can provide a good source of nutrients without overconsumption.
In addition to their potential benefits for recovery, nuts are also a great source of protein, fiber, and other essential nutrients for overall health (4). They should be incorporated into your diet in a variety of ways, such as by adding a handful to your morning oatmeal or snacking on a small handful as a tasty and satisfying treat.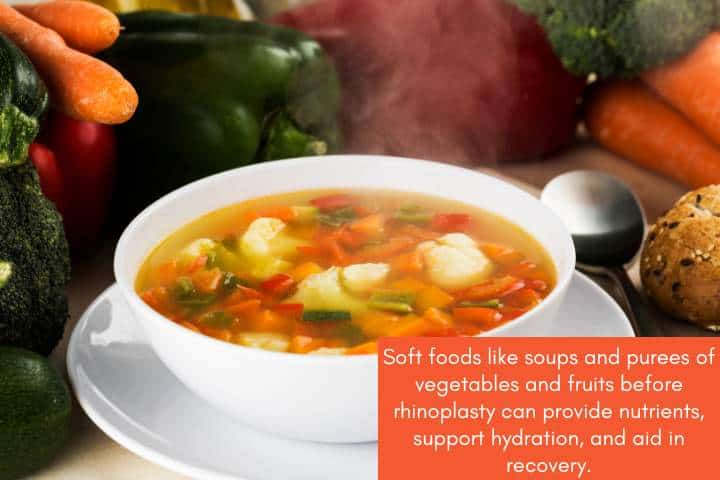 3. Drink Water: 
Staying well-hydrated in the weeks before and after a procedure like a rhinoplasty will help and support several important functions in the body. For example, drinking plenty of water improves digestion, keeps cells hydrated, and maintains a balanced mood. Water also helps to regulate hunger and reduce the risk of dehydration.
You should drink at least 12 glasses of water per day[1] [2] , to help ensure that you are getting enough hydration (5). Staying well-hydrated is an important part of the healing process after anesthesia. Water will help support overall health and wellness after nose surgery (6).
Discontinue caffeine, alcohol, and other carbonated beverages as these can dehydrate the body and increase the risk of bleeding during a rhinoplasty procedure.
4. Whole Grains: 
Eating whole grains, such as wheat, brown rice, and whole grain cereal, before a procedure like a rhinoplasty helps support immune function and promotes wound healing (7). This is because whole grains, which are a type of food made from the entire grain of a plant, contain high-fiber, B vitamins, iron, copper, zinc, magnesium, antioxidants, and bioactive components (8). These nutrients and bioactive phenolic components help boost immune function and improve the body's ability to heal wounds (9).
It is recommended to consume a daily serving of whole grains as part of a healthy, balanced diet. The specific amount will depend on individual factors such as age, gender, and activity level.
The American Heart Association recommends at least three servings of whole grains per day for adults. One serving is equivalent to about 16 grams, or one slice of whole grain bread, 1/2 cup of cooked brown rice, or 1/2 cup of wholegrain cereal (10). It is important to consult your doctor or a registered dietitian for personalized recommendations.
5. Vitamin C Rich Fruits: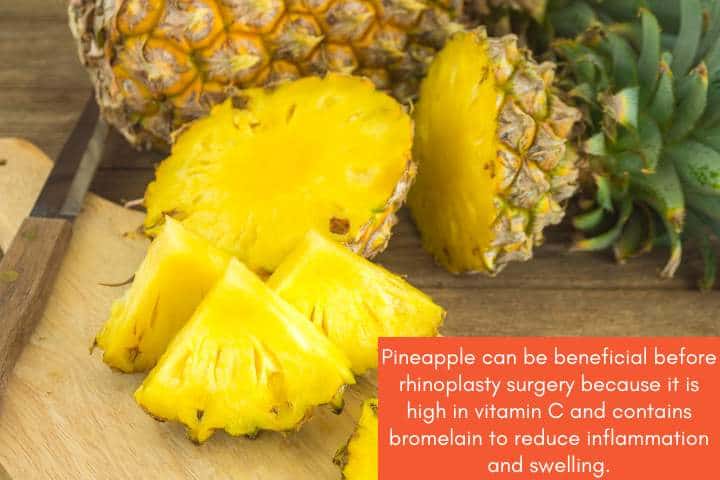 Vitamin C helps support the body's natural healing processes after a procedure like a rhinoplasty. Vitamin C is a powerful antioxidant that helps to reduce inflammation, bleeding, and swelling. It supports the synthesis of collagen, a protein important for wound healing. Antioxidants also help to minimize swelling and bruising after a procedure like a rhinoplasty (11).
To get enough vitamin C in your diet, you should try eating foods that are rich in this nutrient, such as citrus fruits, strawberries, kiwi fruit, blueberries, blackberries, and raspberries (12). You can also take citrus fruit juices to maintain your vitamin levels. These types of berries are particularly high in antioxidants, which can be especially beneficial in the weeks leading up to a procedure like a rhinoplasty.
It is recommended to aim for at least 75-90 milligrams of vitamin C per day for adult women and at least 90-110 milligrams per day for adult men. It is important to consult with your doctor for personalized recommendations based on individual needs and specific dietary restrictions.
6. Eggs Proteins:
Eggs are a good source of proteins, choline, and vitamin B, all of which are important for maintaining good health. Egg protein is necessary for repairing tissues and synthesizing collagen, while choline helps build and repair cell membranes (13).
Some eggs are fortified with omega-3 fatty acids, aiding wound healing. However, it is important to eat eggs in moderation because they are high in cholesterol (14).
Regarding how many eggs to eat before a rhinoplasty, it is best to speak with your plastic surgeon or a healthcare professional for specific recommendations. They will be able to consider your individual nutritional needs and any potential risk factors or concerns.
7. Green Leafy Vegetables: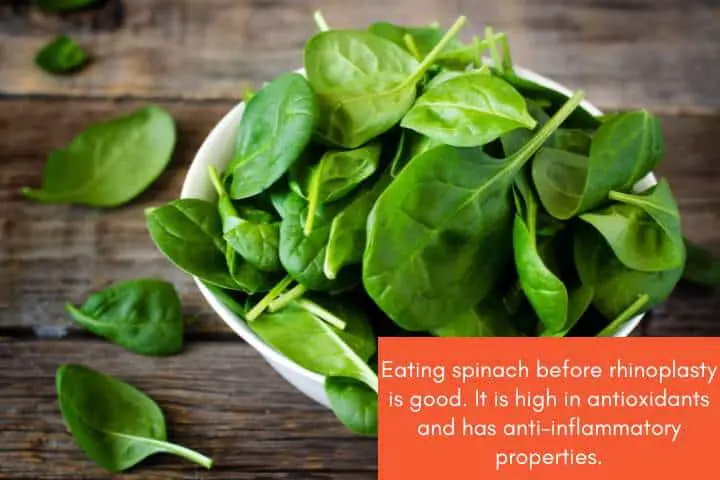 Dark leafy greens, such as spinach, collard greens, and kale, are referred to as "nature's multivitamin" because they contain high levels of vitamins E, C, K, and A, as well as minerals like iron, magnesium, potassium, and calcium. These nutrients help to improve overall health and prevent fatigue (15). Dark leafy greens also contain high levels of fiber, which help to promote regular bowel movements and reduce constipation, a common side effect of pain medication and anesthesia.
The antioxidants in dark leafy greens can also help reduce inflammation after rhinoplasty (16). Vitamin A, found in most fruits and vegetables, has anti-inflammatory properties and helps to reduce recovery time and irritation in the nasal tissues. Iron, magnesium, potassium, and calcium also play important roles in maintaining healthy immune function. These vitamins and minerals in green leafy vegetables affect healing and recovery by reducing inflammation after the rhinoplasty procedure.
The amount of dark leafy greens that you should eat will depend on your individual nutritional needs and any specific recommendations from your healthcare provider. However, a good guideline is to aim for at least 3 cups of dark leafy greens per week.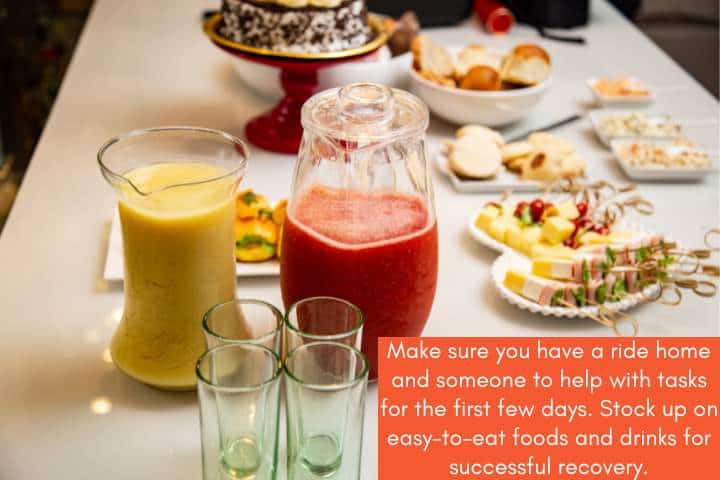 I have written a separate article about what to eat after rhinoplasty as well so that you can follow that and heal quickly.
How To Prepare One Week Before Rhinoplasty Cosmetic Surgery;
 Here are some guidelines on how to prepare for rhinoplasty one week before surgery:
Refrain from taking any medicine, multivitamins, or herbal supplements that can thin the blood or raise blood pressure. This can result in bruising and bleeding. This includes vitamin E, aspirin, blood thinners, and certain types of herbal supplements.
Hard-to-chew foods should be avoided before rhinoplasty, as this can increase the risk of complications during the surgery.
A week before surgery Rhinoplasty diet should be strictly followed. This includes healthy foods that are high in protein and nutrients but low in fat and sugar. This can help reduce the recovery time and promote healing.
Taking Folic acid is necessary before rhinoplasty for the production of a substance called tetrahydrofolate, which is involved in the production of red blood cells and the conversion of food into energy(17).
Choose bland food like mashed potatoes and easily digestible foods, such as chicken broth and yogurt, which will aid in the recovery process after cosmetic surgery (18).
Avoid taking caffeine and alcohol or any caffeinated beverages, as they can interfere with the body's ability to heal by interfering with blood coagulation and fibrinolysis (19).
If you smoke, reduce your intake as much as possible or the best to avoid it during the first 24 hours of surgery. Nicotine can cause increased heart rate during surgery in the operating room (20).
Rhinoplasty Diet To Follow One Week Before Surgery:
No. of Days
Breakfast
Lunch
Snack
Dinner
1st Day Before Surgery

1 boil Egg

Whole wheat bread 16 gm
Green leafy vegetables 32gm
Orange juice  75-90 milligrams
Fish 48 gm  and steamed broccoli 18gm
Day 2
Whole grain cereal 16 gm
Chicken 48gm and brown rice 18gm
Nuts 2 ounces and 5-8 raspberries

Brown bread 16 gm

and Spinach 23gm
Day 3
1 boil Egg and 48 gm of baked turkey
Whole wheat bread 18gm steamed chicken 56gm
4-6Strawberries and nuts 2 ounces

Beef 18gm

and brown rice 18gm
Day 4
Whole grain cereal 53 gm and 1 scrambled egg
48gm Fish and steamed kale 23gm
2 Oranges  and nuts 2ounces
Brown rice 18gm and chicken 46gm
Day 5
1 Egg and brown bread 16 gm
Turkey 42 gm and brown bread 18gm
Pineapple Juice 75-90miligrams
Chicken 46gm with brown rice 18gm
Day 6
Whole grain cereal 16gm and greek yogurt 30gm
Green collard vegetables 25gm and brown rice 18gm
Chicken broth 237ml
Beef 32gm and brown rice 18gm
Day 7

1 scrambled egg

whole wheat bread 16 gm
Beef 15gm and vegetables 24gm
Mashed Potatoes 210gm

Turkey 30gm

steamed spinach 16gm and brown bread 16gm
Also, check out what not to eat after rhinoplasty.
How To Prepare 24 Hours Before Rhinoplasty
Here are some guidelines to follow the day before rhinoplasty surgery:
Fasting: It is important to avoid eating after midnight the day before your surgery to avoid any discomfort during the procedure. If you are prone to nausea, try eating small, frequent meals and avoiding heavy or greasy foods.
Cosmetics: Do not wear makeup or other cosmetics on the day of surgery to avoid irritation or nasal congestion during the procedure
Clothing: Choose comfortable clothes that are easy to put on and take off without pulling over your head. You will need to change into a surgical gown for the surgery and then back into your own clothes post-op.
Avoid medications and exercise: Follow any specific instructions provided by your surgeon, such as taking or avoiding certain medications. Avoid any strenuous activity or heavy lifting for at least a night before surgery.
On the day of the surgery, do not eat or drink anything after midnight, as instructed by your surgeon.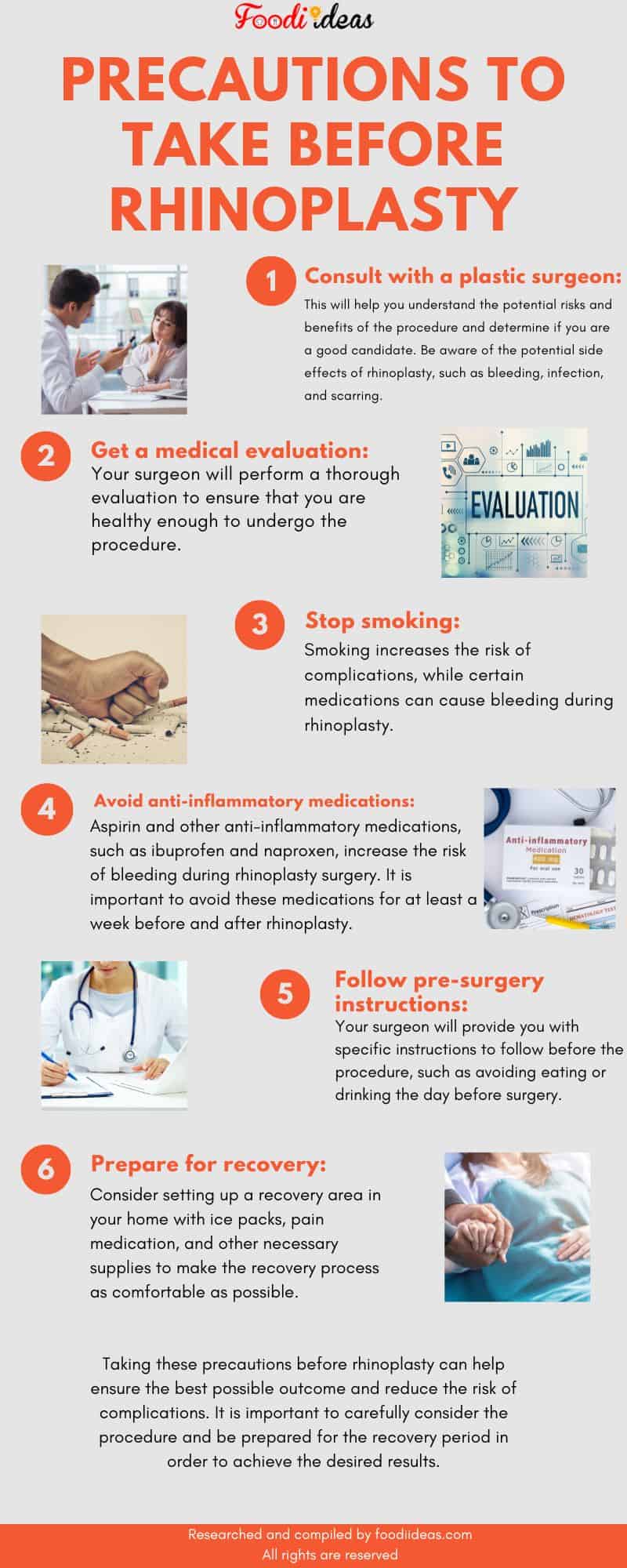 Wrap Up:
To achieve the best results from rhinoplasty, it is important to have a healthy lifestyle with good eating habits, including a pre and post-operative dietary plan. When preparing for rhinoplasty, it is important to pay attention to your diet in order to reduce the risk of complications such as hematoma. Avoid foods that can interfere with blood circulation or clotting.
Take precautionary measures in your diet before rhinoplasty. This will help reduce recovery time and optimize the body's healing abilities. Without a proper regular diet and nutrition, it will be difficult for that patient to get good results from their surgery. Follow your surgeon's instructions carefully to help ensure a smooth and successful recovery period.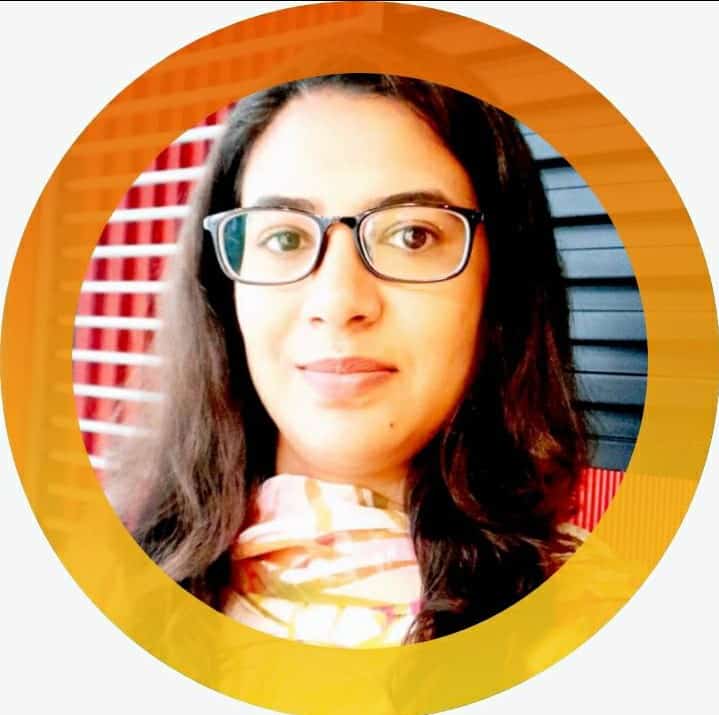 As a pharmacist and a healthcare administration master's degree holder, I have a strong background in the medical field. My knowledge and experience have led me to start writing blogs about food and nutrition, particularly related to surgical procedures. I believe that proper nutrition is an essential part of the recovery process, and my blogs aim to provide practical advice on what to eat before and after different surgeries to support the body's healing. Thank you for following my journey as I share my passion for food and its role in healthcare.