Yacon is being welcomed as a new nutritional miracle food due to its low-calorie carbs.
Although yacon has several benefits, there are also negative sides to utilizing it. Diarrhea, nausea, and stomach pain are some of the adverse effects of yacon syrup.
When seeking a healthy sweetener free of harmful side effects, what are the best yacon syrup substitutes to consider?
Yacon can be substituted with agave nectar, molasses, maple syrup, honey, and xylitol, which are excellent options. These are all-natural sweeteners that are better for you than sugar, and each has its own set of health advantages that distinguishes it from the others.
I can promise you that no matter whatever option you choose, it will prove to be a fantastic substitute for yacon syrup because they are all-natural and beneficial to your health. So let's look at why these substitutes are such a wonderful alternative to yacon syrup in this article.
What Is Yacon Syrup and How Does It Work?
Yacon syrup is produced by boiling the roots of the yacon plant. Yacon is originated from the Andes Mountains in South America, where it has been utilized as a medicine for hundreds of years by the native population.
Yacon is a tuber, similar to a sweet potato. The roots of this plant are used to make a low-carb syrup that can be used as a natural sweetener known as yacon syrup.
Yacon roots are crushed to extract the juice. After that, the juice is filtered and evaporated until only a thick syrup is left behind. Yacon syrup has a sweet taste and a golden color. It has a consistency that is midway between maple syrup and molasses.
Some people get stomach discomfort after consuming large amounts of yacon syrup. Bloating, pain, nausea, and diarrhea are all possible side effects of this root.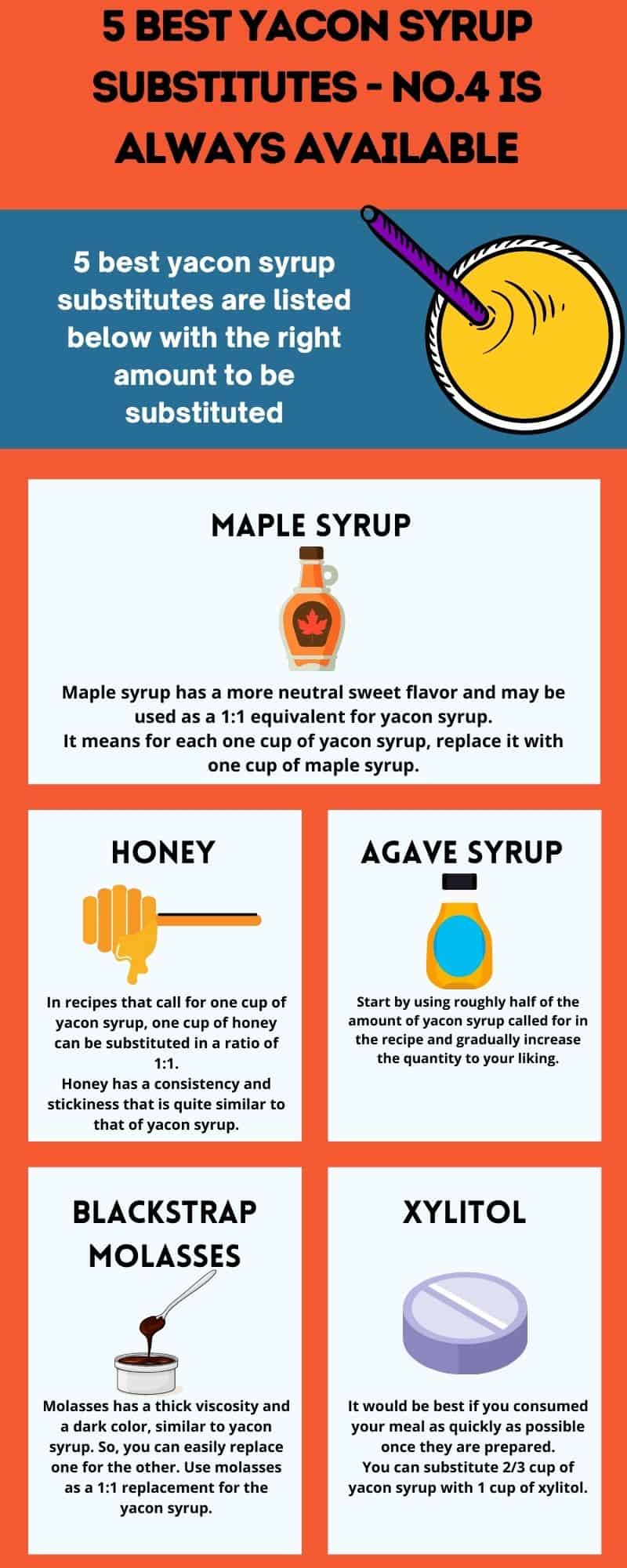 5 Best Yacon Syrup Substitutes
Yacon syrup is a viscous and sticky sweetener produced from the concentrated juice of the yacon tuber. It is used to replace sugar in baked goods.
Yacon syrup has been around for a long time, although it has only recently gained popularity as a trendy sweetener.
Many people feel that yacon syrup is more nutritious than ordinary sugar. However, it is not as commonly accessible as other sweeteners; you may have to substitute it if you need it quickly.
Some of the best yacon syrup substitutes to consider are as follows:
Agave Nectar
Blackstrap Molasses
Maple Syrup
Honey
Xylitol
1. Agave Nectar
Agave syrup, also known as agave nectar, is a natural sweetener that has a texture similar to honey and yacon but is somewhat thinner.
It is derived from the sap of the agave plant, which is harvested in the spring. It is reduced in the same way that yacon syrup eliminates water and boosts its sweetening qualities.
Due to its low glycemic index, agave is an excellent sugar and yacon substitute. In addition, the nectar is extremely easy to incorporate into beverages, making it a delight to consume.
Agave nectar has a low glycemic index since it is made up of sucrose and glucose. Agave is offered in bottles and comes in a variety of colors. It is established that the deeper the color of agave nectar, the stronger the flavor.
The ideal substitute for yacon syrup is dark agave nectar because it has a comparable caramel/molasses flavor profile.
How Much Can You Substitute Agave Nectar for Yacon Syrup?
When substituting agave nectar for yacon syrup, you will need to use a bit less because it's sweeter.
Start by using roughly half of the amount of yacon syrup called for in the recipe and gradually increase the quantity to your liking.
Agave nectar, like yacon syrup, has a mild taste profile that allows it to be used in various ways without overpowering the dish. It is used in baking as well as to sweeten beverages.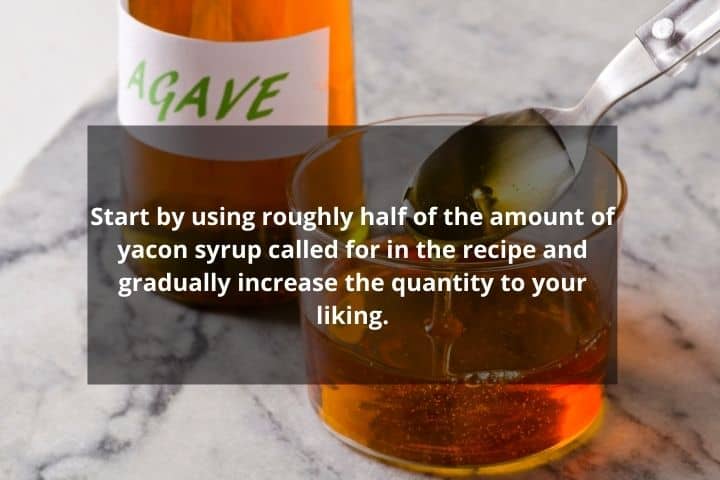 Health Benefits of Agave Nectar
Agave nectar has a low glycemic index which prevents quick sugar rise in the blood, making it a fantastic substitute for people with diabetes.
Agave is beneficial to your metabolism. The body needs to digest food, particularly proteins and carbohydrates, and vitamin B6, which is present in agave, is essential.
Drawbacks of Using Agave Nectar as Yacon Syrup Substitute
The drawback of agave nectar is that it includes a considerable amount of fructose than yacon. Heart disease, type 2 diabetes, fatty liver, and metabolic syndrome are all associated with a high intake of added fructose in the diet(1).
Approximately 85 percent of the sugar in agave nectar is fructose, which can lower your body's sensitivity to insulin and contribute to metabolic syndrome, making it more difficult for your body to control blood sugar levels(2).
The possible positive health benefits of agave sugars are destroyed when agave sugars are treated with heat, which is how the agave sweetener available today is manufactured. A highly refined and harmful syrup is the ultimate result.
2. Blackstrap Molasses
Another good substitute for yacon is blackstrap molasses, which has a wonderful, rich taste that many people seem to prefer.
The processing of sugar cane produces blackstrap molasses as a byproduct. First, the sugar cane is crushed to get the juice. After that, it is cooked once more to produce cane syrup. Finally, molasses is produced by a third boiling.
After the syrup has been cooked for the third time, a dark viscous liquid known as blackstrap molasses is produced. It contains the least amount of sugar of any sugar cane product on the market.
Blackstrap molasses' flavor and look are quite similar to those of yacon syrup. However, given the high sugar content in molasses, it has a rich caramel flavor and a concentrated sweetness.
How Much Can You Substitute Blackstrap Molasses for Yacon Syrup?
Molasses has a thick viscosity and a dark color, similar to yacon syrup. So, you can easily replace one for the other.
Because molasses and yacon syrup have the same consistency, you won't have to make any significant adjustments when substituting molasses for yacon syrup in a recipe.
Use molasses as a 1:1 replacement for the yacon syrup.
Health Benefits of Blackstrap Molasses
The thick, sweet molasses syrup enriches your recipes with minerals such as iron and calcium, as well as antioxidants, which makes cooking healthier(3).
Blackstrap molasses is good for the blood. Iron is found in abundance in blackstrap molasses. One tablespoon of blackstrap molasses contains approximately 20 percent of the daily recommended intake of iron.
The syrup contains calcium, which is essential for bone health and the prevention of osteoporosis(4).
Drawbacks of Using Blackstrap Molasses as Yacon Syrup Substitute
Blackstrap molasses has a little bitter and strong flavor than yacon syrup, making it undesirable for some people.
Blackstrap molasses has a higher glycemic index of 54 than yacon syrup making it a bad choice for diabetic patients.
Molasses has the potential to induce stomach issues. It is possible that consuming big amounts will result in loose stools or diarrhea.
3. Maple syrup
Maple syrup is most likely something you've eaten on pancakes or biscuits, but it can also be used in any situation where yacon syrup would be appropriate.
Maple syrup, derived from the sap of the maple tree, is mostly composed of sucrose, often known as sugar, as its primary constituent.
It is composed of more than 60% sugar and 30% water. It also contains numerous minerals, including vitamin B6, zinc, and manganese(4).
Maple syrup is manufactured like yacon syrup, and as a result, it has a consistency that is quite similar to yacon syrup but with a slightly different flavor.
For those who enjoy maple syrup, the classic flavor will almost certainly win out over the yacon flavor in most cases.
Also Read: 5 Best Maple Syrup Substitutes
How Much Can You Substitute Maple Syrup for Yacon Syrup?
Maple syrup has a more neutral sweet flavor and may be used as a 1:1 equivalent for yacon syrup.
It means for each one cup of yacon syrup, replace it with one cup of maple syrup.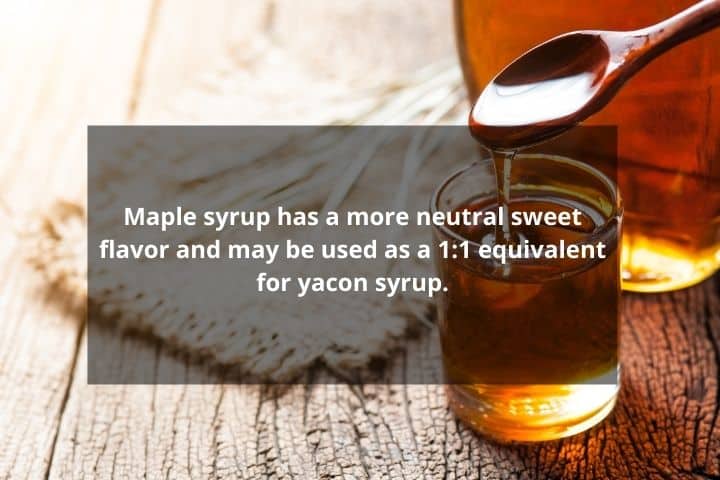 Health Benefits of Maple Syrup
Maple syrup contains numerous antioxidants(5).
Maple syrup contains anti-inflammatory polyphenol antioxidants; thus, it helps avoid arthritis, inflammatory bowel disease, and heart disease.
It is suggested that maple syrup is a rich source of zinc and manganese, which can help improve the immune system.
Drawbacks of Using Maple Syrup as Yacon Syrup Substitute
While maple syrup contains a significant quantity of several minerals, it also contains a significant amount of sugar which is bad for health.
Maple-flavored syrups can include large amounts of refined sugar or high-fructose corn syrup, which is being manufactured these days. Make certain you get the exact thing, though.
Maple syrup can grow mold. Therefore, after a bottle has been opened, it should be stored in the refrigerator.
4. Honey
Honey is a tasty and sweet delicacy. It can be used to drizzle over waffles, peanut butter sandwiches, flavor smoothies, and various other dishes and beverages.
Honey has been used as a natural sweetener and for its medical characteristics for thousands of years. Honey is a natural sweetener and has therapeutic benefits.
Honey is a delicious substitute for yacon syrup. Honey is approved as a healthier alternative to refined sugar as well.
How Much Can You Substitute Honey for Yacon Syrup?
In recipes that call for one cup of yacon syrup, one cup of honey can be substituted in a ratio of 1:1.
Honey has a consistency and stickiness that is quite similar to that of yacon syrup.
Health Benefits of Honey
Honey of high grade includes a significant amount of essential antioxidants. Organic acids and phenolic substances such as flavonoids are examples of this(6).
Honey has the potential to decrease "bad" cholesterol, triglycerides, and inflammation while simultaneously boosting "good" cholesterol(7).
Honey, as a natural dietary supplement, has a variety of medical and health benefits to provide. In addition, several studies have demonstrated that it is a promising therapeutic antioxidant agent for various diseases(8).
Drawbacks of Using Honey as Yacon Syrup Substitute
Honey contains carbohydrates, with glucose and fructose serving as the primary sugars. Therefore, if it is taken excessively, it might result in weight gain.
Certain components of honey, notably bee pollen, cause sensitivities or allergies in certain people.
People with type 2 diabetes who consume significant amounts of honey can see a rise in blood sugar levels. Consequently, the use of honey is recommended to be done in moderation due to the presence of sugar.
Also Read: Best Honey Substitutes Ever
5. Xylitol
Xylitol is a yacon alternative that is lower in calories and has a lower glycemic index.
Xylitol is a sugar alcohol, which is a kind of carbohydrate that does not contain any alcohol. It is frequently utilized in the sweetening of drinks.
Xylitol is a frequent component in sugar-free chewing gum and sweets and diabetic meals, and oral-care products.
Xylitol has a sweetness similar to that of ordinary sugar. However, it has 40% fewer calories.
Although xylitol is a low-calorie substitute to yacon syrup, it does include some caloric content. Hence, it is recommended that you consume it in moderation.
How Much Can You Substitute Xylitol for Yacon Syrup?
Xylitol can absorb moisture, which means that your recipes will dry out more rapidly as a result. To keep your meal soft, you'll need to take it from the oven a few minutes before it's finished cooking.
It would be best if you consumed your meal as quickly as possible once they are prepared.
You can substitute 2/3 cup of yacon syrup with 1 cup of xylitol.
Health Benefits of Xylitol
Xylitol is a sugar substitute that is both harmless and helpful to one's health. It aids in the prevention of tooth decay as well as the enhancement of immunity.
Xylitol is a sugar alcohol that does not include fructose or glucose. As a result, it delivers sweetness without increasing blood sugar levels or contributing to heart disease.
Xylitol has been shown to effectively boost the immune system, digestion, lipid, and bone metabolism. As a result, Glycemic and obesity control are improved, reducing ear and respiratory infections(9).
Drawbacks of Using Xylitol as Yacon Syrup Substitute
Xylitol has a minty and cooling aftertaste, which is wonderful for bubble gum but not great for coffee and most sweets.
Xylitol has a much more neutral flavor profile than the yacon syrup, so that you won't receive any caramel-like flavors from it.
Xylitol dissolves when heated to a high temperature but does not caramelize. Consequently, your baked products will typically lack a chewy texture and appearance unless they are properly balanced with the other ingredients.
What is Yacon Syrup Made From?
Yacon syrup is made by extracting the root of the yacon plant. After the juice has been taken from the roots, it is filtered and evaporated using an environmentally friendly production technique.
The result is a dark-colored yacon syrup which is sweet and has a thick consistency.
Can You use Yacon Syrup in Baking?
Yacon root syrup can be used in baking exactly like other liquid sweeteners. It can also be used as a sweetener in coffee, tea, smoothies, and ice cream beverages.
Does Yacon Syrup Raise Blood Sugar Levels?
Yacon syrup has a low glycemic index, which means it won't increase your blood sugar levels, making it ideal for people sensitive to glucose and who need to keep track of their sugar intake.
Is Yacon Syrup Keto-Friendly?
Yacon syrup is not keto-friendly.
Yacon syrup is indeed very low in carbohydrates and calories. This does not necessarily make it a 100 % keto-friendly sweetener because it also includes some digestible sugars.
Furthermore, yacon syrup has just 3 grams of net carbohydrates per 100 grams, which is not advised on the keto diet.
Take Away
There are certain dangers associated with consuming yacon syrup in your diet, and consuming a little too much results in unpleasant side effects such as diarrhea, intestinal irritation, and nausea.
Consider substituting with agave syrup, molasses, honey, xylitol, or maple syrup for the yacon instead of being concerned about its negative side effects.
Although these substitutes should be eaten in moderation as well, they are not likely to have the same side effects as yacon syrup.
Tell me in the comments section below what your favorite yacon substitute is and which one you will incorporate in your next recipe.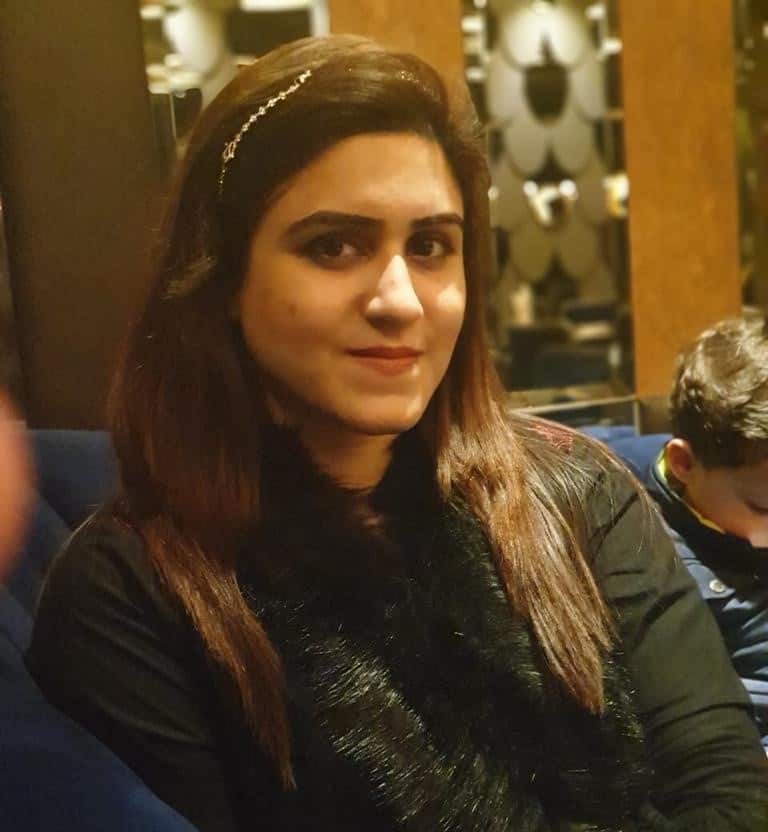 A nutrition degree holder and a foodie by heart, Madiha Saad loves to inspire people through her writings and uses her knowledge and experience to write articles on trending nutrition topics. She loves to develop new recipes in her pastime. Read More…