The relationship between food and wound healing before and after surgery has been known for centuries. The foods you eat before plastic surgery can significantly affect your healing process (1). 
So it is important to know which foods to avoid before plastic surgery. 
About a month before the medical procedure, cut down your salt, refined sugar, and refined starches. A week before the medical procedure, dispose of all supplements, red meat, alcohol, caffeine, flaxseed, eggplant, garlic, tomatoes, and potatoes.
What you eat before surgery is important. Maintaining a healthy diet and weight 2-4 weeks before surgery is very important (2). Aggressive dieting before surgery is not advised.   
Diet plays a vital role in successful and stress-free plastic surgery. Eating well can go a long way in preventing swelling and inflammation after surgery and can help the wound heal faster.
Here are 10 must foods that you should avoid before having any plastic surgical procedure:
1. Alcohol:
People taking increased amounts of alcohol usually suffer post-surgery bleeding issues.
Sometimes, these bleeding problems are not tolerated despite high doses of anticoagulants (3).
Avoid alcohol at least 2 weeks prior to surgery. Alcohol can thin the blood, which increases your risk of bleeding during the procedure. It can interfere with your body's ability to heal (4).
Alcohol can also cause dehydration, increasing your chances of developing a blood clot after surgery (5). Alcohol dilates blood vessels, swelling the body and compromising healing (6).
2. High Sodium Diet:
If you have too much salt (sodium) in your diet, you may be more prone to swelling after plastic surgery. 
Too much salt will cause your body to retain too much water. This will cause water to leak out of the cells, causing edema (7).
Surgeons also recommend that patients reduce their sodium intake before and after plastic surgery. It is really important to ensure that the body's wounds can heal properly (8).
3. Caffeine/Coffee: 
Caffeine is a stimulant. It may interfere with anesthesia if taken prior to surgery (9). A little caffeine can help patients recover.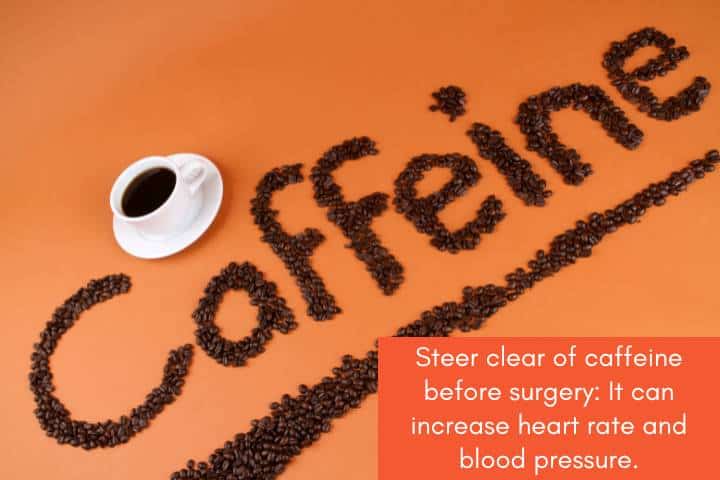 Caffeine can cause problems during surgery if the patient has high levels in their blood. This is because caffeine can increase heart rate and blood pressure. And this may lead to bruising and inflammation.
4. Refined Sugar:
Surgery puts stress on your body, and stress can affect your blood sugar levels. Blood sugar that is too high or too low can cause serious problems. Keeping your blood sugar under control before, during, and after surgery will reduce your risk of infection in your incision and help you heal better (10).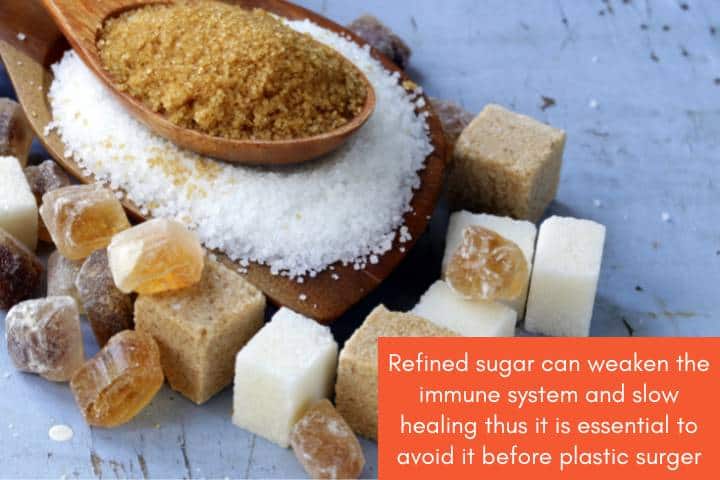 Refined sugars shorten healing time. It can increase insulin resistance and can slow wound healing time. They can also cause unnecessary inflammation. It also suppresses the immune system.
Patients with poorly controlled blood sugar can have serious complications such as ketoacidosis, blood loss, complications from infectious diseases, and even death (11). Avoid taking pasta, table sugar, bread, and carbonated beverages before plastic surgery.
5. Vitamin E Rich Foods:
Foods rich in vitamin E include sunflower oil, olive oil, margarine, almonds, and peanuts. You can also get vitamin E from fortified cereals. 
Vitamin E is a blood thinner and can cause bleeding. Vitamins also interfere with anesthesia during surgery. It would be best not to take any 2 weeks before your procedure (12).
It can also cause bleeding in the brain, which could lead to a stroke. This is why it's important to get your blood tested before surgery if you take vitamin E food and supplements.
6. Supplements And Herbal Medicines:
Avoid taking dietary supplements at least 14 days before surgery.  The potential risk of bleeding associated with this antiplatelet effect has led to recommendations that patients stop taking supplements before surgery (13)
The use of herbal medicine among patients is widespread. These should not be taken within 10 days of surgery since they increase the risk of perioperative and postoperative bleeding. These can also prolong or mimic the effect of anesthesia (14).
Here is a table showing commonly used herbal medicines, their uses, effects, and perioperative considerations (15).
| Herbal Medicine | Uses | Pharmacological effects | Perioperative considerations | Discontinuation recommendation |
| --- | --- | --- | --- | --- |
| Echinacea | Improve immune system | Modulates cytokines; stimulate macrophages and NK cells | Avoid known hepatotoxic drugs | Discontinue 2 weeks before surgery |
| Ephedra | CNS stimulant; weight loss; asthma treatment | Sympathomimetic | Caution with other sympathomimetic; arrhythmias with halothane | Discontinue 24 h before surgery |
| Garlic | Treatment of hypertension, hyperlipidaemia, atherosclerosis | Anti-platelet effects | Risk of bleeding | Discontinue 7 days before surgery |
| Ginger | Anti-inflammatory; Anti-emetic | Inhibit serotonergic pathways; stimulate GI tract | Risk of bleeding | Discontinue 2 weeks before surgery |
| Gingko biloba | Neuroprotective; Improve blood flow | Free radical scavenger; anti-platelet effects | Risk of bleeding | Discontinue 36 h before surgery |
| Ginseng | Mood enhancer; aphrodisiac | Sympathomimetic | Risk of bleeding; hypoglycaemic effect; caution with other sympathomimetic | Discontinue 7 days before surgery |
| Kava | Sedative; anxiolytic | Potentiate GABA mediated system | Reduce anaesthetic requirements | Discontinue 24 h before surgery |
| St John's Wort | Antidepressant | Inhibit MAOIs; induces cytochrome p450 | Serotonergic crisis; sedative effect | Discontinue 5 days before surgery |
7. High Carbohydrate Diet 
All pre-operative patients should avoid foods containing a natural compound called solanaceous glycoalkaloids (SGA) found in tomatoes, potatoes, and eggplant for at least seven days before any surgery (16).
Food rich in starch and carbohydrates suppress your immune system and make you prone to inflammation. Potatoes contain solanaceous glycoalkaloids (SGAs), which inhibit both butyrylcholinesterase (BuChE) and acetylcholinesterase (17). They can also affect the pharmacokinetics of anesthetic drugs.
8. Processed Foods
Deli Meat or Sausage or Hot Dogs that are not reheated first. These meats may contain Listeria bacteria, which causes food poisoning. Listeria can also lead to sepsis and death in vulnerable patients who have to undergo surgeries.  
In fact, it is estimated that one in five people who eat deli meats get sick from listeriosis (18).
Soft cheeses, uncooked poultry, and unpasteurized milk products are the leading cause of Listeria.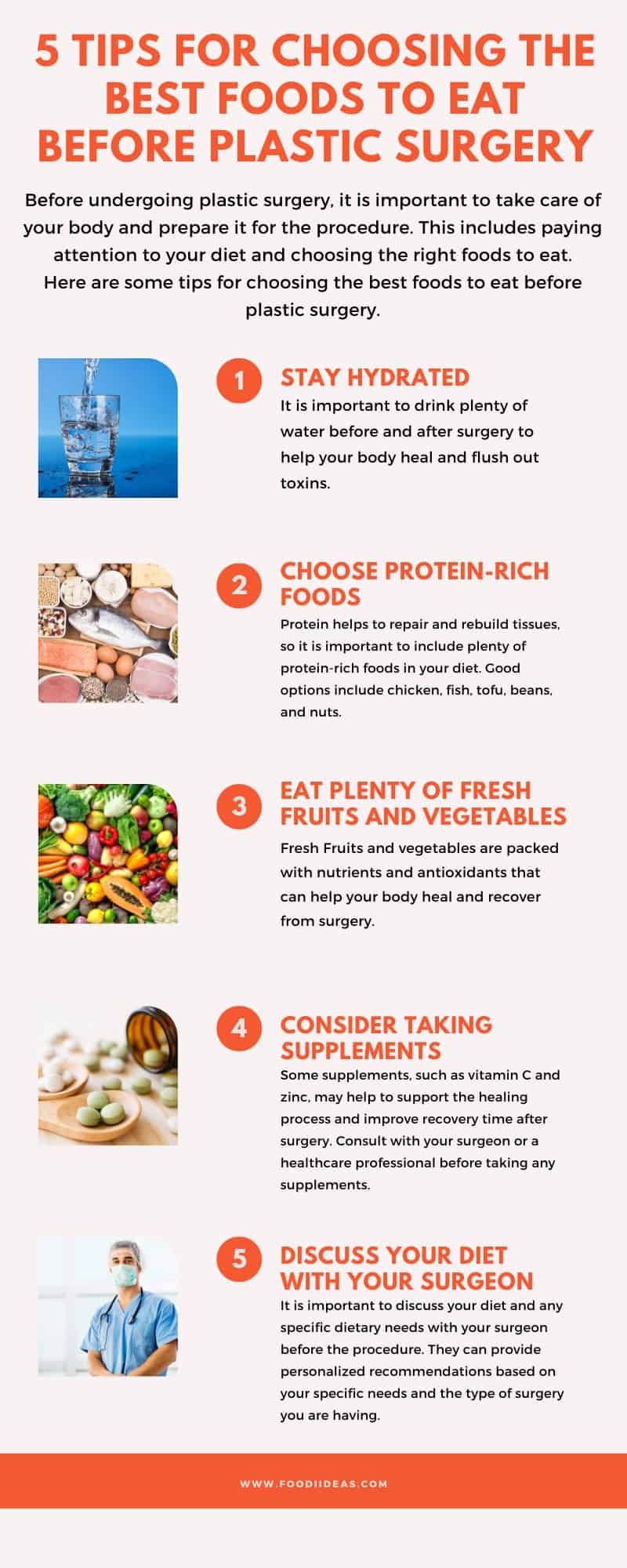 9. High-Fiber Diet:
It is also a good idea for patients to avoid high-fiber foods at least three days before surgery. Examples of high-fiber food are flex seed, cayenne, eggplant, garlic, and bell peppers.
Flex seeds may interfere with blood coagulation. Flaxseed oil also might decrease blood clotting.  It can cause bleeding during and after surgery (19).
10. Red Meat
You can also avoid foods such as red meat because they carry high sodium levels. Sodium can lead to water retention during the recovery time after surgery.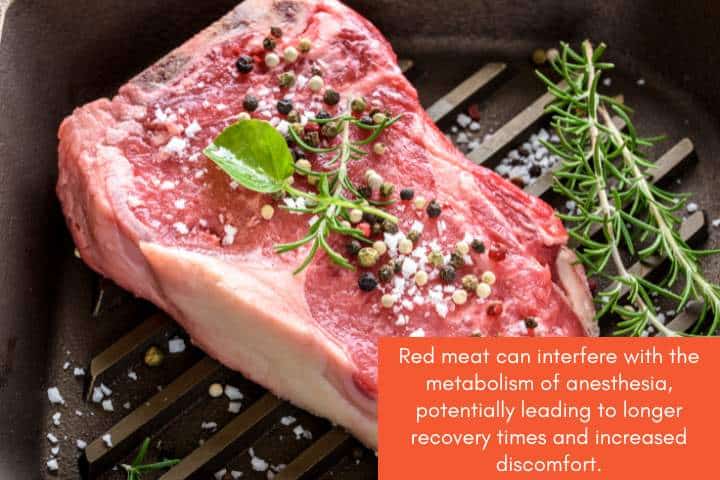 Red meat is also high in saturated fat and can trigger constipation, a common side effect after surgery. Constipation can increase pain levels and can place additional stress on your incision.
Wrap-Up:
If you are planning on having plastic surgery, make sure you don't eat foods containing chemicals and additives that could cause complications. Don't eat food that interferes with blood clotting. Also, avoid foods that may elevate post-surgery inflammation.
Avoid all types of alcohol and carbonated drinks that interfere with the pharmacokinetics of anesthesia medicines.
If you are having plastic surgery in the future, research the surgeon performing your procedure or ask someone who knows them well enough about their work ethics (this should include their track record and reviews).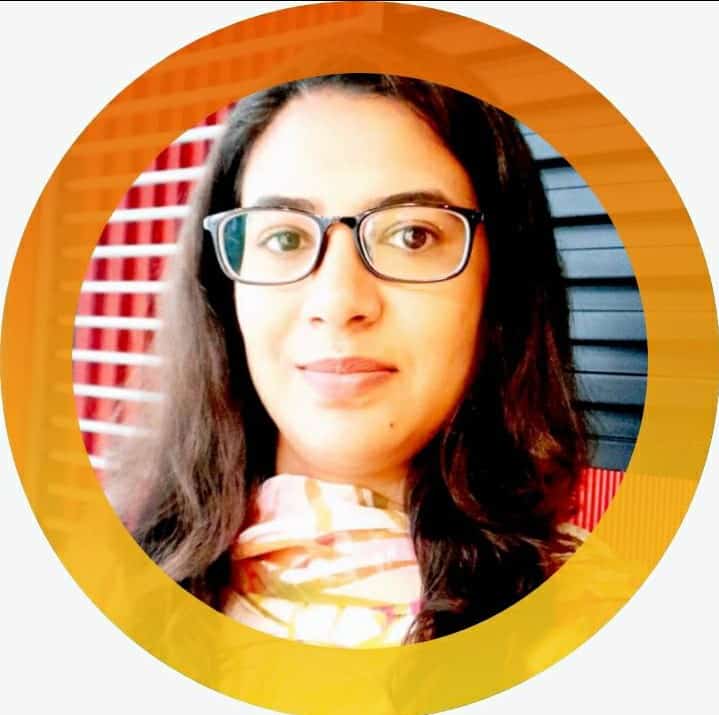 As a pharmacist and a healthcare administration master's degree holder, I have a strong background in the medical field. My knowledge and experience have led me to start writing blogs about food and nutrition, particularly related to surgical procedures. I believe that proper nutrition is an essential part of the recovery process, and my blogs aim to provide practical advice on what to eat before and after different surgeries to support the body's healing. Thank you for following my journey as I share my passion for food and its role in healthcare.