Ginger ale is growing increasingly popular with each passing day. This gingery beverage is used in a variety of dishes as an ingredient.
Occasionally, you may find yourself without ginger ale on hand, and you may question whether you can substitute it with something else.
You can substitute ginger ale with other beverages such as plain seltzer water, sprite, ginger beer, lemon-lime soda, and cream soda.
In this post, I'll go through some easy and widely accessible ginger ale substitutions that you'll want to give a try.
What is Ginger Ale?
Ginger ale is a carbonated soft drink that contains ginger flavoring. It's usually made with a few other components, such as lemon, lime, and cane sugar, among others.
Ginger ale's acidity makes it a fantastic meat tenderizer, which means that it breaks down the proteins in meat, making it softer and easier to chew.
Ginger ale is created by bringing molasses, ginger root, salt, and water to a boil and then straining it. After that, whey or ginger is added to it, and it is then bottled. Furthermore, ginger ale can be packaged in glass bottles.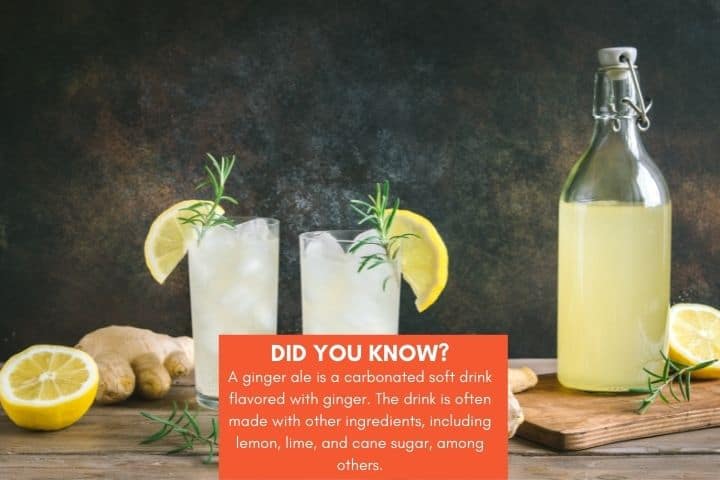 The glass bottle is sealed until it is completely airtight, and it is then left to rest on the counter for two to three days. The whey will serve as the source of fermentation. Carbonation begins to develop during this period.
Ginger is said to have anti-inflammatory and antioxidant effects. It is also beneficial for those suffering from headaches and nausea, as well as for those with heart disease.
On the other hand, many commercial ginger ales contain very little ginger and a lot of sugar.
5 Best Ginger Ale Substitutes
Ginger ale is a ginger-flavored drink. It's commonly produced by combining the following ingredients:
sugar from carbonated water, high fructose corn syrup, artificial sweeteners, natural or artificial ginger flavor.
It is possible to include caramel coloring as well as preservatives such as citric acid and sodium benzoate.
You have several alternatives when you have a recipe that asks for ginger ale, but you don't want or need to use it.
Here are the best and most easily accessible substitutes for ginger ale for the majority of recipes.
1. Plain Seltzer
Plain Seltzer water is composed entirely of simple, unadulterated water that has been heavily charged with carbon dioxide.
It has a clear, straightforward taste. You can make the addition of taste like citrus or berries as per your recipe.
Difference Between Plain Seltzer and Ginger Ale
The flavor of seltzer and ginger ale is one of the most significant distinctions between the two beverages.
When it comes down to it, seltzer is simply carbonated water, but ginger ale has more taste and sweetness added to it.
Some individuals report that seltzer has a little bitter taste.
These beverages can also be utilized for a variety of other reasons.
If you only want to add carbonation to a drink, a seltzer may be a better choice for you. If you want to add a little more sweetness to a drink, ginger ale, which already contains sugar, is usually the best choice.
Because these beverages have distinct tastes, individual drink recipes will call for either one or the other of these ingredients.
How Can You Substitute Plain Seltzer for Ginger Ale?
You can substitute plain seltzer in an equal amount for ginger ale. If your recipe calls for a gingery type of taste, then you can add a few drops of ginger syrup as well.
When substituting plain seltzer for ginger ale in sweet recipes, then you can think of adding a little bit more sugar in your recipe, so the sweetness gets adjusted by the plain flavor of seltzer.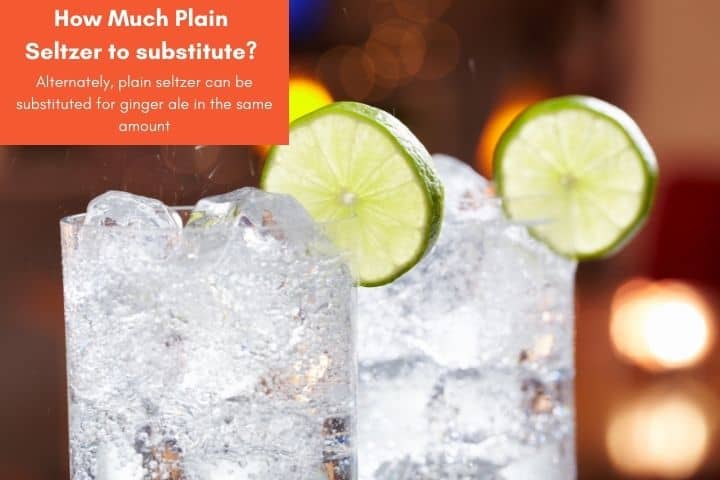 Is Plain Seltzer Better for You Than Ginger Ale?
Seltzer water has no sugar, unlike tonic water and soda, which makes it a healthier alternative to ginger ale.
It has a mild acidity that is somewhat higher than that of still water, but it will not damage your tooth enamel.
Seltzer water is a fantastic alternative for staying hydrated on a hot day. (1)
Seltzer water has also been demonstrated to be effective in the treatment of indigestion.
The use of seltzer water helps those who suffer from stomach issues. The use of seltzer water may be beneficial in relieving constipation symptoms such as stomach discomfort and irregular bowel movements.
The absence of sugar and calories in seltzer water is the most widely recognized health advantage of the beverage. Drinking seltzer water can be a delightful alternative to soda and other sugary beverages.
Drawbacks of Using Plain Seltzer as Ginger Ale Substitute
Seltzer water should be avoided by those who suffer from excessive gas or gastroesophageal reflux disease (GERD), as it may exacerbate symptoms such as increased gas and acid reflux. (2)
Plain seltzer does not provide the same earthy taste as ginger ale.
You may have to add a little more sugar content if substituting seltzer water in any sweet recipe.
2. Sprite
Sprite is a carbonated flavored drink. The original Sprite is colorless and has a lemon-lime flavor to it.
Sprite contains less carbonation than certain other drinks on the market. Sprite may even include less sugar than those other sodas.
The sugar content of a 12 oz can of Sprite is 33 grams.
Difference Between Sprite and Ginger Ale
The main difference between ginger ale and sprite is that the latter contains no ginger content. Whereas ginger ale has ginger flavoring added into it.
How Can You Substitute Sprite for Ginger Ale?
Usually, a recipe that asks for ginger ale needs the yeast to ferment due to its carbonated nature. So, sprite can serve as an excellent substitute for ginger ale in cooking and baking as well.
Substitute an equal amount of sprite with ale. And if you need ginger flavor, then you can add a little bit of ginger syrup into your recipe.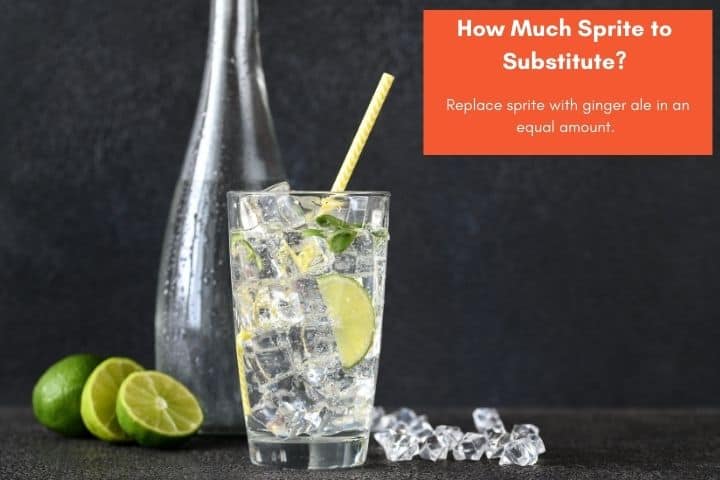 Is Sprite Better for You Than Ginger Ale?
In terms of nutrition, there is no such difference between sprite and ginger ale. They both have high sugar content and must be consumed in moderation.
The only advantage sprite has on ginger ale is its widespread availability.
Drawbacks of Using Sprite as Ginger Ale Substitute
Sprite is extremely high in sugar. It should come as no surprise that ingesting excessive amounts of sugar can result in a range of health problems. A few examples are obesity, type 2 diabetes, and a variety of cardiac problems.
The sugar content of a single 12 ounce (375 mL) can of Sprite exceeds the daily limit suggested by the American Heart Association. To avoid being dehydrated, you should restrict your use of Sprite and other sugary beverages. (3)
3. Ginger Beer
Ginger beer is created by combining fresh or dried ginger, sugar, and lemon juice in a fermenting vessel.
People used to ferment the ingredients with sugar and then add yeast to make an alcoholic ginger beer. Ginger beer has been more widely accessible in recent years as a non-alcoholic beverage that produces bubbles through carbonation rather than fermentation.
When it comes to their components, ginger beer and ginger ale have one thing in common: ginger. However, the two beverages are not the same.
Ginger beer is typically created by steeping ginger and lemon zest in boiling water for many hours. Following that, once the ginger-lemon zest tea has cooled to 25-30 degrees, it is infused with yeast.
To begin the fermentation process, the mixture is covered with a clean towel and let sit for 24 hours in a warm location to initiate the fermentation process.
This combination is then bottled in bottles and left to ferment for another 48 hours at room temperature before being placed in the refrigerator to finish fermentation. A sugar solution is added to the mixture after six days to kill the active yeast.
According to the FDA, ginger beer is categorized as non-alcoholic since it contains less than 0.5 percent alcohol, which is the legal limit for non-alcoholic beverages.
Difference Between Ginger Beer and Ginger Ale
The flavor of ginger beer is significantly stronger than that of ginger ale. While we can't speak for all ginger beers, we can say that a true Ginger Beer is produced with fresh ginger and other natural ingredients.
Whereas ginger ale is often a carbonated form of water that has been sweetened with ginger syrup and sold in cans.
Another contrast between ginger beer and ginger ale is the taste and scent that they have. In contrast to ginger ale, which is mellow and sweet-smelling, ginger beer has a peppery scent and a gingery taste.
How Can You Substitute Ginger Beer for Ginger Ale?
Ginger beer tops up drinks with a robust, spicy ginger flavor.
You can easily substitute an equal amount of ginger beer for ginger ale. If you want to enjoy the more intense and citrusy flavor of a cocktail, then ginger beer is your best bet.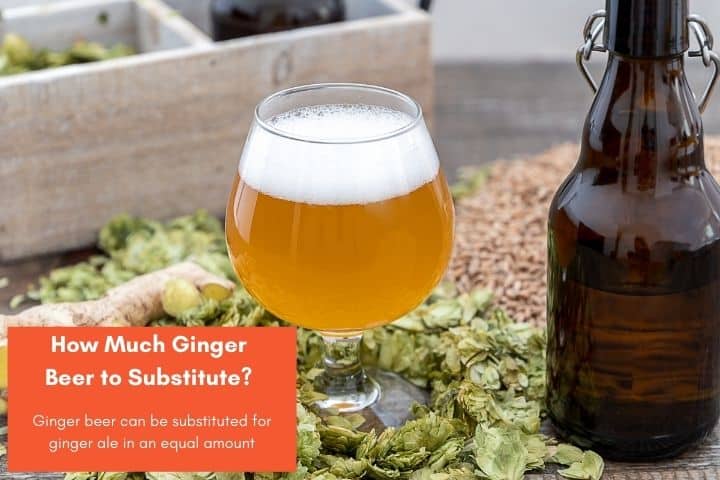 Is Ginger Beer Better for You Than Ginger Ale?
Ginger beer is particularly helpful since most versions contain actual ginger root as their primary ingredient. Ginger contains anti-inflammatory chemicals known as gingerols, which implies that it can aid in reducing or preventing inflammation in the body.
The ginger in beer may also be beneficial in alleviating motion sickness, morning sickness, and general nausea.
Drawbacks of Using Ginger Beer as Ginger Ale Substitute
Ginger beer has high sugar content as compared to ginger ale. Ginger beer has 3.3 g of sugar per ounce, whereas ginger ale contains 2.6g of sugar per ounce.
It can cause side effects due to the presence of more ginger in it. It can cause interaction with heart medications thus, preventing the blood from clotting. (3)
4. Lemon-lime Soda
Lemon-lime beverages, usually known as lemonade, are carbonated soft drinks flavored with lemon and lime. Sprite, 7 Up, and Sierra Mist are all popular brands.
Lemon-lime soft drinks are usually colorless; however, hazy versions like Lima are also available. Lemon-lime soft drinks, which resemble the clear version of lemonade, are packaged in green bottles to distinguish them from soda water.
Lemon-lime drinks are a popular home treatment for nausea and stomach discomfort.
Difference Between Lemon-Lime Soda and Ginger Ale
Traditional ginger ale recipes call for sugar, ginger root, and sometimes citrus.
Whereas lemon-lime sodas contain lemon, carbonated water, and sugar mainly.
How Can You Substitute Lemon-lime Soda for Giger Ale?
You can substitute any lemon-lime soda with ginger ale in equal quantities.
If you want to make something similar to ginger ale at home, you can add ginger syrup and a splash of cola to any lemon-lime drink.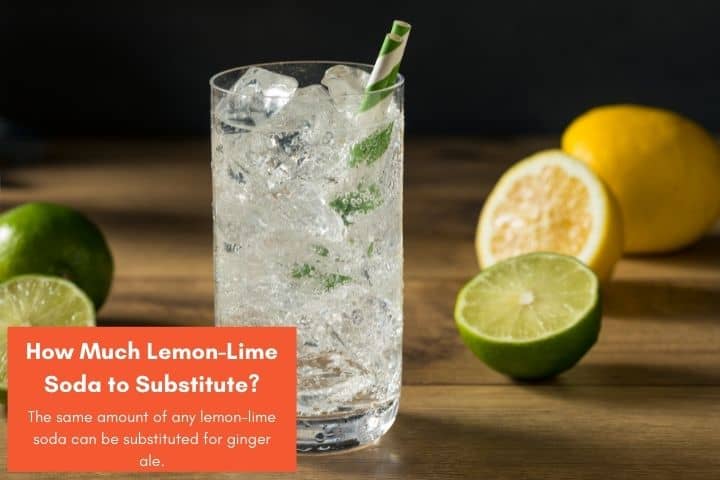 Is Lemon-lime Soda Better for You Than Ginger Ale?
Lemon-lime sodas are readily available than ginger ale.
Their flavor is mostly more likable than ginger ale.
They serve as an excellent and cheap substitute for ginger ale.
Lemon-lime sodas can help in indigestion and stomach discomforts.
Drawbacks of Using Lemon-lime Soda as Ginger Ale Substitute
Lemon-lime sodas are high in sugar content.
Many kinds of research indicate that sugar-sweetened drinks are linked to metabolic disorders such as heart disease, abdominal obesity, and fatty liver. (4)
5. Cream Soda
Cream Soda is a very sweet, vanilla-flavored carbonated soft drink. It is not the same thing as an ice cream soda.
It has a pleasant fizz with a long-lasting froth on top.
The "cream" in the name refers to the gentle fizz in Cream Soda; there is no cream in these market versions of Cream Soda.
Difference Between Cream Soda and Ginger Ale
Ginger ale tastes sour with a citrus note. The main ingredient used in ginger ale is ginger root.
On the other hand, Cream soda is produced using soda water, vanilla flavor, and sugar.
How Can You Substitute Cream Soda for Ginger Ale?
You can use cream soda instead of ginger ale. But the sweetness level of cream soda is far more than ginger ale.
So, you will need to adjust your recipe sweetness according to its taste.
Is Cream Soda Better for You Than Ginger Ale?
You can consider cream soda as an emergency substitute for ginger ale.
Cream soda can be a refreshing change for those who do not like the gingery taste of ginger ale.
Drawbacks of Using Cream Soda as Ginger Ale Substitute
Cream soda has double the number of calories as ginger ale.
Excessive use of cream soda has long-term effects such as weight gain and tooth decay.
Take Away
Ginger ale can be substituted with a variety of components, some of which are interchangeable, while others must be combined with other ingredients to be an effective replacement.
When substituting ginger ale for another ingredient in a dish, it is critical to consider the flavor you want to achieve. For example, if you want a sweet taste, it is best to use an ingredient that has a sweet flavor to it.
Also, when substituting ginger ale in a recipe, it is beneficial to do a taste test to check that the required flavor is achieved in the dish being prepared.
Let us know in the comment section below which of the above substitute you would love to try in your next recipe!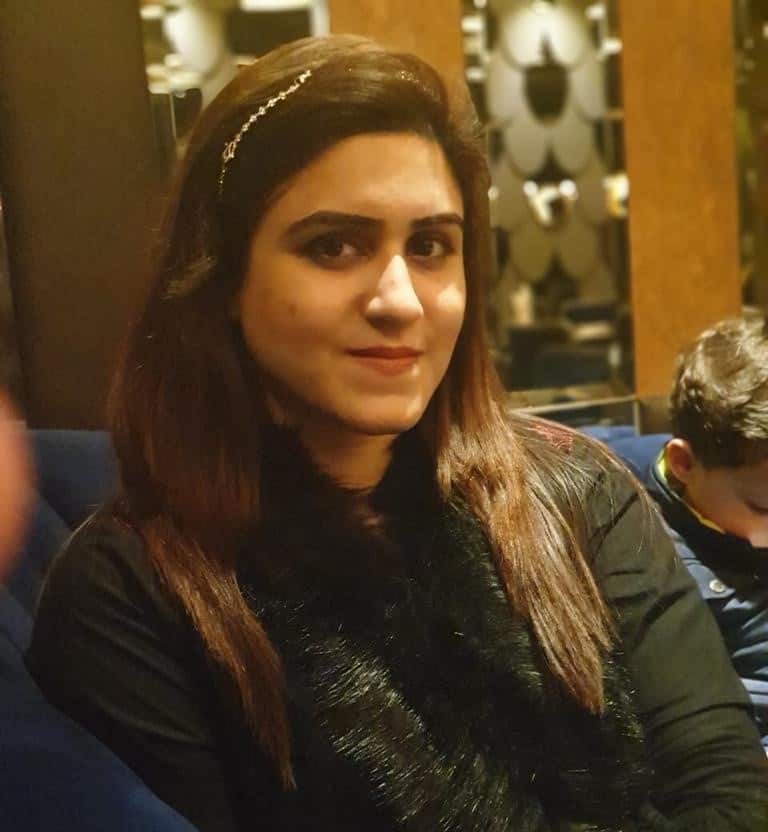 A nutrition degree holder and a foodie by heart, Madiha Saad loves to inspire people through her writings and uses her knowledge and experience to write articles on trending nutrition topics. She loves to develop new recipes in her pastime. Read More…