Nosebleeds can be distressing, but they are rarely serious. Eating nutritious meals and drinking enough water can help with the bleeding nose.
Some foods have healing properties that help to prevent nosebleeds and ensure recovery of the wound. The question here is, what are some of the foods that can be eaten after a nosebleed?
You can eat oranges, basil leaves, bananas, berries, spinach, whole-wheat bread, and fish stew after a nosebleed. Lots of water is also helpful in wound healing after a nosebleed.
Frequent nasal bleeding can agitate a person. Fortunately, eating healthy foods can aid in quick recovery by supplying the calories, vitamins, minerals, and protein required for healing.
Let's take a look at all those healing foods in this article below.
8 Foods to Eat After A Nosebleed
When blood is lost from the tissues that surround the nose, it causes nose bleeding. Because the lining is densely packed with blood vessels, even little irritation can result in a lot of bleeding.
A lack of vitamin K is known to cause recurrent nosebleeds, particularly in children. Those who are prone to nosebleeds are recommended to consume a diet high in Vitamins B, C, K, E, or foods rich in bioflavonoids(1).
Bioflavonoids aid in the strengthening of blood vessel walls, which helps to reduce nose bleedings. Such nutrients are present in purple or red fruits and vegetables, such as grapes, blueberries, tree tomatoes, blackberries, raspberries, plums, and red or purple cabbage.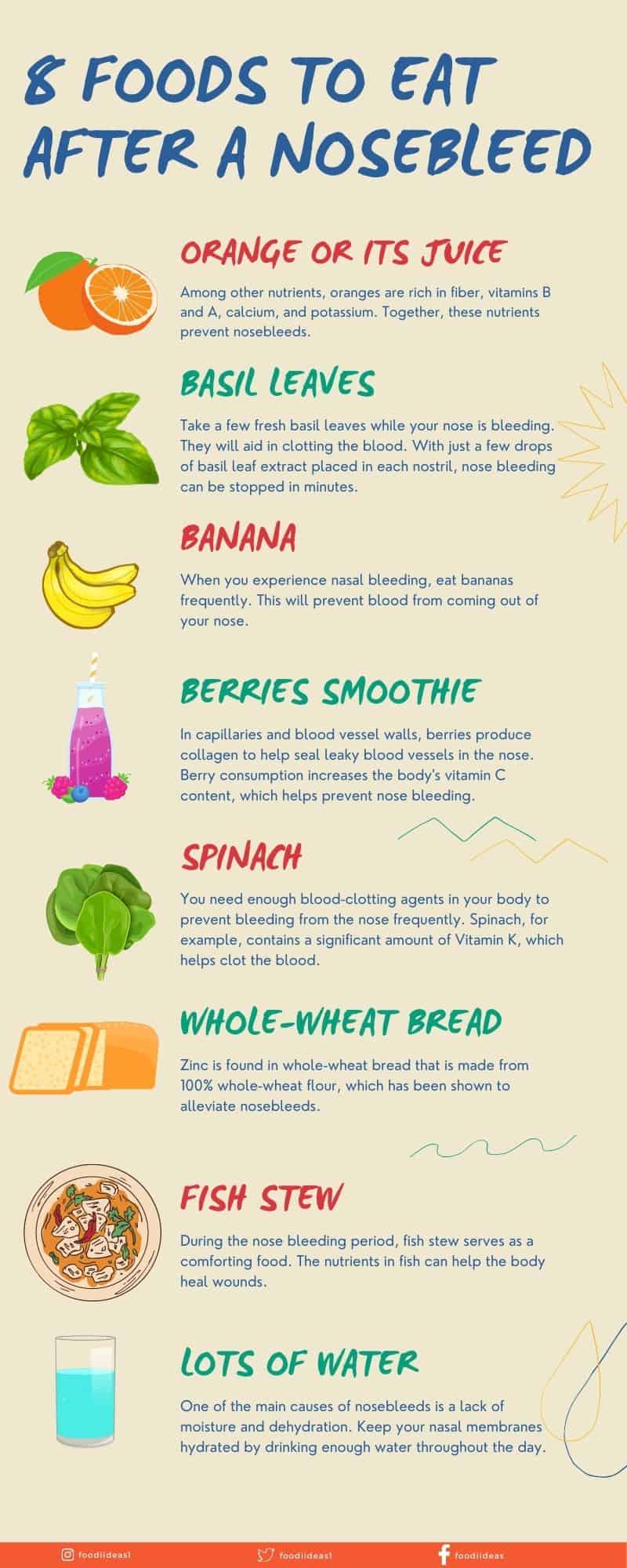 Bioflavonoids are also abundant in vegetables such as fresh tomatoes, green broccoli, green pepper, and garlic.
I would say that bioflavonoids are not enough alone for healing nose bleeds.
Fruits and vegetables that are high in vitamin C, particularly green leafy vegetables like spinach, as well as fruits like oranges, bananas, mangoes, and apples, are also essential in preventing nosebleeds.
Vitamin C is a potent antioxidant that has also been shown to protect and repair damaged cells after nasal bleeding.
Vitamin E is effective as a natural anti-inflammatory element as well. It is found in sunflower and sunflower oils, almonds, peanut butter, hazelnuts, and wheat germ oil(2).
Maintaining a healthy balanced diet and enjoying foods rich in vitamins, zinc, and other minerals such as iron are proven to help avoid nosebleeds.
Let's take a look at some of the foods which can help in recovering from nosebleeds. Here is a list of 8 foods to eat after a nosebleed:
Oranges or orange juice
Basil leaves
Banana
Berries smoothie
Spinach
Whole-wheat Bread
Fish stew
Lots of water
1. Orange Or Orange Juice
Vitamin C is an antioxidant that protects cells from damage and is abundant in oranges. It helps your blood to clot and makes your blood vessels healthy.
Vitamin C is required for the development of collagen(3), which aids in the creation of a moist lining in the nose. Collagen is a protein that aids in the healing process after a wound.
Blood loss in nosebleeds poses a threat of anemia. However, Vitamin C present in oranges or orange juice helps iron to be absorbed in the blood thus, ultimately fighting the risk of anemia.
The cooling effect of an orange or a chilled glass of orange juice helps in stopping blood that is coming from the nose.
Oranges are also high in fiber, B vitamins, vitamin A, calcium, and potassium, among other nutrients. These nutrients collectively help in preventing nosebleeds.
One must consume or drink Vitamin-C-rich foods to help prevent nosebleeds.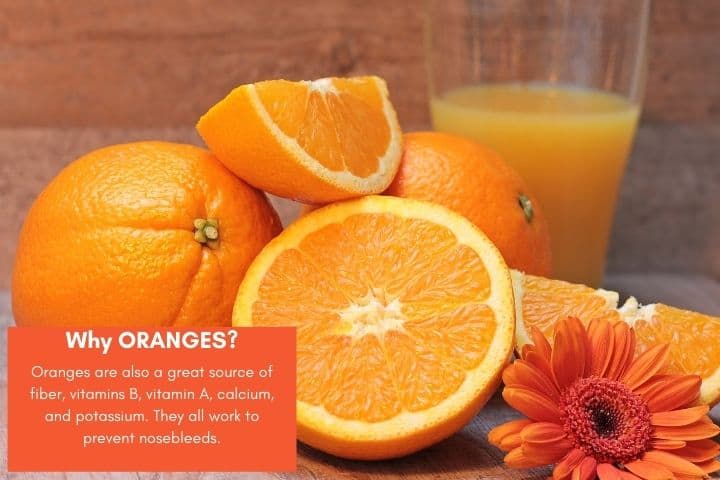 2. Basil Leaves
Basil is a leafy green plant with a strong flavor. If you experience nosebleeds frequently, you must stock basil leaves in your fridge at all times.
Basil is high in antioxidants. It is also high in polyphenolic flavonoids, which protect the muscles of the nose from damage.
Vitamin K, manganese, iron, vitamin A, and vitamin C are all abundant in fresh basil. It also has high calcium, magnesium, and omega-3 fatty acid content(4).
Basil contains phytochemicals that have antioxidant, anti-inflammatory, and other health benefits(5).
While your nose is bleeding, chew on a few fresh basil leaves. It will aid in the clotting of the blood. Even a few drops of basil leaf extract put into each nostril can help stop nose bleeding in minutes.
3. Banana
Bananas are among the most extensively eaten fruits in the world. They provide vital nutrients that benefit your health.
Bananas are also rich in potassium. Low levels of potassium can cause a risk of dehydration(6).
This dehydration can cause your body tissues to dry up, including the tissues on the inside of your nose, causing nosebleeds.
Potassium found in bananas aids in the maintenance of body fluid levels and controls the flow of nutrients and waste products into and out of cells(7).
Munch on bananas frequently when you experience episodes of nasal bleeding. They will help in keeping the blood coming out of the nose at bay.
Also include other potassium-rich foods in your diet, such as avocados, and tomatoes to help prevent nosebleeds.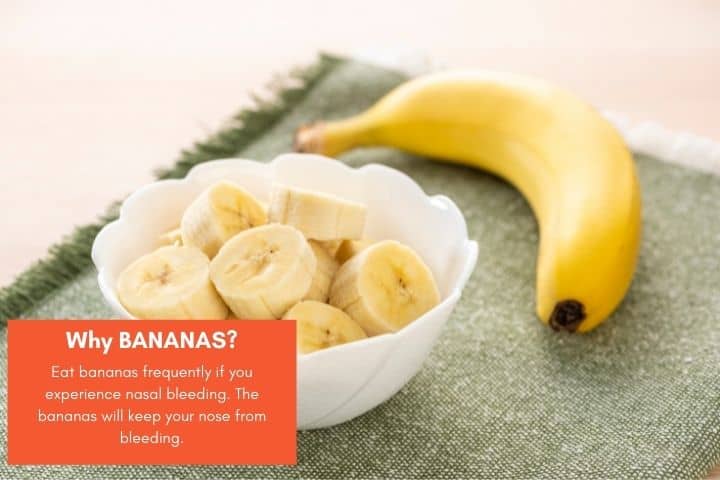 4. Berries Smoothie
Berries are one of the most nutrient-dense foods you can eat. They are tasty, nutritious, and have plenty of health advantages to add.
Berries include antioxidants such as anthocyanins. Anthocyanidins are potent antioxidants found in dark and highly colored fruits such as blueberries, blackberries, raspberries, and red grapes(8).
They help seal up leaky blood vessels of the nose by producing collagen in blood vessel walls and capillaries. Berries boost the quantity of vitamin C in the body as well, which helps in the prevention of nose bleedings.
A berry smoothie is not only healthy but also filling, which can help you to curb your appetite during nosebleeds. Also, the chilling and refreshing effect of the smoothie can calm your nerves during blood loss.
5. Spinach
To prevent the nose from bleeding frequently, you must have enough blood-clotting agents in your body. These blood clotting agents can be obtained from diet easily.
Dark green vegetables such as spinach contain high amounts of Vitamin K, which in turn helps in clotting the blood(9).
Other Vitamin K-rich foods such as kale, mustard greens, broccoli, and cabbage also help in keeping the inner lining of the nose moist and intact through collagen formation.
Load up on spinach for a long-term cure from nasal bleeding. You can sauté the spinach or add it to the smoothie to help prevent the nosebleed.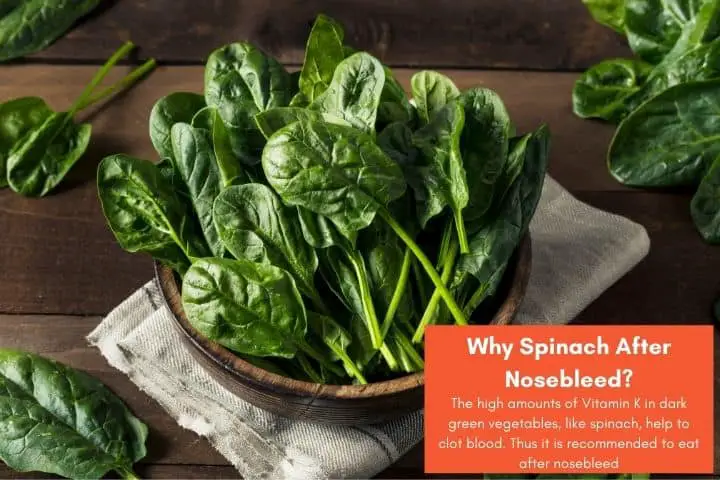 6. Whole-wheat Bread
Whole-wheat bread that is made up of 100% whole-wheat flour contains healthy minerals such as zinc which are shown to improve the condition of those with nosebleeds.
Zinc is an essential vitamin for immune system response, wound healing, protein and DNA synthesis, and many other biological activities(10).
Stock up whole-wheat bread in your pantry, which not only provides nutrients and health benefits but also aids in preventing nosebleeds.
You can also add zinc-rich foods to your diets, such as brown rice or popcorn during the days of bloody episodes.
7. Fish Stew
Fish stew serves as a comforting food during the nose bleeding period.
Blood is lost when the nose bleeds, sometimes triggering iron deficiency. Because of the increased risk of bleeding, nasal bleeding causes tiredness and easy bruising. You will be needing the energy to cope up with the condition.
Since fish provides several important nutrients, its soup is recommended for wound healing.
The health advantages of fish stew are numerous. The soup aids in hydrating the nose cells because it contains more than 80% water.
In addition to being a rich source of protein, fish also contains beneficial fats, omega 3, as well as other vitamins and minerals(11).
Calcium in the fish soup also promotes blood clotting or the capacity to coagulate, which is critical for preventing blood loss in the case of nasal bleeding.
Remember to enjoy fish stew at room temperature. Do not take it hot as it can irritate or trigger the blood vessels of the nose.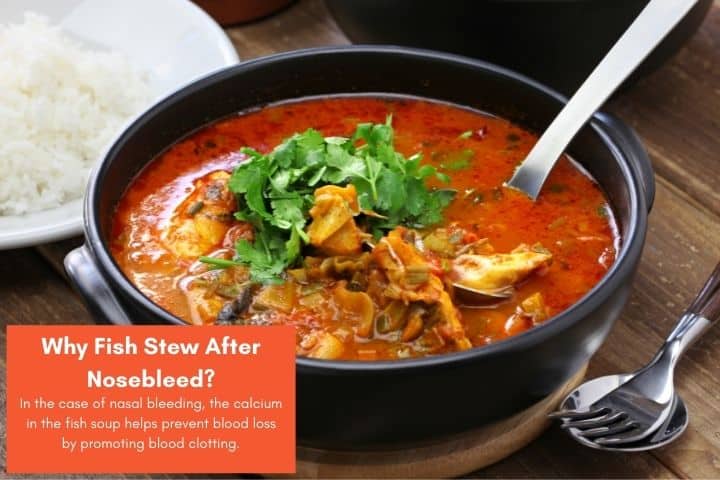 8. Lots of water
Lack of moisture and dehydration is one of the first causes of nosebleeds.
Dry mucous membranes cause nosebleeds if you don't drink enough water throughout the day.
Make sure you drink enough water throughout the day to keep your nasal membranes hydrated.
5- Days Diet Plan After Nosebleed
Nosebleeds normally end when a blood clot develops. The blood clot is linked to the mucous membranes quite lightly. A rise in blood pressure might cause the clot to release, causing your nose to bleed again.
So, you can easily take care of your bleeding nose at home through simple dietary modifications.
Hot beverages, warm meals, and spicy foods should all be avoided. Heat causes blood vessels to widen, causing bleeding to occur. For two weeks, you should not ingest anything warmer than room temperature by mouth.
Smoking is also discouraged because nicotine can induce bleeding. Heat dilates blood vessels, and the smoke's substance can cause the healing process to be delayed.
I have developed a definitive healing 5-day diet plan which you can follow after the bleeding episode stops. I have also added foods and drinks which will help in quick recovery and wound healing.
Day
Breakfast
Lunch
Snack
Dinner
Day 1
Blueberry smoothie with honey
Chickpea and avocado salad
Orange juice
Fish soup
Day 2
Fortified breakfast cereal with diced bananas
Whole-wheat bread grilled chicken sandwich
Strawberry ice cream
Baked beans with sausages
Day 3

Banana and kale smoothie
Spinach omelet

Sauteed spinach with brown rice
Lemonade & popcorns
Chicken steak with broccoli
Day 4

Guacamole toast
Orange juice

Tuna lettuce wraps
Watermelon
Sauteed swiss chard with potatoes
Day 5
Scrambled eggs with cheese and pesto veggies
Tomato penne pasta with avocado
Greek yogurt with mixed berries
Quick chicken hummus bowl
What to Drink After A Nosebleed?
Drink water, juice, or any other caffeine-free beverage. Your urine should be clear (like water) or pale yellow. Dark yellow urine indicates that your entire body, including your nose, is overly dehydrated.
Take Away
When you are recovering from a nosebleed, the foods and beverages you consume can promote or delay your recovery.
Take notes from the above dietary supplements and consume meals rich in nutrients and minerals to speed up the healing of your nose.
Vitamin C, Vitamin K, iron, zinc, and other nutrients and minerals play an optimal role in recovering from a nosebleed. Staying hydrated is also essential in wound healing and recovery.
If you are getting nosebleeds, follow the instructions above and let me know if you have any questions in the comment section. I will respond to you ASAP.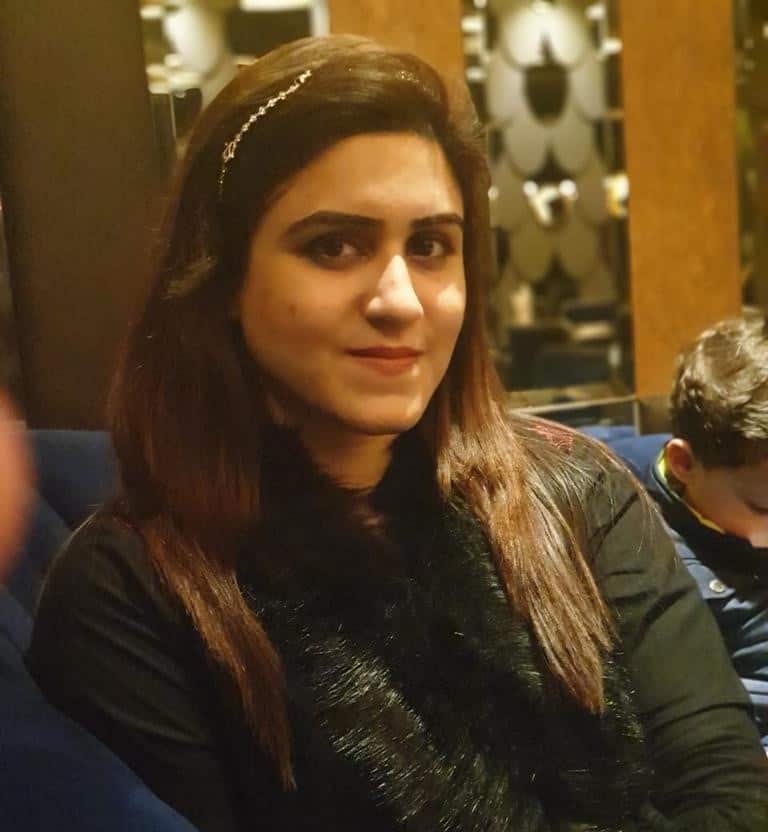 A nutrition degree holder and a foodie by heart, Madiha Saad loves to inspire people through her writings and uses her knowledge and experience to write articles on trending nutrition topics. She loves to develop new recipes in her pastime. Read More…