Miscarriage or abortion is a traumatic experience that affects both your mind and body. To heal both inside and out, we must supply our bodies with the essential nourishment in the form of healthy meals.
Recovery from a miscarriage or abortion requires patience and kindness. There is no way to hurry the procedure of healing. You can make this journey a little comfortable by eating the right foods after miscarriage or abortion for fast recovery.
Consume meals that help you to maintain your lost energy. Incorporate plenty of green leafy vegetables, beans and lentils, dried fruits, turmeric, eggs, meat, iron, calcium, and vitamin C-rich food products into your diet after a miscarriage or an abortion. 
After a miscarriage or an abortion, your body will be in a vulnerable state, and it will require special nutrition to recover fully. This article provides some insight into the foods that can assist you in recovering after it as fast as possible.
As someone who has gone through this heartbreaking experience, I can assure you that I will help you in choosing the best foods that contribute to a fast recovery after a miscarriage or abortion.
10 Foods to Eat for Fast Recovery After a Miscarriage
Your body needs to heal and recharge with nourishing meals after a miscarriage. This may be difficult when you are fatigued in so many ways and maybe experiencing bodily discomforts and pain, but it is doable.
What sorts of foods can aid in your fast recovery? In most cases, the same whole foods are recommended after a miscarriage that helps you create a healthy baby or recover after a normal birth. These include:
1. Turmeric Milk
Turmeric contains anti-inflammatory qualities, which makes it extremely effective at reducing pain and swelling in the body(1).
Turmeric with milk is a high-protein beverage that is also highly nourishing and fortifying. This combination is a well-known traditional approach for increasing the strength of your immune system(2).
The patient's body becomes weak as a result of the miscarriage, and their red blood cell count decreases. Women who consume this beverage regularly will see a rise in their hemoglobin levels, as well as a reduction in their feelings of physical tiredness. Add one tiny scoop of turmeric powder in warm milk before night to help you sleep better.
2. Bone Broth
Bone broth is a perfect and nourishing meal that helps to regulate hormones after a miscarriage. It helps the body to heal from the trauma and helps the immune system to grow stronger.
It helps to build back all the energy you lose during pregnancy loss. Bone broth includes a high concentration of micronutrients(3), which can help to avoid postnatal depletion, which is the primary cause of postpartum brain fog, memory loss, and tiredness in women.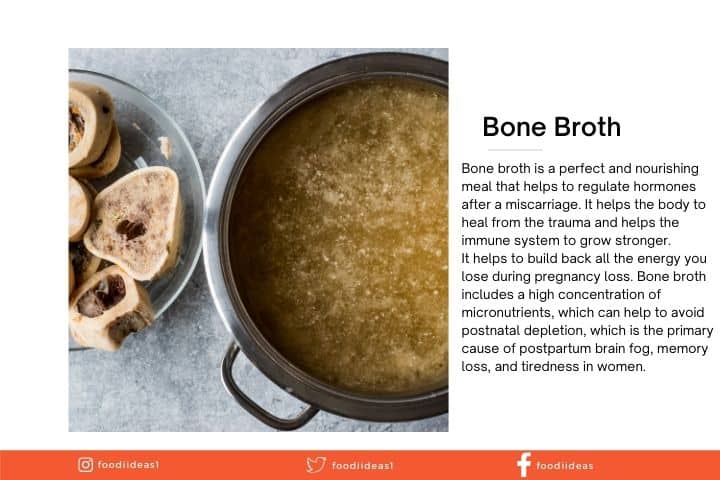 3. Nuts
Nuts are an excellent source of many essential nutrients. They offer several qualities that can assist you in recovering from a miscarriage more quickly.
They are excellent providers of the nutrients like magnesium, vitamin E, iron, folate, and fiber(4). They contain fatty acids such as omega-6 and omega-3, which are also important in recovering faster after a miscarriage.
The following nuts can be included in your menu:
Pistachio
Cashew nut
Almonds
Walnuts
If you don't want to eat it straight, you may cook with it in a variety of recipes instead. This way, you will get all of the advantages while also enjoying a delicious meal.
4. Green Leafy Vegetables
Dark leafy greens are extremely nutritious and can be consumed for a variety of reasons. Fibroids are common after an abortion, and they can be quite painful because significant blood loss might result in anemia. Thus, you should boost your iron intake by eating dark leafy greens(5).
Among the dark leafy greens that may be found are turnip, watercress, mustard greens, kale, collard greens, romaine lettuce, and bok choy. These are also beneficial for nourishment after a miscarriage.
5. Yogurt
Yogurt has a high calcium level(6), making it a nutritious snack after pregnancy loss.
Yogurt is a readily available food item that comes in a variety of flavors that are healthy and give a soothing effect in a depressing time. Its high calcium content helps restore the calcium that has been lost due to the miscarriage.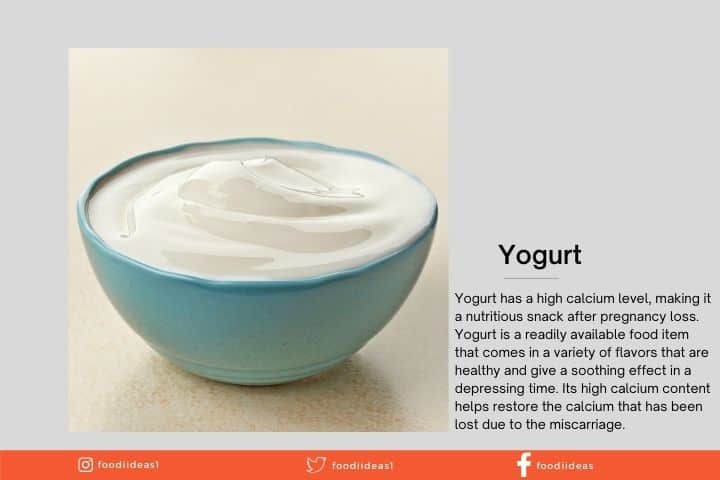 6. Salmon and Other Fish
A typical dish of fish provides us with 35 % of our recommended daily calcium intake. In addition, the fishes like salmon are a good source of high-quality protein and are high in omega-3 fatty acids(7).
Calcium is depleted from the body during pregnancy to ensure the proper development of the baby's physical body and organs.
When the pregnancy tissue is evacuated from the body as a result of a miscarriage, the body's calcium level drops dramatically, and it must be replaced by the consumption of calcium and vitamin-rich foods such as salmon and fish meat.
7. Dark Chocolate
After a miscarriage, the mother may have feelings of tiredness, loss of self-confidence, a lack of ambition, and a general sense of pessimism, which is frequent since the woman becomes emotionally and physically bonded to the baby.
Chocolate is high in magnesium, which has been shown to boost mood(8). Dark chocolate can also help lower blood pressure, which helps alleviate psychological stress and helps to cope with the loss.
8. Healthy Fats
Fats are a fantastic method to replenish your energy levels. Healthy fats can also aid in the improved absorption of nutrients by the body(9). Choose flaxseeds, walnuts, ghee, and coconut oil as your healthy fats.
Consuming comfort foods such as dark chocolate or coconut milk is beneficial to both your physical and mental health after a miscarriage.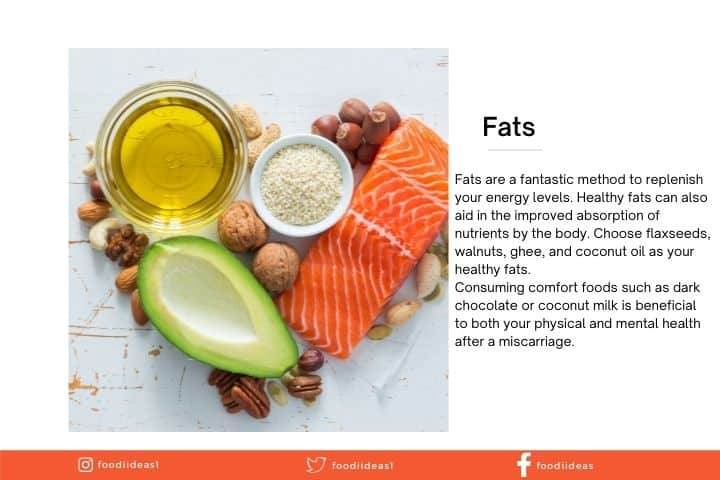 9. Seeds
Chia seeds, poppy seeds, celery seeds, and sesame seeds are abundant in calcium, protein, and omega 3 fatty acids, and they are also low in fat and calories(10). They are also a good source of minerals such as iron, copper, and manganese.
The growth and development of the fetus require a significant quantity of nutritional resources. After a miscarriage, the woman's body requires a restoration of the nutrients she has lost, and these seeds can be included in any dish to facilitate the loss of nutrients.
10. Lentil Soup
The stress and sadness associated with abortion or miscarriage can lead to depression.
Foods high in magnesium, such as lentil soup, can aid in the treatment of depression and reduce anxiety.
Lentil soup provides all the essential vitamins and minerals such as soluble fiber, folate, and magnesium(11) which assist in fast recovery after a miscarriage. It has a soothing effect on the body as well.
7-Days Diet Plan After Having A Miscarriage
It will be easier for you to get through the week if you follow my post-miscarriage diet plan.
I've put together single-serving dishes for breakfast, lunch, supper, and one snack for the seven days.
| Day | Breakfast | Lunch | Snack | Dinner |
| --- | --- | --- | --- | --- |
| Day 1  | Muesli and Linseeds with Yoghurt | Egg Salad: Made with 2 boiled egg + salad vegetables with an olive oil | Turmeric Milk | Meat Broth with plain rice |
| Day 2 | Porridge Made Rolled Oats with Milk and Mixed Seeds | Homemade Toasted Chicken, Cheese & Avocado Sandwich | 1 serve of fruit (e.g., 3/4 cup grapes or 5 prunes). | Grilled Salmon & Vegetables: Served with sweet potato mash. |
| Day 3 | Baked Beans on Multigrain Toast with a Thin Spread of Margarine | Fried Rice with Sliced Egg Omelet. | Fresh Fruit & Cheese Platter | Roast Vegetable, Chicken & Quinoa Salad |
| Day 4 | Wholegrain Flaky Cereal | Lentil soup with fresh broccoli | 1 serve of fruit (e.g., 1 medium apple or orange) | Frittata Caprese with Spinach, Tomato, and Ricotta |
| Day 5 | Multigrain Bread with Peanut Butter | Multigrain Bread (toasted) with Baked Beans + Avocado | Fruit Salad & Yoghurt: 1 cup fresh fruit salad with 200g vanilla yogurt. | Bone broth with whole wheat tortilla |
| Day 6 | Muesli and Mixed Seeds with Yoghurt | Roast Chicken & Salad Wrap | Dates and Almond Milkshake | Chocolate Souffle with herbal tea |
| Day 7 | Poached Eggs with Avocado on Sourdough Bread | Baked Fish in Lemon: Served with vegetables and baked potato wedges | Cheese and wholegrain crackers + handful of mixed nuts. | Baked Chicken Fillets with Tomato sauce & a side of Vegetable |
10 Foods to Eat for Fast Recovery After an Abortion
When you've just undergone an abortion, your body will be working extra hard to recover. To cure oneself, you must consume an abundance of nutritious foods. You'll be losing blood and re-growing the lining of your womb, so you'll need to keep your energy levels up.
As previously said, it is critical for anybody who has just experienced an abortion to have a nutritious and sufficient diet. However, selecting a whole new menu for oneself might be challenging, especially during this stressful time.
To help you, I've compiled a list of 10 foods to consume after abortion to assist in a speedy recovery.
1. Red Meat
Pregnancy loss can result in severe bleeding, which can cause your body to become iron deficient. Red meat and other iron-rich meals can aid in the healing process following an abortion.
Because it is high in protein and zinc, red meat must be an important part of a balanced diet after abortion(12).
Protein aids in the development of bones and muscles, while zinc helps to maintain a healthy immune system. When appropriately included in a woman's weekly diet, red meat is an excellent source of protein for women who have experienced an abortion.
2. Flax Seeds
Flax seeds are another healthy food to consume after an abortion since they are incredibly beneficial for maintaining a healthy uterus and building a stronger immune system.
Flax seeds are rich in nutrients, have a high concentration of Omega-3 fatty acids, and are a good source of high-quality protein(13). These seeds are the most effective for relieving constipation, which can be dangerous following an abortion.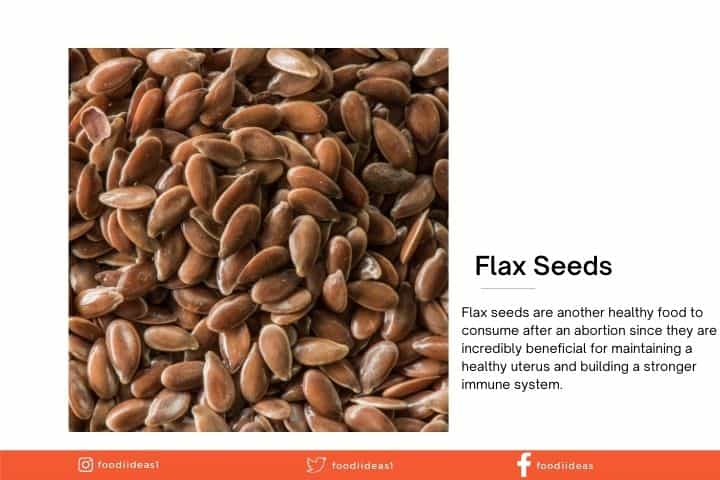 3. Saffron
After an abortion, you must add saffron to your milk or to the foods you eat since saffron has the potential to nourish your body and replenish specific vitamins and minerals that have been depleted during the procedure.
It contains a significant amount of vitamin C, iron, vitamin B6, magnesium, and potassium. This herb will assist your body in nourishing and restoring itself.
4. Oatmeal
Oats are a wonderful meal, and they are especially beneficial for women who develop sensitive stomachs after the abortion procedure.
They are high in fiber, which helps to prevent constipation and hemorrhoids, and they also assist in maintaining a healthy cardiovascular system(14). When you combine whole-grain meals with nuts, seeds, and berries, you can help create a nutritional foundation for another day following an abortion.
5. Dates
Dates are a healthy food to take after an abortion since they are high in iron content and can aid in the formation of red blood cells, which can assist in reversing blood loss after the procedure(15).
Dates are high in iron and can aid in the formation of red blood cells as well as the reversal of anemia. Organs and the nervous system benefit greatly from their soothing and revitalizing properties.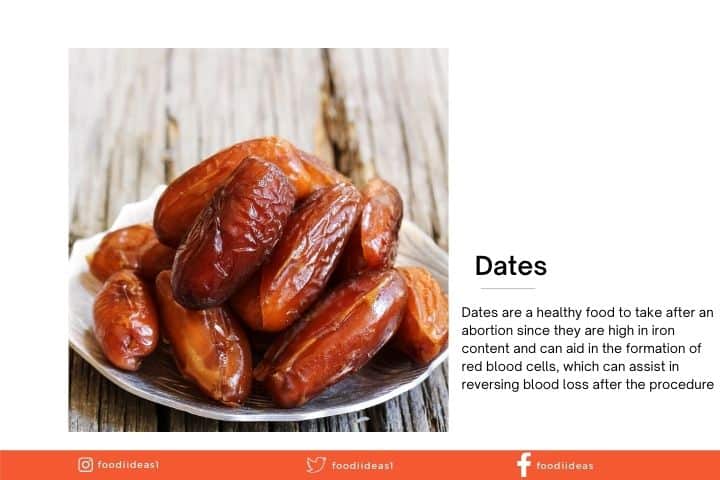 6. Dried Ginger Powder with Wheat and Jaggery
Dried ginger powder is one of the most effective antibacterial herbs for the relief of pain and inflammation, which you will require following an abortion to combat weakness.
Jaggery contains a high concentration of iron, which helps to avoid anemia. It also has the additional benefit of naturally detoxifying your body and relieving bodily discomfort.
Wheat is the most effective food for decreasing chronic inflammation. All of these ingredients come together to provide a delicious and nutritious meal to consume following an abortion.
7. Herbal Tea
Herbal teas are a source of everyday nourishment. Many herbal teas provide feminine care during the healing process of miscarriage.
Red raspberry leaf tea helps in toning and strengthening the uterus. Lemongrass tea can help in calming the anxiety situation after an abortion. Chamomile tea helps in reducing stress levels as well.
These herbal teas can be taken warm and cold as per the individual's preference.
8. Oranges
Orange is a fresh, seasonal, juicy fruit high in potassium, fiber, Vitamin C, and folate, among other nutrients(16). Whole fruits like oranges are the ideal food for mothers who have just given birth. Its acidic and juicy flavor contrasts nicely with the nutritious greens.
It helps ease poor self-esteem that is often encountered following an abortion and inspires the mother to feel better about herself again.
Oranges also assist in lowering high blood pressure and enhance heart health and skin.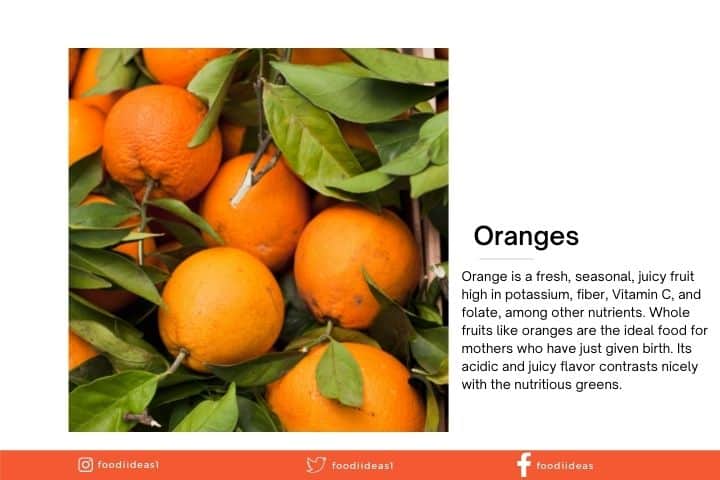 9. Fruits and Vegetables
Fruits and vegetables, particularly those high in Vitamin C, can help to keep infection away while your uterus recovers and repairs itself. A range of vitamins and minerals may be found in leafy greens, citrus fruits, and colorful plant sources.
10. Beans and Lentils
Beans and lentils are high in iron because of their high protein composition. After a miscarriage, a woman may experience tiredness, pale skin, and dizziness, among other symptoms. Anemia can also occur as a result of a lack of iron in the body.
Beans and lentils are good natural sources of iron(17). Iron content in one cup of cooked lentils is 40 percent of our daily need for iron intake. Legumes are also high in folate, potassium, and magnesium, all of which are beneficial in the healing process following an abortion.
7-Days Diet Plan After Having an Abortion
When you're weary or have a to-do list that's a mile long, it's easy to let well-balanced meals slide. I have created this healthy post-abortion diet chart for each day of the week to help you get back on your feet.
Simply choose something from the chart based on the time of day and your personal preferences. Make lunches, dinners, and breakfasts on your own by mixing and matching them. Everything on the chart is considered to be a healthy option for any day of the week.
| Day | Breakfast | Lunch | Snack | Dinner |
| --- | --- | --- | --- | --- |
| Day 1  | Greek yogurt with berries, flax, and chia seeds | Minestrone Soup: Made with vegetable stock + vegetables + kidney beans | Orange juice with 3 dates | |
| Day 2 | 2 eggs with whole wheat toast | Salad with sliced chicken or tofu | Warm saffron milk | Sweet Potato Lentil Stew |
| Day 3 | Oats with berries and walnuts | Salmon with spinach and white beans | Fruit protein smoothie | Lentil Soup with a side of whole-wheat toast |
| Day 4 | Egg quiche with a side of fruit | Almond chicken salad | Bone broth | Bean or chicken burrito bowls |
| Day 5 | Whole wheat pancakes with chocolate syrup | Lentil Soup | Date energy balls with a homemade fruit smoothie | Chicken Thigh Fillets Baked in a Tomato & Vegetable Sauce |
| Day 6 | Classic avocado toast with orange juice | Tortellini with chicken and vegetables | Homemade Smoothie: Made with milk + fruit | Baked sweet potatoes topped with cinnamon |
| Day 7 | Peanut butter banana oatmeal | Greek lemon chicken and potatoes | Cottage cheese with crackers | Thai chicken coconut curry |
Is It Ok To Eat Spicy Food After Miscarriage?
No, one must not eat spicy foods right after miscarriage.
Spicy meals can cause increased gastritis if you are taking antibiotics after a miscarriage.
Can I Eat Meat After Miscarriage?
Yes, meat can help you in gaining back all the strength which was lost during a miscarriage.
But it is important to avoid fatty meat. Inflammation can be caused by meat that is high in fat content. As a result, following a miscarriage, avoid fatty foods to avoid inflammation.
Can I Drink Coffee After Abortion?
No, it is not advisable to drink coffee after abortion for few days.
A high caffeinated drink can cause problems like inflammation. So, it is best to avoid coffee for 2-4 days after having an abortion.
Can I Eat Egg After Abortion?
Yes, you can eat eggs after an abortion.
Eggs are the most popular source of protein. Vitamin B2, selenium, Vitamin D, B6, and B12 are found in eggs(18). Eggs are filling and low in their carbohydrate content. They provide the essential nourishment needed after an abortion.
The EndNote
A miscarriage is an emotionally and physically stressful period for women.
A nutritious diet can aid in the healing process as well as the process of dealing with the loss—support from family and friends and an overall sense of well-being help to ease the situation.
Consultation with your local physician, as well as the inclusion of the above-recommended food items, will considerably accelerate healing.
In the comment section below, let me know how this article helped you make the right choices after a miscarriage or an abortion.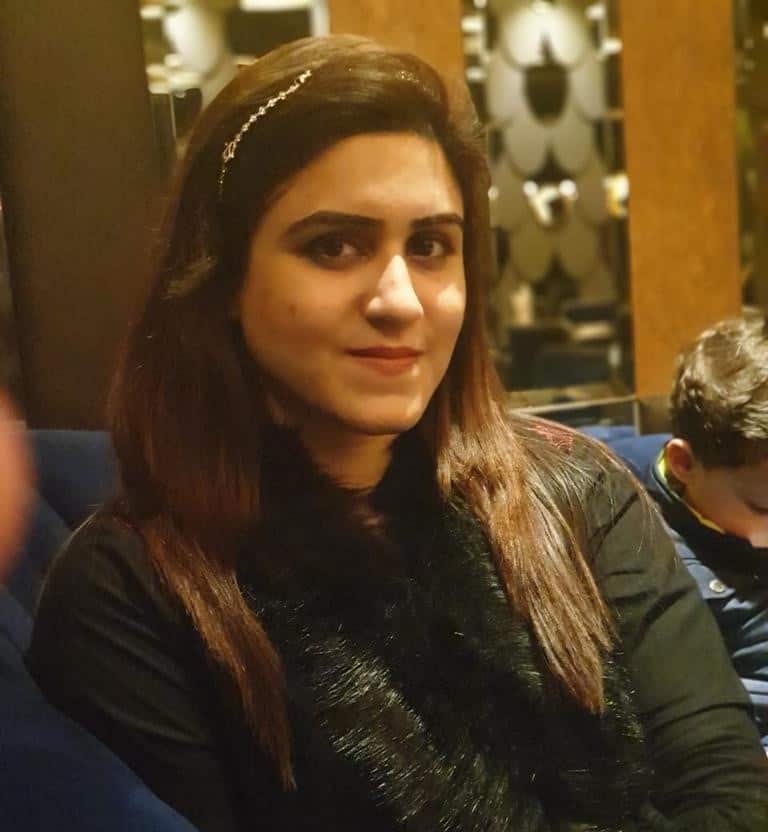 A nutrition degree holder and a foodie by heart, Madiha Saad loves to inspire people through her writings and uses her knowledge and experience to write articles on trending nutrition topics. She loves to develop new recipes in her pastime. Read More…