Having an endoscopy scheduled anytime soon? One of the many questions that will arise in your mind will be what to eat before endoscopy?
If you have your endoscopy planned, you must only consume clear liquids for breakfast, such as water, apple juice, black coffee, black tea, or broth. Then you must start fasting. You should refrain from eating or drinking anything at least 6 hours before your examination.
In order for you to get the best results from endoscopy, your stomach must be completely empty. Food particles present in the stomach might cause potentially serious problems. They also raise the risk of choking during the evaluation.
As a result, it is critical that you carefully follow the dietary guidelines provided in this article.
What to Eat Before Endoscopy?
It is important to understand what to eat before endoscopy so you can prepare foods ahead of the procedure.
On the day before the endoscopy, you can eat solid food until midnight. After midnight, you can only drink clear liquids. You must stop drinking even clear fluids before 6 hours of the procedure.
Clear liquids that are allowed to drink are:
Water
Coconut water
Gatorade
Pedialyte or Powerade
Coffee or tea (no milk or non-dairy creamer)
Carbonated and non-carbonated soft drinks
Kool-Aid or other fruit-flavored drinks
Apple juice, White cranberry, or White grape juice
Jell-O
Popsicles
Clear Broth
Hard Candies
An empty stomach is required for a safe and thorough inspection; therefore, you should refrain from eating or drinking anything, including water, for around 6 hours before the procedure. This includes chewing gum and sweets.
On the other hand, having a sip of water with your normal medicines is OK.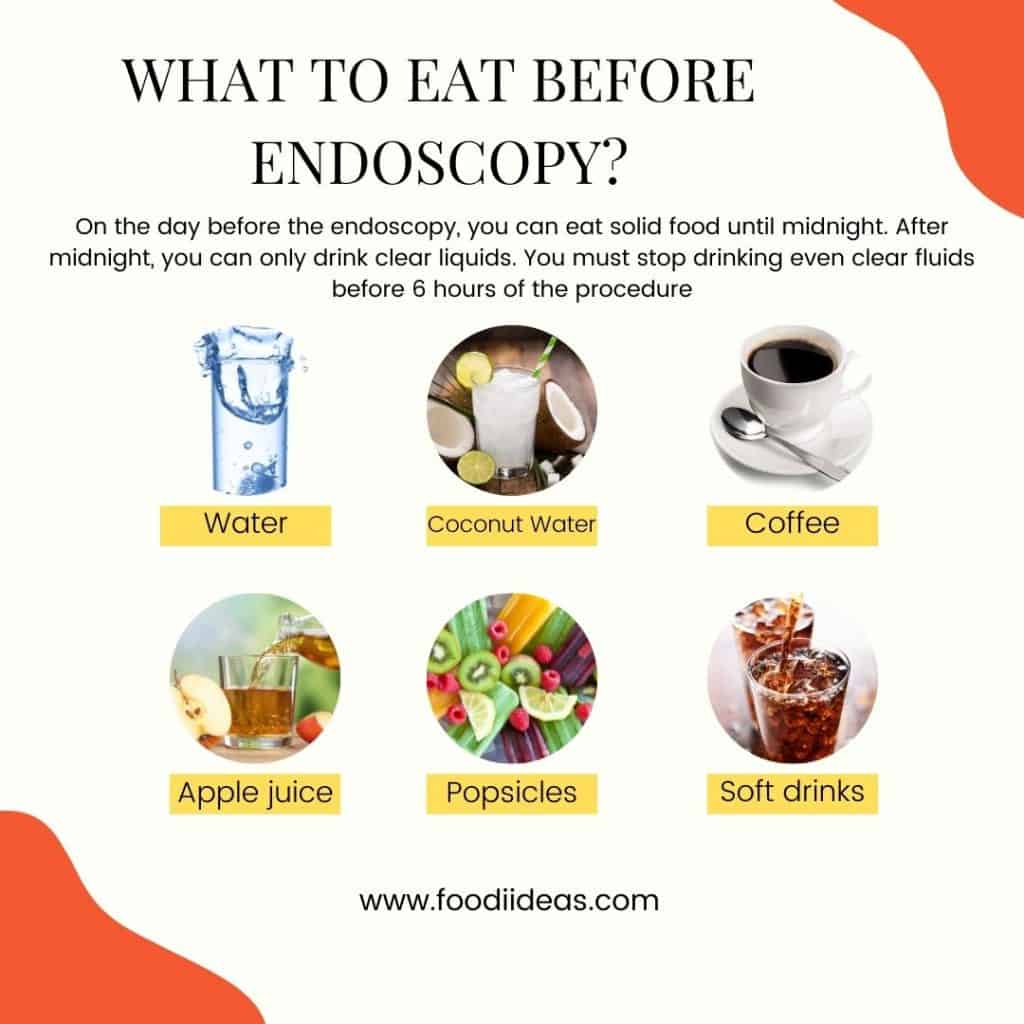 Preparing for An Endoscopy
I understand how frightening preparing for endoscopy maybe for people at this time. My goal is to make this procedure as easy as it can be for you. Here are a few pointers to assist you in preparing for an endoscopy:
7 Days Before Your Procedure
Stop taking any multivitamins or supplements 7 days prior to the endoscopic procedure.
Avoid nuts and seeds
Avoid alcohol
1 Day Before Your Procedure
Stop consuming all solid foods before midnight on the day of examination.
Clear liquid fluids are recommended after midnight. Avoid consuming any red or purple drinks.
Do not consume any alcoholic beverages the day before or the day of the endoscopy.
The Day of Your Endoscopic Procedure
For a morning endoscopy:
After midnight, you are not allowed to have any solid foods if your endoscopy is scheduled early in the morning.
You are permitted to consume some clear drink such as water or apple juice along with any necessary medications up to 6 hours before your scheduled procedure.
Before 6 hours of your procedure, no chewing gum, ice, or sweets are permitted.
For an afternoon endoscopy:
You can have a light breakfast before 7 am if your endoscopy is scheduled in the afternoon.
You can take your usual medications in the morning.
Fluids that are clear in colors, such as water or apple juice, can be taken up to 4-6 hours before the scheduled endoscopy.
Clear Liquid Foods to Eat Before Endoscopy
A clear liquid diet is made of the majority of liquids that are easily visible through, such as water, broth, and plain gelatin. When consumed at body temperature, they are liquid and readily digested, and they leave no trace in the digestive tract.
In a procedure like an endoscopy, where solid food is not feasible to eat before the procedure, a clear liquid diet can assist in maintaining appropriate hydration. It also provides essential electrolytes such as salt and potassium. It can also offer some energy needed to prepare or recover from any surgical treatment.
Clear liquids that are recommended before endoscopy are listed below:
Gummy bears
Flavored gelatin or Jell-O (without fruit)
Sports drinks that are crystal clear (Gatorade, Powerade, Propel)
Pedialyte
Juices that are clear (such as apple or white grape)
A cup of coffee or tea (without cream or milk)
Water (plain, seltzer, sparkling, or flavored)
Coconut water
Carbonated beverages
Italian ice
Popsicles or ice pops, and other frozen treats (no pureed fruit or fiber, no sherbet or gelato)
Kool-Aid or other flavored drinks
To assist you in getting through the prep time of endoscopy, glasses of water, hard candies, lollipops, and menthol cough drops can come in handy.
You must follow a clear liquid diet up until 6 hours of endoscopy procedure. Do not drink anything that is not transparent. You can not drink anything that contains pulp, and you need to chew it in order to swallow it.
Smoothies, blended fruit, and vegetable beverages are not permitted at all. During the fasting period, no dairy products or non-dairy products such as almond milk, rice milk, or soymilk are permitted.
What Can You Eat the Day Before an Endoscopy?
Eat as much as you like or whatever you like the day before your endoscopy. You must keep the last meal very light to avoid any stomach distress.
However, you should refrain from eating or drinking anything for 6-8 hours prior to the procedure's scheduled start time.
What Is A Light Breakfast Before Endoscopy?
A light breakfast may comprise 1 egg, cereal, or a slice of bread. Consuming fatty foods such as bacon or sausage is not advised.
A light breakfast before endoscopy means that you do not overeat.
Light breakfast consists of the following items:
Clear liquids (explained above)
Toast or bread with a little bit of butter or jam on it
Applesauce
Crackers
Boiled Pasta
Eggs
If you have your endoscopy scheduled in the afternoon, then you must have a light breakfast the morning before your examination.
You can eat cereal, toast, juice, coffee, tea, or soda. At the very least, you should have this meal 6-8 hours before your scheduled visit. Do not consume any liquids six hours before your procedure.
Why No Alcohol Before Endoscopy?
Generally, anesthesia and pain-relieving medicines are given before endoscopy. The use of strong medicines to inhibit processes such as breathing, heart rate, and blood circulation is used in general anesthesia. The same bodily systems are affected by alcohol.
All of these chemicals must be processed in the liver, which may be overburdened. Furthermore, both anesthetic medicines and alcohol might result in nausea and vomiting.
This may raise your chances of aspiration (inhaling vomit) during the endoscopic procedure, which can be dangerous or can prove fatal sometimes.
Also Read: What to Eat After Endoscopy?
Bottom Line
To have a better understanding of your upper digestive tract, your doctor suggests endoscopy. It is necessary to prepare well for an important examination such as this one.
It is critical to plan ahead of time for endoscopy to guarantee that the procedure goes successfully.
You must refrain from eating or drinking before your examination. It is important to follow the above-mentioned dietary recommendations to ensure an effective and successful examination.
Having food or fluids in the stomach during the endoscopy procedure might be fatal. If you vomit, it is possible that the liquids will enter your lungs and cause a blockage. You must notify the nurse if you forget and eat or drink something before your procedure so that she can reschedule your appointment.
If you have any queries that you have in mind, please leave them in the comments section below. I would love to assist you in every possible manner.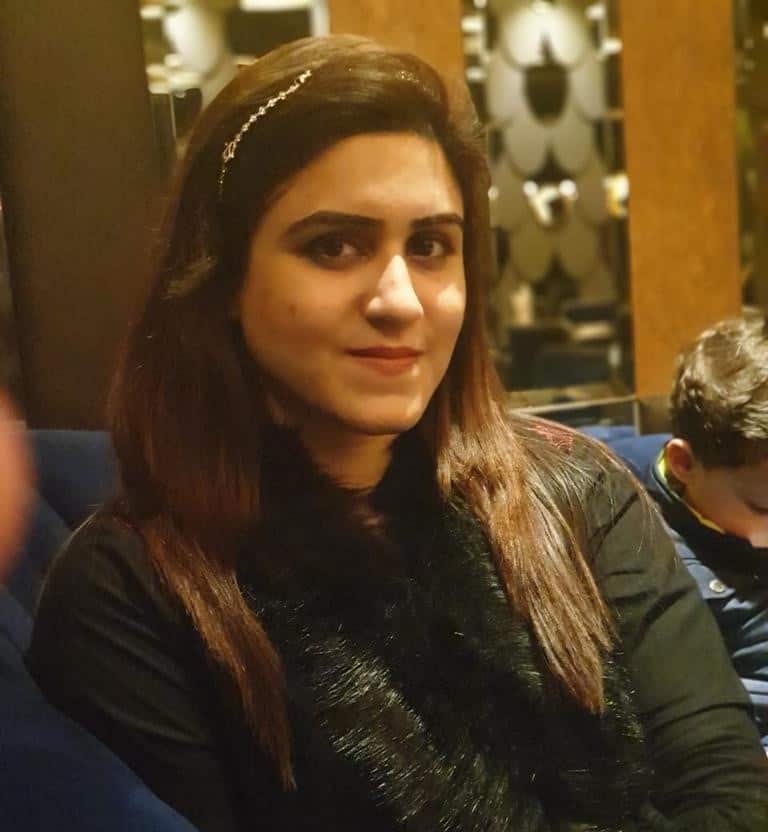 A nutrition degree holder and a foodie by heart, Madiha Saad loves to inspire people through her writings and uses her knowledge and experience to write articles on trending nutrition topics. She loves to develop new recipes in her pastime. Read More…