Many people believe that the diet of a diabetic lacks sweetness and excitement, but this does not have to be the case!
As a diabetic, you must always substitute sugary syrups with natural sweeteners. However, the question is what are the best maple syrup substitutes for diabetics?
Stevia, monk fruit sweetener, raw honey, molasses, and yacon syrup are a few of the substitutes for maple syrup that taste sweet and are also beneficial for diabetics because they are low in calories and have minimal fructose content.
This article discusses five healthy and best substitutes of maple syrup that have been scientifically proven to be effective for diabetics.
We will go through why these options are preferable to maple syrup in the next sections.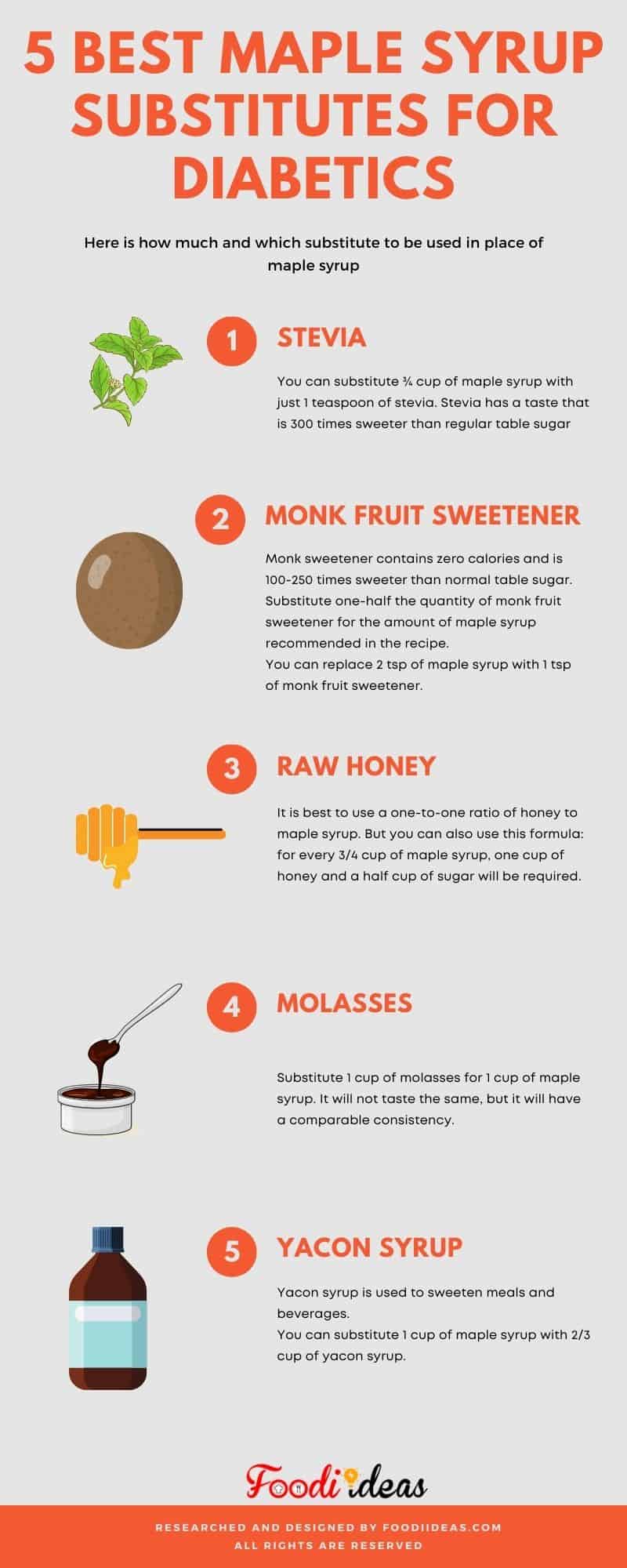 5 Best Maple Syrup Substitutes for Diabetics
Maple syrup is primarily a rich source of carbohydrates(1). It can be surprising for you that one tablespoon (15 mL) of maple syrup has approximately 15 g of carbs.
This has the same amount of carbs and calories as 1 tablespoon of white sugar.
While it is true that maple syrup includes certain potentially beneficial components, persons with diabetes should bear in mind that it is still a food that should be consumed seldom and in modest quantities.
Because maple syrup has a significant amount of sugar, it is not suggested that you increase your intake or include it in your diet in addition to your present dietary habits and sugar consumption.
Similarly, if you want to improve your vitamin and mineral consumption by consuming maple syrup, search for other substitutes that are lower in sugar content and carbohydrates and less harmful to the body.
The best five substitutes of maple syrup for diabetics are:
Stevia
Monk fruit sweetener
Raw honey
Molasses
Yacon syrup
Let's take a look at how these above alternatives outweigh the benefits of maple syrup and provide much better nutrition with their no sugar content to diabetic people.
1. Stevia
Stevia is a low-calorie sweetener that is quite popular.
It is derived from the leaves of a plant known as Stevia rebaudiana, which is native to South America.
Growing this plant for its sweetness and therapeutic properties has been practiced in South America for hundreds of years.
Stevia leaves contain several sweet chemicals that are beneficial to the body. There are no known negative health consequences associated with stevia, which is 100 percent natural and has zero calories.
This highly processed and refined substance is approximately 300 times sweeter than sucrose or table sugar(2), and it is sold under a variety of brand names.
Stevia offers many advantages and disadvantages that persons with diabetes will need to evaluate carefully. There are no calories in this sweetener, and it does not affect blood sugar levels(3).
It is, however, usually more pricey than typical maple syrup available in the market but not more than your health.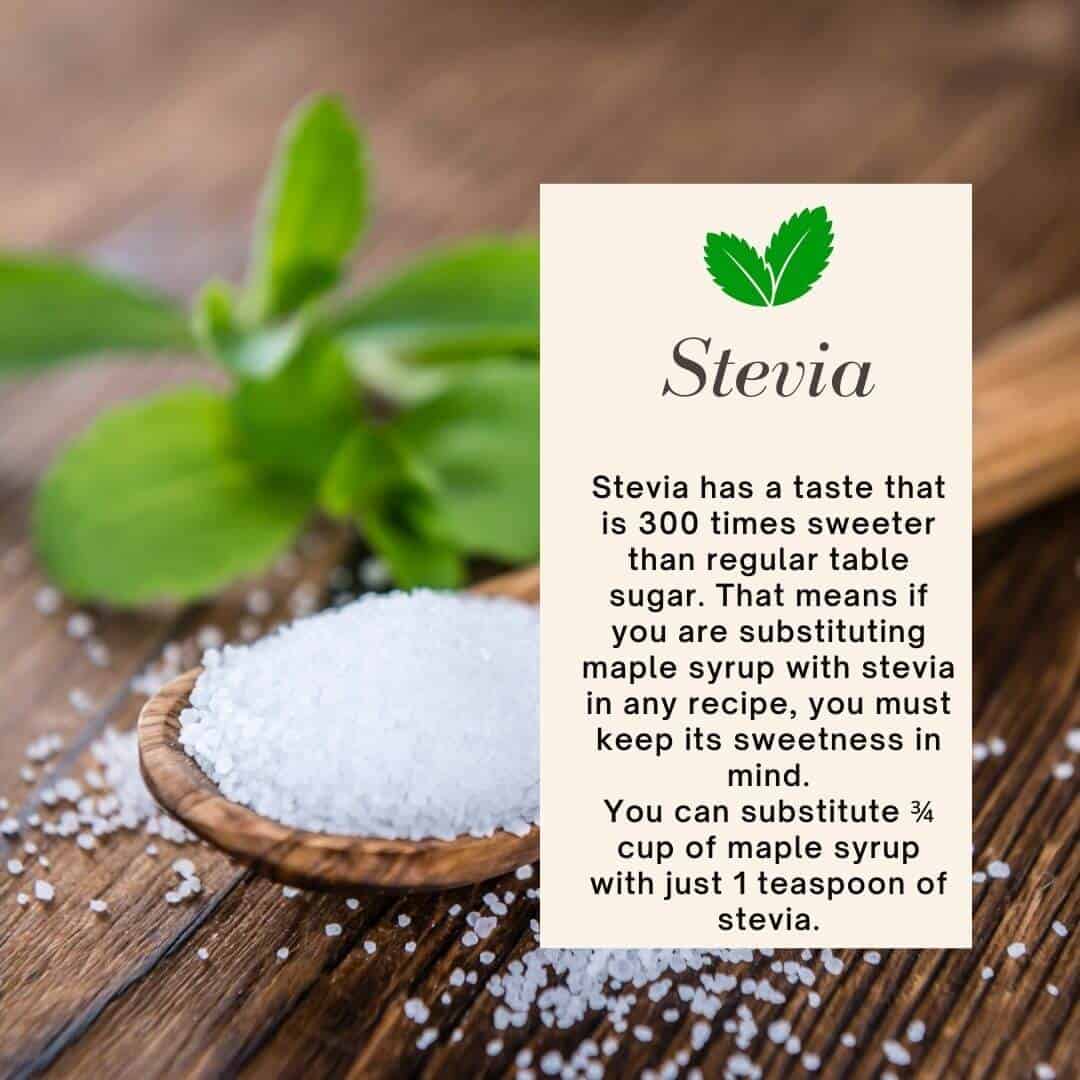 How Much Can You Substitute Stevia for Maple Syrup?
Stevia has a taste that is 300 times sweeter than regular table sugar. That means if you are substituting maple syrup with stevia in any recipe, you must keep its sweetness in mind.
You can substitute ¾ cup of maple syrup with just 1 teaspoon of stevia.
Health Benefits of Stevia
Using stevia as a sweetener instead of maple syrup, sucrose, or table sugar, has the potential for significant health advantages:
No calories- Stevia has the advantage of not containing any calories. This allows you to sweeten foods without risking your health. You have no calorie intake since stevia is not metabolized by the body.
Stable blood sugar levels- When consumed, stevia does not affect blood sugar levels(4). This implies that diabetics can safely consume the sweetener.
Natural source- Stevia is obtained from the leaves of the stevia plant. It is mostly grown in Asian and South American nations. It does not use artificial sweeteners to sweeten meals. It's also believed to be sweeter than table sugar and could need to be diluted.
Drawbacks of Using Stevia as Maple Substitute for Diabetics
Stevia is generally regarded as safe by the FDA. If you are thinking about using stevia or foods containing stevia, you should weigh the drawbacks of the herb as well:
Stomach upset- As a result of taking stevia, you may have adverse effects. Bloating and nausea are the most often reported adverse effects after consuming the sweetener(5).
Drug interaction- People on diabetic or blood pressure medicines should avoid using stevia. This is due to the possibility that combining stevia with certain medications could result in hypotension or hypoglycemia.
Bitter aftertaste- Although stevia is extremely sweet, it also has a bitter aftertaste. Its flavor has been compared to licorice by several people(6).
2. Monk Fruit Sweetener
Monk fruit, also known as Luo Han Guo, is a maple substitute that is popular in Traditional Chinese Medicine (TCM). It is derived from a dried melon and is a diabetic-friendly sugar substitute.
Monk fruit extract has no calories or carbohydrates(7). It is approximately 150 times sweeter than table sugar.
It has the advantage of not raising blood glucose levels, making it a good choice for those who have diabetes.
In comparison to sucrose-sweetened beverages, research has revealed that monk-fruit-sweetened beverages have no effect on your daily calorie intake, blood glucose levels, and insulin levels(8).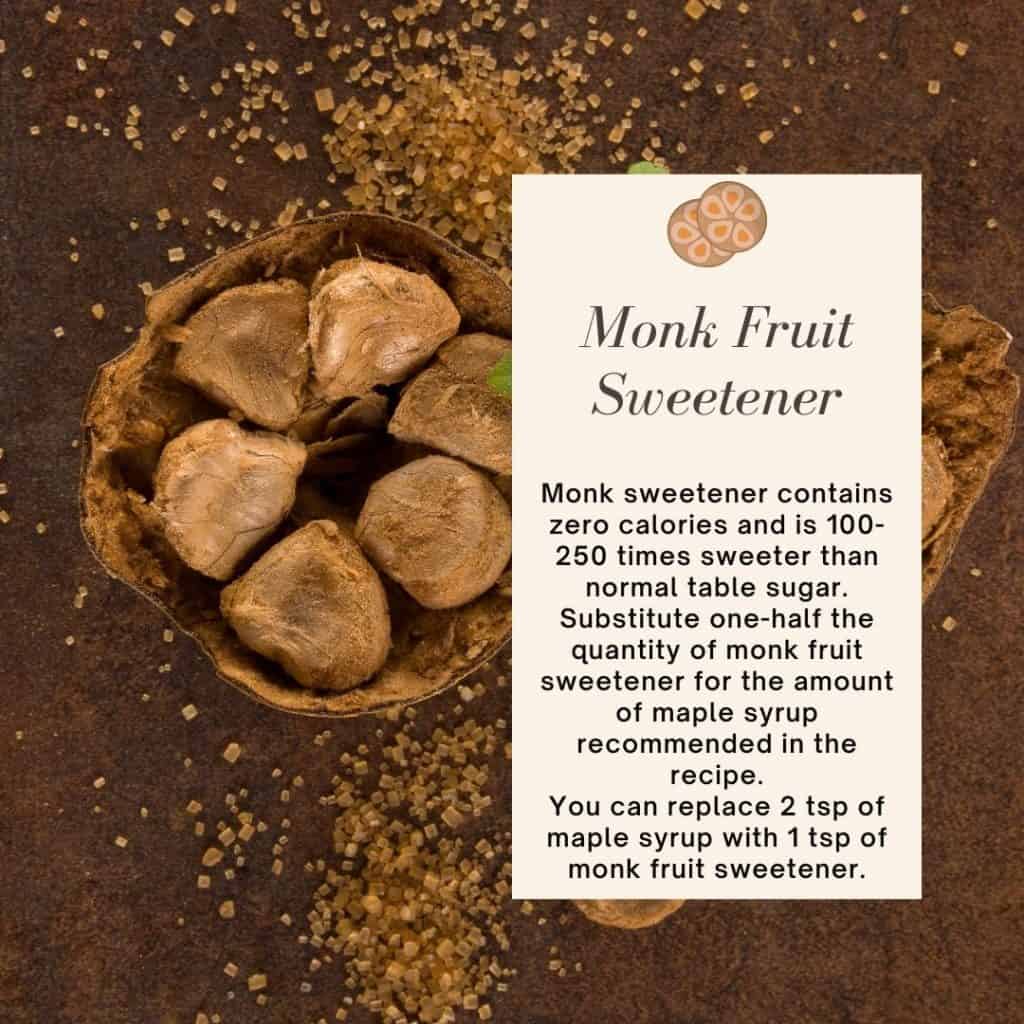 How Much Can You Substitute Monk Fruit Sweetener for Maple Syrup?
Monk sweetener contains zero calories and is 100-250 times sweeter than normal table sugar. Substitute one-half the quantity of monk fruit sweetener for the amount of maple syrup recommended in the recipe.
You can replace 2 tsp of maple syrup with 1 tsp of monk fruit sweetener.
Health Benefits of Monk Fruit Sweetener
The primary component of monk fruit sweetener is a kind of mogroside known as mogroside V. It accounts for more than 30% of the product and is responsible for its sweetness.
They provide these health advantages as a result of their sweetness factor:
Antioxidant properties- Mogroside extracts have antioxidant and anti-inflammatory effects because they block specific toxic molecules and aid in the prevention of DNA damage(9).
Anti-cancer properties- Monk fruit is known to have anti-cancer properties(10).
Anti-diabetic properties- Monk fruit sweetener has no calories or carbohydrates, so it does not affect blood sugar levels. As a result, it may be a viable alternative for diabetics.
Drawbacks of Using Monk Fruit Sweetener as Maple Substitute for Diabetics
Even though there have been no reports of any negative side effects associated with the use of monk fruit sweeteners, it is still a new substitute that requires further research.
Some of the possible drawbacks of this sweetener are:
Expensive- Monk fruit is difficult to cultivate and costly to import.
Harder to find- Monk fruit sweeteners are more difficult to get by than other sweeteners.
Unpleasant aftertaste- The delicious flavor of monk fruit might not appeal to everyone. Some people have complained about a harsh aftertaste.
3. Raw Honey
Raw honey is a nutritional powerhouse when it comes to sugar and maple syrup alternatives because of its high nutritional content.
In its unprocessed state, honey contains royal jelly, beeswax, and pollen, all of which are beneficial to human health.
Because the bees utilize propolis to patch cracks and close honeycombs, propolis is reported to possess anti-cancer, anti-inflammatory, antibacterial, and infection-fighting capabilities, among other things(11).
Over the years, several types of research have been carried out in an attempt to establish definitive links between honey and weight reduction, decreased glucose levels, and reduced hyperglycemia(12).
If your diabetes is well-controlled and you wish to include honey in your diet, choose pure, organic, or raw natural honey instead of refined sugar.
Since all-natural honey has no added sugar, these varieties are safer for diabetics. However, if you do not like honey, you can go for some other extremely good honey substitutes.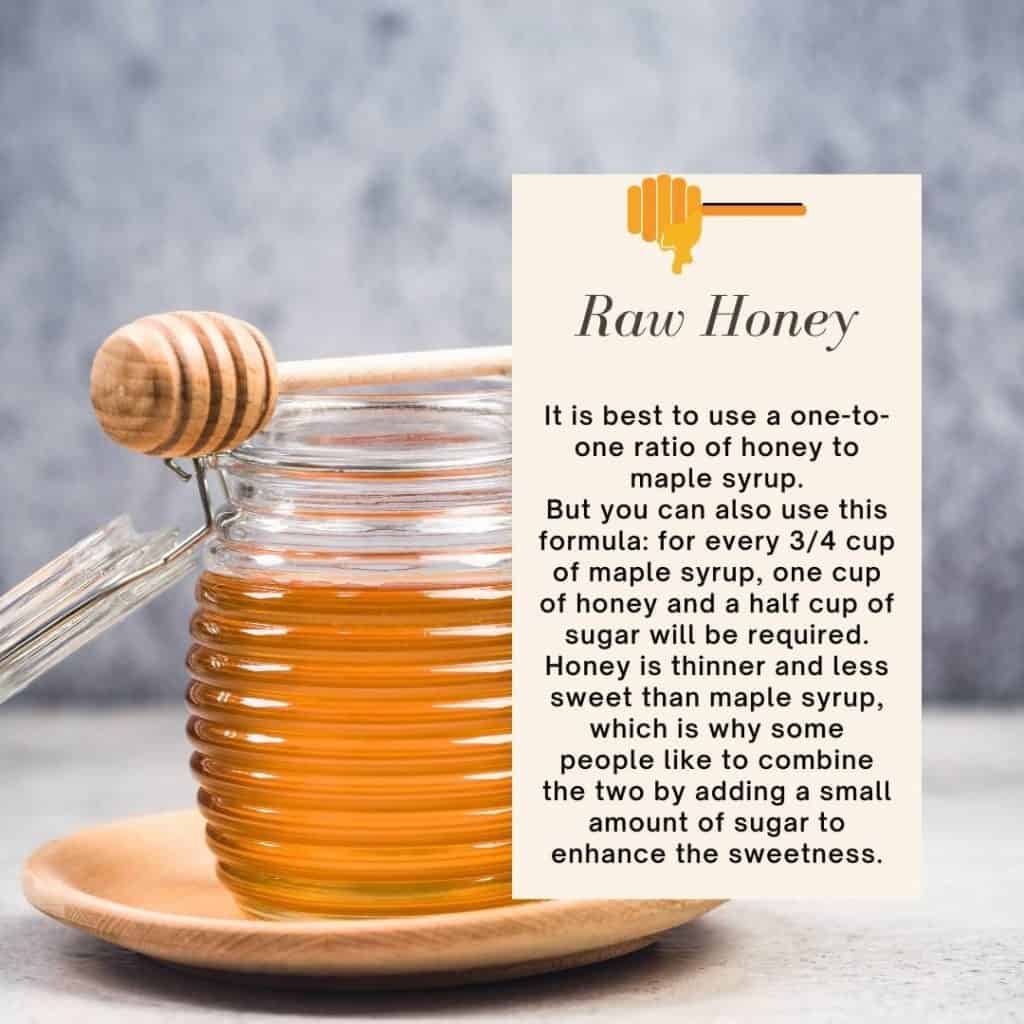 How Much Can You Substitute Raw Honey for Maple Syrup?
It is best to use a one-to-one ratio of honey to maple syrup.
But you can also use this formula: for every 3/4 cup of maple syrup, one cup of honey and a half cup of sugar will be required.
Honey is thinner and less sweet than maple syrup, which is why some people like to combine the two by adding a small amount of sugar to enhance the sweetness.
Health Benefits of Raw Honey
Honey has been used as a sweetener and healer since ancient times.
It has several health advantages, including:
More nutrients- Honey contains essential nutrients and other trace elements such as amino acids, antioxidants, enzymes, minerals, and vitamins(13).
Cough reliever- Honey can help with coughs naturally.
Anti-inflammatory properties- Honey is high in antioxidants and has anti-inflammatory effects. Replacing maple syrup with honey can be helpful. A diet high in antioxidants might help your body better digest sugar, and honey's anti-inflammatory qualities may help you avoid diabetic problems.
Drawbacks of Using Raw Honey as Maple Substitute for Diabetics
Some of the drawbacks of using large quantities of honey include:
High-calorie intake- One tablespoon of honey contains 64 calories, which is more than one tablespoon of sugar, which contains 49 calories per tablespoon.
Bad impact on blood sugar levels- Honey has the same impact on blood glucose levels as sugar. This is especially troubling for those who have diabetes or insulin resistance.
Risk of disease- Too much honey can cause blood sugar problems in healthy people, raising the risk of obesity, type 2 diabetes, and heart disease.
4. Molasses
Molasses is a thick, syrup-like liquid that is sweet and brown. It is created by boiling sugar cane or sugar beet juice.
It includes many vitamins and minerals, as well as antioxidants(14). Its high iron, potassium, and calcium levels may also aid bone and heart health(15).
It is frequently used to soften cookies and is delicious when added to marinades and sauces.
If you're making a dish that calls for molasses, you can get light, dark, or blackstrap.
Blackstrap molasses is the most concentrated of the three and contains the highest concentration of nutrients.
Overall, molasses is a good substitute for maple syrup, but its use should be limited because it is still a type of sugar.
How Much Can You Substitute Molasses for Maple Syrup?
Substitute 1 cup of molasses for 1 cup of maple syrup. It will not taste the same, but it will have a comparable consistency.
Health Benefits of Molasses
When consumed in moderation, molasses provide a bit of sweetness to various dishes while also providing numerous vital vitamins and minerals.
Other health advantages of molasses include:
Prevention of anemia- It can aid in the prevention of anemia(16). One tablespoon of blackstrap molasses supplies 20% of your daily iron requirement.
Bone health reduces the likelihood of osteoporosis—a single tablespoon of molasses supplies 10% of your daily calcium requirements. Adults who consume more calcium have superior bone density and are less likely to develop osteoporosis(17).
Better digestion- It is beneficial for your digestion. For centuries, blackstrap molasses has been used as a traditional remedy for constipation and other digestive problems.
Drawbacks of Using Molasses as Maple Substitute for Diabetics
Molasses is generally considered to be safe for most individuals when consumed in moderation, but it has its drawbacks as well:
Moderation is the key- While molasses can be a healthy substitute for refined sugar, ingesting an excessive amount of any added sugar can have negative consequences. People who have diabetes may be more vulnerable to the consequences.
Excessive amounts cause diarrhea- It is possible that consuming big amounts will result in loose stools or diarrhea.
Irritable bowel syndrome- Those who suffer from irritable bowel syndrome or other kinds of digestive pain may wish to avoid using this syrup altogether.
5. Yacon Syrup
Yacon syrup is made from the roots of the yacon plant, which is native to South America.
It is a fiber-rich sweetener that is high in fructooligosaccharides, a kind of soluble fiber that provides food for the bacteria in your microbiome (prebiotics).
The high fructooligosaccharide content in yacon syrup provides many health advantages. According to research, it can lower the glycemic index, body weight, and the risk of colon cancer(18).
How Much Can You Substitute Yacon Syrup for Maple Syrup?
Yacon syrup is used to sweeten meals and beverages.
You can substitute 1 cup of maple syrup with 2/3 cup of yacon syrup.
Health Benefits of Yacon Syrup
The potential health benefits of using yacon syrup are:
Better gut flora- Yacon root includes prebiotics such as fructooligosaccharides and inulin. These are not digested in the small intestine but instead go to the large intestine, where they can boost your gut health by acting as a food supply for beneficial bacteria(19).
Diabetes management- Yacon's carbohydrate composition is around 70 to 80 percent fructooligosaccharides and inulin. These ingredients have a low glycemic index and do not induce blood sugar increases. Yacon root has been proven to be hypoglycemic(20).
Mineral absorption- The fermentation of fructooligosaccharides lowers the pH of your large intestine. This shift in pH levels aids your body's absorption of minerals such as calcium, magnesium, and phosphorus. This has the greatest impact on calcium absorption, which may increase bone density.
Drawbacks of Using Yacon Syrup as Maple Substitute for Diabetics
If you consume a large amount of yacon syrup at a time, you may have certain adverse effects:
Gas production- It's quite similar to the adverse effects of consuming more soluble fiber than usual. When a large amount of yacon enters the gut, it might result in excessive gas production.
Heat caution- Yacon loses its prebiotic qualities when heated as a result of cooking or baking; therefore, exercise caution while using it.
Digestive discomfort- Yacon syrup should be avoided if you suffer from diarrhea. It has the potential to make matters worse.
If you don't have yacon syrup at your home, then you can check out these yacon syrup substitutes.
Take Away
Diabetics can learn to balance their meals and make wise choices while still enjoying their favorite foods.
Many individuals with diabetes must avoid or restrict their intake of sweet foods. Low-calorie sweeteners can allow people with diabetes to indulge in a sweet treat without worrying about their blood sugar levels becoming too high.
Even though the FDA usually considers these sugar substitutes to be safe, it is nevertheless recommended that they be used in moderation.
Do you have any more maple syrup substitutes in mind that are just as good as the ones listed above? Please let us know by leaving a comment below.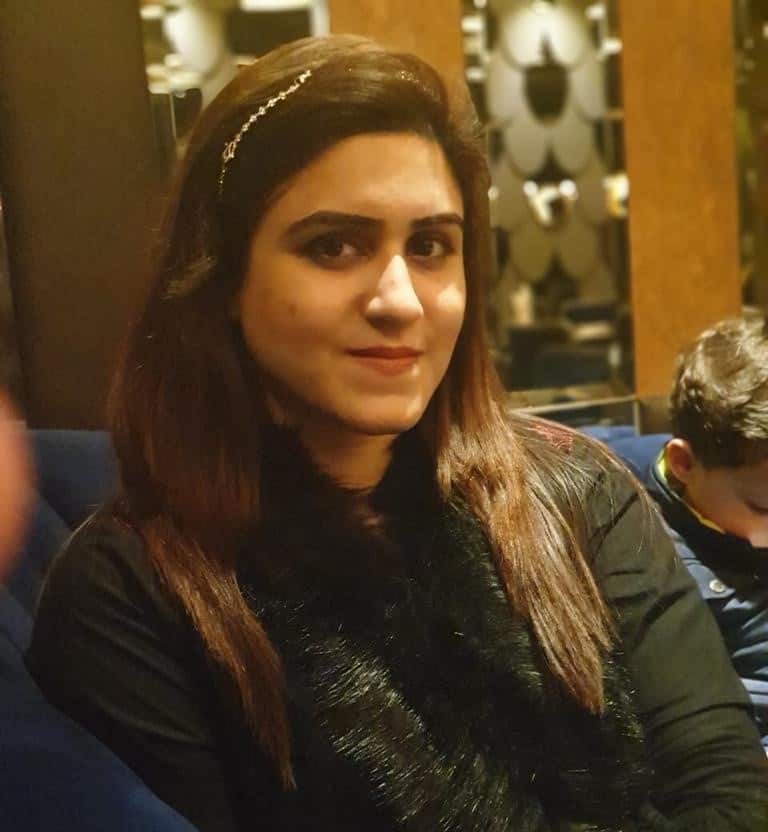 A nutrition degree holder and a foodie by heart, Madiha Saad loves to inspire people through her writings and uses her knowledge and experience to write articles on trending nutrition topics. She loves to develop new recipes in her pastime. Read More…