Having an abortion is one of the most distressing and painful experiences for any woman who goes through it. It would be best if you made every effort to guarantee your recovery. To take care of yourself, you must need to know about the foods you should avoid eating after an abortion.
It is critical to avoid hormonal imbalances after an abortion; thus, stay away from foods that might worsen your condition. Avoid junk meals, sugary snacks and beverages, high carb and high-fat food items, processed foods, and alcohol after an abortion.
Abortion is a period in which your body undergoes a great deal of transformation, and it attempts to return to normal as soon as the procedure ends. Therefore, it is expected to experience abortion-related side effects such as tiredness, bleeding, and other symptoms post-surgery.
Food and drink choices have a significant impact on your recovery time after the abortion. Some meals help in the healing process, while others are damaging for your health.
This article provides information on foods that must be avoided following an abortion.
Foods to Avoid After Abortion
I can understand the exhaustion that comes with abortion. You may find it challenging to change your diet after already making changes when you find out you were pregnant.
Truth to be told, the food you consume can significantly impact your recovery and the speed with which your wound heals. As a result, it is always advisable to pay close attention to the foods that should not be consumed following an abortion or miscarriage.
Besides, many women continue to have food cravings after an abortion until the hormonal balance is restored.
Proper research and planning can make this process a lot less complicated. It is critical to avoid foods that are potentially harmful to your health after abortion.
Some foods are advised to be avoided following an abortion. These foods might make your recovery more difficult and perhaps make your condition worse. They can induce or intensify adverse effects such as inflammation, nutritional insufficiency, digestive problems, and other disorders, among other things.
Maintaining a well-balanced and healthy diet, avoiding specific foods, and taking care of your mental health are important in assisting with your post-abortion recovery. I will provide a general outline in this article that you can use as a starting point after the abortion procedure.
The following are 10 foods that should not be consumed after an abortion.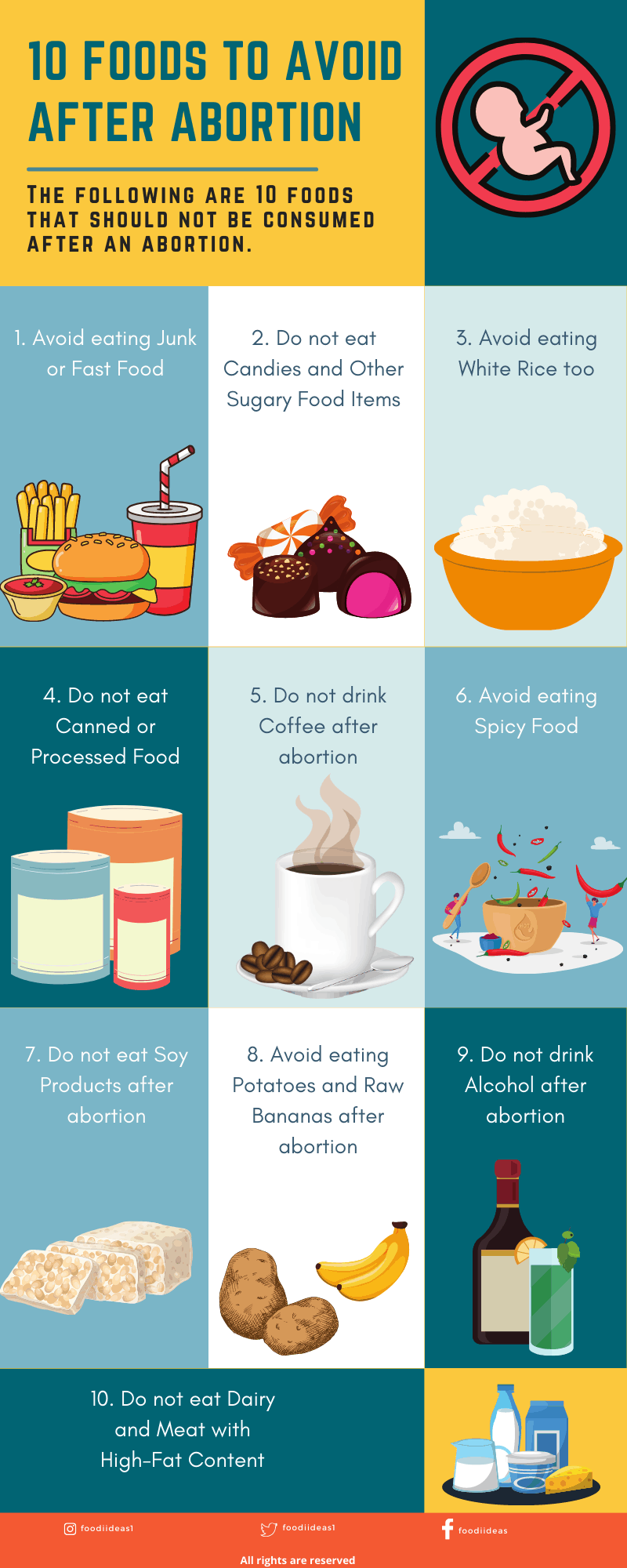 1. Junk or Fast Food
It is alright to indulge in junk food in moderation if you're craving it. However, you should avoid depending on fast food as your main meal following an abortion.
 In the long run, junk food will just load you up with empty calories and hinder you from taking the nutrients that your body requires for healing at this time.
Trans fats are frequently found in fast food and junk food, which are hazardous after the abortion period(1). The fats present in these kinds of food items have the potential to create inflammation.
As a result, it can lead to unhealthful weight gain as well as an increased risk of developing heart disease(2).
You should try to stay away from the following items in particular:
Fries
Burgers
Pizza
Fried items
Donuts
2. Candies and Other Sugary Food Items
Sugary meals, such as donuts, chocolates, shakes, sweetened beverages, and traditional sweets, should be avoided following an abortion, in addition to junk foods.
These meals and beverages cause your blood sugar levels to rise, resulting in a variety of problems(3). The variations in these levels might also cause the healing process to be slowed down.
Sugary meals can be replaced with healthy options prepared at home.
Also Read: What to Eat After Abortion or Miscarriage?
3. White Rice
White rice has a high carbohydrate and low fiber content. The foods which have high carbohydrate content must be avoided after the abortion procedure.
Carbohydrates are, without a doubt, highly vital nutrients for the body. They are the primary source of energy for the body and a supply of natural sugars. Some carbs, such as refined starches, can, on the other hand, be extremely hazardous to one's health.
White rice, white flour, or instant noodles are all examples of refined starches with a high concentration of carbs and a low fiber concentration.
Consuming these kinds of foods after abortion is not a healthy practice since it has the potential to cause your blood sugar levels to fluctuate or become unstable. As a result, this sort of food should not be taken after an abortion is performed.
4. Canned or Processed Food
Canned and processed foods harm your health in numerous ways(4).
A major concern is that canned and processed foods include preservatives, which are essential to keep the food fresh for longer periods.
Consuming them after having an abortion can result in complications such as food poisoning for a woman who is going through a difficult time.
5. Coffee
Coffee should be avoided as much as possible following an abortion. This is due to the presence of caffeine in coffee, which has diuretic properties.
It can absorb liquids and interfere with the body's ability to maintain appropriate hydration. Because you are more prone to dehydration at this time, it is not a good idea to drink coffee after the abortion period.
It is also recommended to avoid other caffeinated beverages such as green tea following abortion for the same reason.
6. Spicy Food
Avoiding spicy foods after an abortion is highly recommended.
This is because it might create health problems such as gastritis. Spicy meals can also make digestion difficult.
It can put a strain on the entire digestive system, which causes inflammation, resulting in slow recovery after abortion.
7. Soy Products
Even though soy is a nutritious item that provides the body with a variety of vitamins and minerals, it should not be included in a post-abortion diet.
A woman who is dealing with abortion requires a lot of iron because excessive blood is lost during this process.
Phytate is a chemical found in soybeans that helps them to grow. It interferes with the absorption of iron which is critically needed after the blood loss due to abortion(5).
The period following an abortion or miscarriage is a period in which you require as much iron as possible. You will be bleeding, and this is a sensitive period in your life when you are more susceptible to contracting anemia.
As a result, it is recommended that you avoid soy products throughout your recovery time.
8. Potatoes and Raw Bananas
Potatoes, raw bananas, and bottle gourds are considered to be foods that have a cooling effect on the body.
A woman's body suffers cramping following a miscarriage or abortion. It is preferable to consume foods that warm you rather than those that cool your body down to relieve discomfort.
Therefore, it is necessary to avoid these foods for a few days following an abortion to keep one's body comfortable.
9. Alcohol
After having an abortion, alcohol should be avoided at all costs. This is because it will neither assist you nor reduce the pain associated with abortion.
Moreover, excessive alcohol use slows the pace of blood clotting and makes your blood thinner, making it take longer for your incision site to heal after abortion(6).
 You will also be at greater risk of infection as a result of the fact that alcohol might impair your immune system.
10. Dairy and Meat with High-Fat Content
Consuming certain foods immediately following an abortion or miscarriage may induce inflammation. This causes a great deal of discomfort and pain to your body.
Fats present in various dairy products and meat are one of the leading causes of inflammation(7). As a result, it is recommended that women who have recently experienced an abortion refrain from consuming fatty meats and dairy products.
On the other hand, milk is a good source of calcium, and it is crucial to take calcium-rich foods after abortion to avoid bone loss. However, try to stick to skimmed milk rather than full-fat milk since the latter might create stomach upset.
After an abortion, you should avoid eating the following fatty meats and dairy items such as:
Pork
Cheese
Beef
Butter
Lamb
Take Away
After experiencing an abortion, it is critical to consume the proper nutrients to support your body's healing process. Foods that damage a woman's health after an abortion can lead to additional health problems later on.
Maintaining your mental and physical health at this time is critical so that it does not negatively impact your ability to become pregnant later on.
Eating healthfully will not only assist your body in recovering from the harm it has sustained, but it will also assist you in preventing another miscarriage from occurring in the future.
Stay strong! And do not forget to comment below and let me know how this article helped you make informed food choices following the abortion procedure.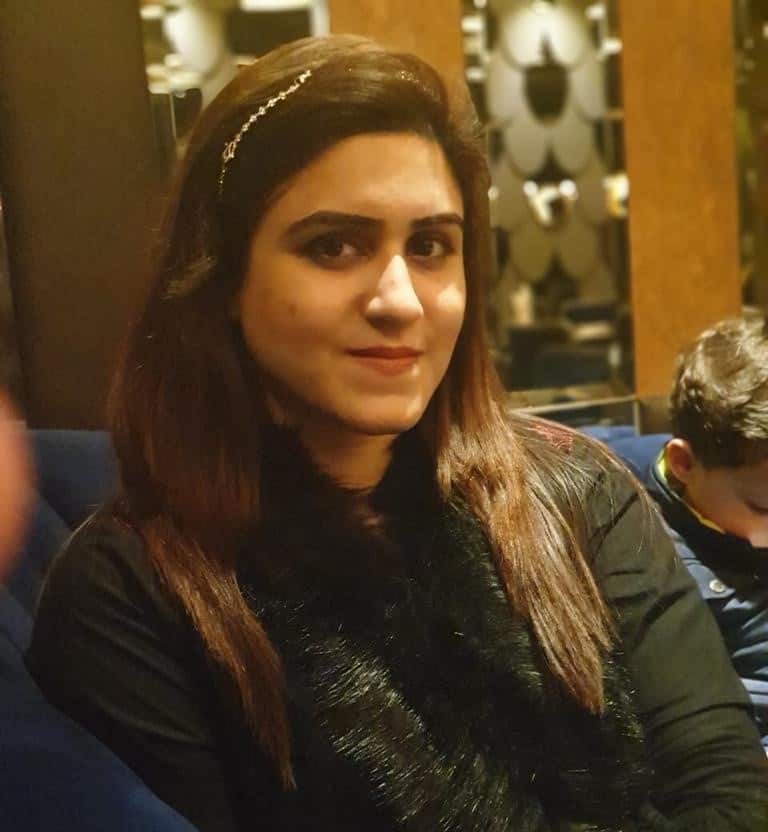 A nutrition degree holder and a foodie by heart, Madiha Saad loves to inspire people through her writings and uses her knowledge and experience to write articles on trending nutrition topics. She loves to develop new recipes in her pastime. Read More…