A colonoscopy procedure to look for hidden colon cancer might make you nervous, but it is well worth the effort. A few days of discomfort might literally save your life.
The need for bowel preparation before a colonoscopy is to get reliable findings and perform the procedure smoothly. When preparing for a colonoscopy, your doctor will instruct you about the clarity of stool; therefore, you need to know how clear should stool be before a colonoscopy is performed?
The stool must turn watery, light yellow, and transparent when the colonoscopy prep is finished. This indicates that the colon is free of feces and can be observed by the colonoscopy camera without any blockage.
The time it takes to get through the prep point varies from person to person and depends on various factors, including their overall gastrointestinal health and how well the prep food plan was followed.
The importance of a clean and clear colon on the morning of a colonoscopy is discussed in depth in this article. If your colon has not been fully cleaned, your doctor may consider repeating a colonoscopy sooner. You will get to know all the details below.
How Clear Should Stool Be on The Morning of Colonoscopy?
If you are passing clear or a little yellowish tint stool, then your colon is clean enough for a perfect examination on the morning of a colonoscopy.
The success of your colonoscopy depends on the clean and clear colon, as residues can make it difficult for the doctor to see your colon during the exam. You will need to fast and take powerful laxatives before the procedure.
You will be provided bowel prep instructions by your doctor. Read it carefully before starting it. If you have any medical history like kidney disease, blood pressure, or diabetes, then talk it out with your physician.
If you are still passing brown liquid mixed with solid material on the morning of your exam, your colon may not be ready, and you should contact your doctor's office.
Colonoscopy preparation is complete when bowel movements are clear enough to view the bottom of the toilet bowl.
There are no two people alike. Bowel preparation is affected by diseases, medicines, and variations in body processes. As a result, various people take varying amounts of time. So, do not worry if you are taking more time than usual.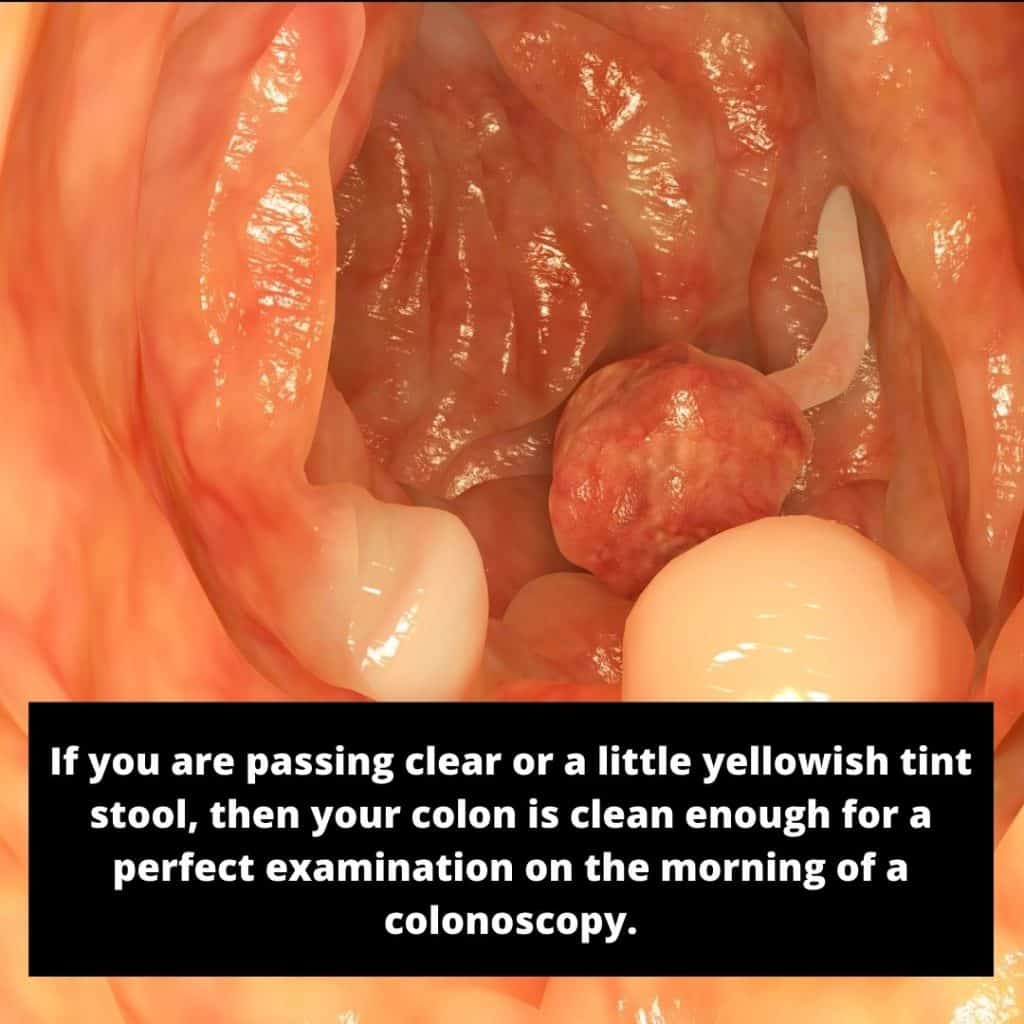 Also Read: Colonoscopy Prep: Liquid Stool Still Brown – What to do?
Bowel Preparation for Colonoscopy
Bowel preparation, or "prep," is the process of cleaning the colon before a colonoscopy.
The purpose of the bowel preparation is to clear everything out and achieve watery, liquid, and clear stool on the morning of the colonoscopy procedure.
Bowel preparations come in a variety of forms, nearly all of which are liquid. Based on your medical history and your personal choice, your doctor will advise you on which type is ideal for you.
Depending on when your surgery is planned, you will be advised to begin drinking the solution at a specific time. You will be given a time limit to finish the drink.
These bowel emptying medicines have the same goal: to cleanse your colon or intestines of everything by inducing watery diarrhea.
The majority of colonoscopy prep solutions start functioning two to three hours after consumption. If bowel motions do not occur as expected, a second dosage may be required. Consult your medical care provider if bowel motions do not occur after an extra dosage.
The bowel preparation may cause certain unpleasant but non-painful adverse effects. Constipation and gas are frequent and perfectly natural side effects of pushing your bowels to empty. Warm compresses and little exercise, such as a walk around the house, may help alleviate some of the symptoms.
Stay hydrated! The significance of being sufficiently hydrated cannot be overstated, as dehydration is linked to many of the adverse outcomes associated with colonoscopy(1).
Also Read: What to Eat Before Colonoscopy? A Complete Diet Plan
Importance of Getting Clean Bowel for Colonoscopy
Many people believe that the most difficult component of a colonoscopy is bowel preparation. You must give it your all to finish the preparation.
However, after completing the bowel preparation, you should be passing clear liquid that is watery or yellow. Your bowels must be free of obstructions so that your doctor may examine you.
According to research, inadequate bowel preparation causes up to 25% of colonoscopies to be canceled (2).
To perform the colonoscopy exam, your doctor must be able to view it. Your doctor may not be able to notice critical things like polyps or cancer if your colon has too much feces on the inside(3).
When Should You Contact Your Doctor While Preparing for Colonoscopy?
Many individuals begin their prep with the expectation that something will happen within minutes. But everyone is different. Some people just take longer to start and finish their prep.
Consult your doctor:
If you have not felt the effects of bowel prep after more than 4 hours
If you have persistent nausea or vomiting during bowel preparation
Also Read: How to Avoid Vomiting During Colonoscopy Prep?
How Do I Know When My Bowel Prep Is Done?
After you have finished your bowel prep medicine recommended by your doctor, use your feces as a reference.
Your stools should be continuously transparent, yellow, light, and liquid.
You are not ready for a colonoscopy if you have dark particles or thick brown or black feces.
Your stool emerges like a dripping faucet.
You have the urge to go to the bathroom, but nothing comes out.
If your stool is still not clear after taking all of the bowel prep agents, you may need more. If your stool is still brown or includes black particles hours after finishing your bowel cleansing agent, see your doctor.
Also Read: How to Know If Bowels Are Empty for Colonoscopy
Colonoscopy Prep- When Does Diarrhea Stop?
The diarrhea spell continues for about 2-3 hours after consuming the medicine. Any liquid left in the intestine will be suctioned out during the colonoscopy. Rest assured that there will be no accidents involved during the process.
The bowel preparation will cause you to have a lot of diarrhea. Many people suffer from bloating, stomach pain, or nausea during prep(4). This is inconvenient but nearly always safe.
The taste and odor of the medication are disliked by some persons. Please do not allow these things to prevent you from taking the medication as prescribed.
Conclusion
Preparation for a colonoscopy might be uncomfortable, but it is necessary for a successful examination.
If the results are unclear, the process may need to be repeated. As a result, a person should stick to the preparation strategy.
You are good to go if the color of what you are passing is clear or hazy yellow with some bits. As long as the feces is not murky or thick, little bits of the stool are okay. If your preparation is insufficient, your doctor may not be able to see the whole colon.
Did you find the above information useful and helpful? Let me know in the comment section below how much did it help before your coloscopy treatment.
You may also like:
What to Eat After Colonoscopy?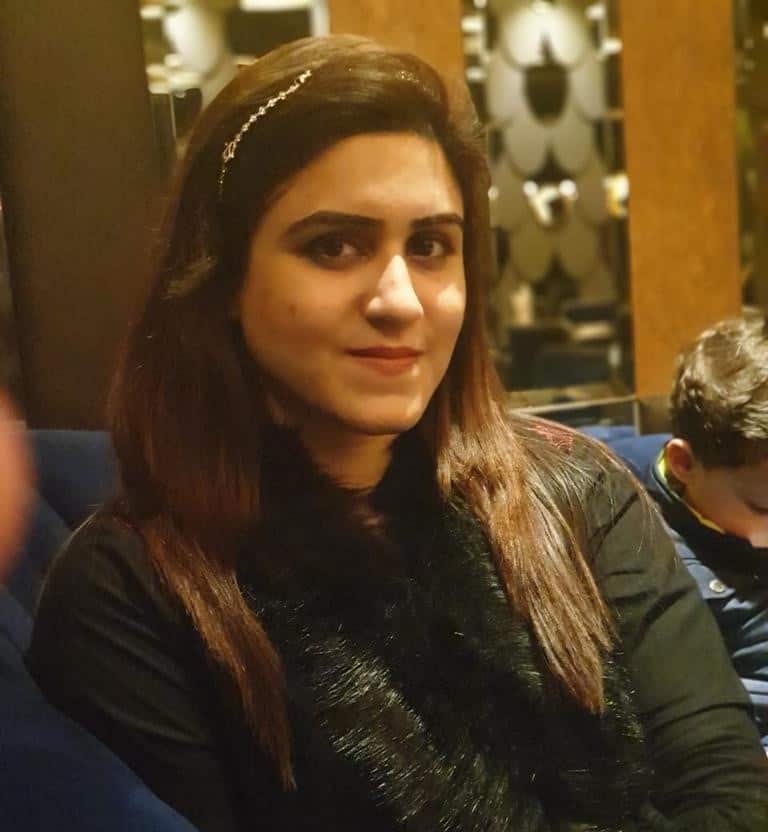 A nutrition degree holder and a foodie by heart, Madiha Saad loves to inspire people through her writings and uses her knowledge and experience to write articles on trending nutrition topics. She loves to develop new recipes in her pastime. Read More…