Do you have a colonoscopy coming up? Perhaps you are feeling disturbed or topsy-turvy by the pre colonoscopy dietary guidelines. This post is meant to make your colonoscopy diet preparation EASY!
There is no question that colonoscopy has the potential to save lives.
But it can be a hassle to follow a specific diet plan before this treatment.
Even though your health care provider has given you general guidelines, you are still wondering what you can eat before colonoscopy to make this process smooth and easy?
Clear soup, tea, gelatin desserts, ginger ale, sherbet, and clear fruit juices (the ones you can see through), such as apple juice, are the only foods to eat the day before colonoscopy. Eating smaller amounts and low-fiber meals a few days before your colonoscopy make the procedure go more easily.
Colonoscopy is critical in the early detection of colon cancer.
However, it is important to go through a preparatory eating process that assists in the removal of all stools from the intestines.
The general dietary rule is to limit fiber while remaining hydrated, making it simpler to have a clean colon on the test day.
Having a plan in place is one of the greatest ways to decrease anxiety before having a colonoscopy.
This article discusses a complete diet plan on what to eat before the colonoscopy procedure start.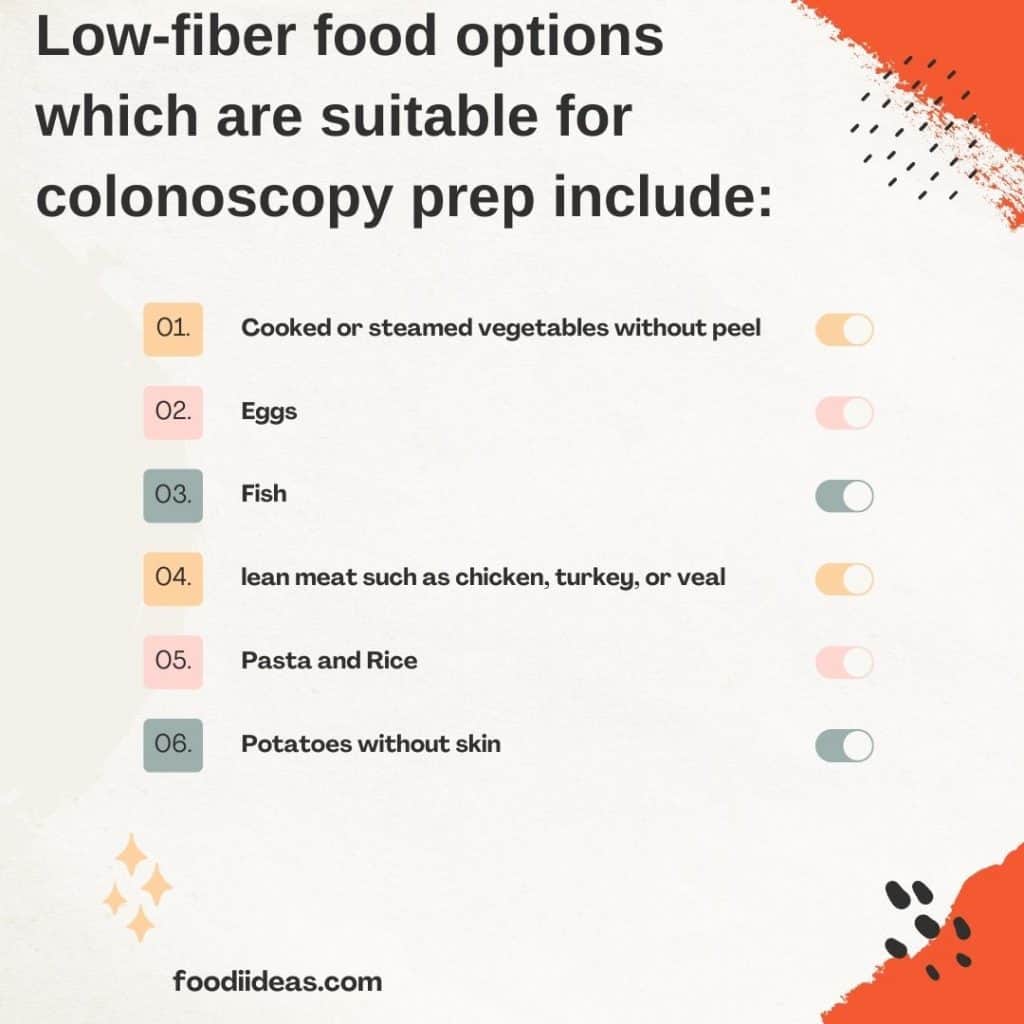 What to Eat Before Colonoscopy?
You should begin eating a low-fiber diet a few days before the colonoscopy procedure.
Fruit juices, white bread, processed morning cereals, meat, and dairy products are all okay to eat.
You should not consume solid meals the day before the colonoscopy procedure.
Drink only clear liquids, such as clear broth or bouillon, black coffee or tea, clear juice, sports drinks, popsicles, and so on.
Say no to whole grains, nuts, seeds, dried fruit, or raw fruits or vegetables.
Avoid drinking or eating anything with a dark color since it might cause errors during the colonoscopy(1).
What you eat and drink in the days leading up to a colonoscopy might have an influence on how the "clean out" course goes.
So, be very careful while choosing your meals.
It is best to start eating a low-fiber diet five days before the colonoscopy.
Low-fiber food options which are suitable for colonoscopy prep include:
Cooked or steamed vegetables without peel
Eggs
Fish
Fruit without skin or seeds
Lean meat such as chicken, turkey, or veal
Bread and cakes made with refined white flour such as bagels, muffins, or rolls.
Pasta and rice
Potatoes without skin
Smooth peanut butter or almond butter
Soups
Smoothies
Lighter-colored foods
Eating low-fiber foods for four or five days before the procedure will assist in clearing the colon since these foods are easy to digest and exit the body fast.
One thing that is very important here to mention is to stop taking any additional supplements or vitamins and any iron-containing medications while starting your new diet(2).
Physicians will advise on whether and when to cease using any regular prescription medications, as well as the usage of over-the-counter anti-inflammatory drugs.
Also Read: What to Eat After A Colonoscopy? A Complete Diet Plan
Colonoscopy Prep Diet
The way you eat in the days leading up to your colonoscopy is referred to as colonoscopy diet prep.
Its purpose is to assist empty your bowels so that your healthcare team may perform a successful colonoscopy.
During colonoscopy preparation, one should try to consume nutritious meals that do not promote excessive feces formation in the gut.
It is essential to stop consuming fiber supplements three days before the colonoscopy since they assist the body in generating fecal matter and would interfere with the colonoscopy preparations.
The following are some common colonoscopy dietary guidelines:
A few days before the procedure- start with a low-fiber diet. It means no whole grains, nuts, seeds, dried fruit, or raw fruits or vegetables
The day before the procedure- solid meals must be replaced with clear liquids. Water, broth, tea or coffee without cream, clear liquids, sports drinks, or Jell-O can all be part of a clear liquid colonoscopy diet. You are advised to stay away from any fluids containing red, blue, or purple food coloring.
The day of the procedure- clear liquids alone, like on the previous day. Do not eat or drink anything two hours before the procedure starts.
It is best to avoid solid meals altogether the day before the colonoscopy.
Consuming just liquids during this period helps prevent new fecal matter from developing, entering the colon, being present during the screening, and keeping the colon empty and clean.
Red and purple food colors should be avoided because they might stain the colon lining, making it difficult to view the region being inspected during a colonoscopy.
Also Read: How Clear Should Stool Be For Colonoscopy?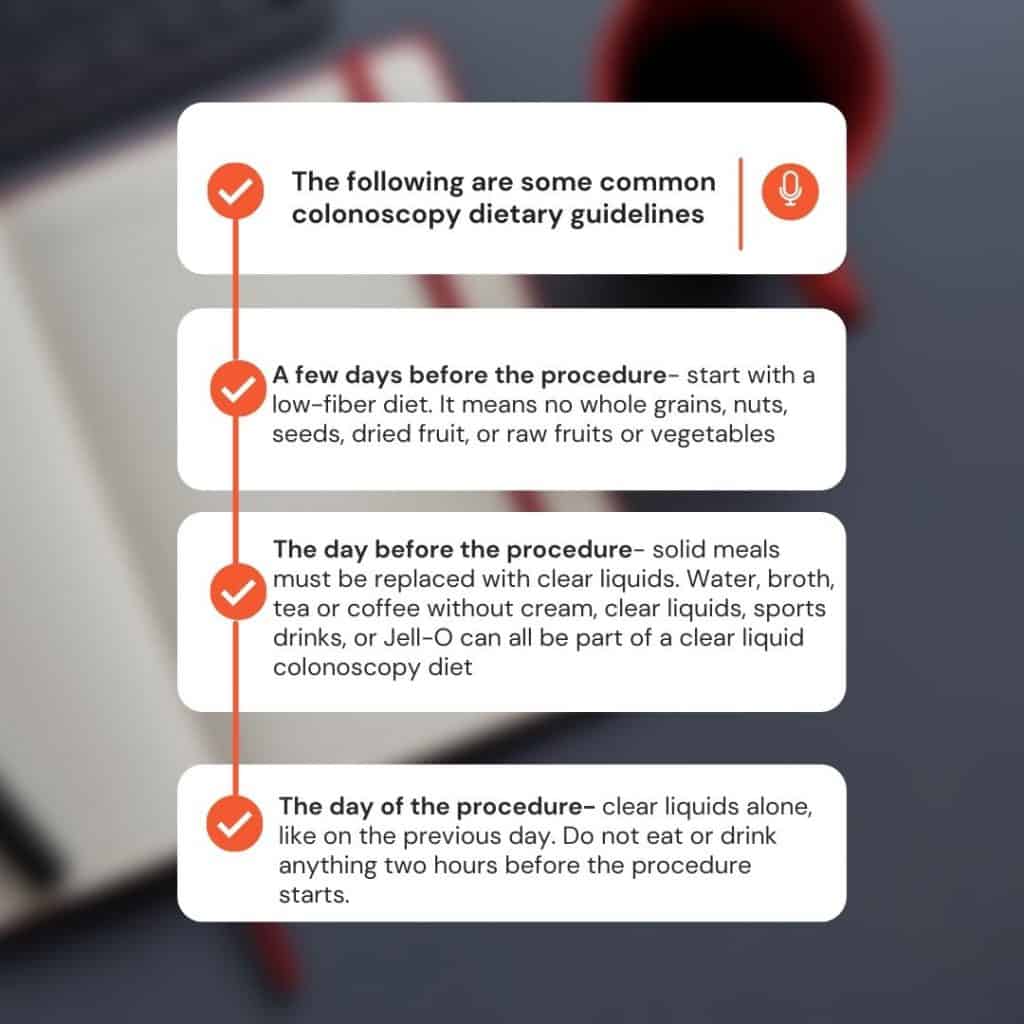 Foods To Eat Before Colonoscopy
Generally, you start with a low-fiber diet 5 days before your colonoscopy is scheduled.
Then you gradually move on to a clear liquid diet a day before the procedure and eventually no food or drink two hours before the screening.
What you eat and drink may make or break your colonoscopy preparation experience.
Only eat the following low-fiber foods before your colonoscopy. You can resume your usual diet post-surgery.
I have listed down all low residue foods from all food groups for your convenience.
Also Read: Colonoscopy Prep: Liquid Stool Still Brown – What to do?
Bread, grains, and cereals to Eat Before Colonoscopy
White bread
Rolls, biscuits, or croissants
Waffles, French toasts, pancakes
White rice
Pasta
Noodles
Strained oatmeal
Refined ready-to-eat or cold cereals
Peeled cooked or steamed potatoes
Muffins, crackers, melba toast
Vegetables to Eat Before Colonoscopy
Cooked carrots
Steamed asparagus tips
Cooked squash without seeds
Peas without skin
Pureed or cooked, strained lima beans
Potato (no skin)
Tender cooked beets
Green or waxed beans
Most canned vegetables
Cooked spinach
Fruits to Eat Before Colonoscopy
Canned fruits (except pineapple)
Canned applesauce
Pureed plums
Ripe bananas
Melon
Pear without seeds and skin
Peach (no skin and seeds)
Avocado
Strained fruit juice
Apricots (peeled)
Dairy Products to Eat Before Colonoscopy
Plain milk
Flavored milk
Mild cheese
Cottage cheese
Yogurt (no berries)
Ice cream (no nuts)
Custard
Sour cream
Hot chocolate
Buttermilk
Meats to Eat Before Colonoscopy
Chicken
Turkey
Lamb
Veal
Fish and seafood
Eggs
Tofu
Organ meat
Ham
Fats and Oils to Take Before Colonoscopy
Butter
Margarine
Vegetable and other oils
Mayonnaise
Salad dressings made without seeds or nuts
Soups to Have Before Colonoscopy
Broth
Bouillon
Consommé
Strained soups
Milk or cream-based soups
Desserts to Have Before Colonoscopy
Custard
Plain pudding
Ice cream
Sherbet or sorbet
Jell-O or gelatin without added fruit or red or purple dye
Cookies or cake made with white flour without nuts
Drinks and Beverages to Have Before Colonoscopy
Coffee
Tea
Hot chocolate
Clear fruit drinks (no pulp)
Soda and other carbonated beverages
Miscellaneous
Sugar
Salt
Jelly
Honey
Syrup
Lemon juice
Soy sauce
Ketchup
Mild spices
Vinegar
Also Read: How to Know If Bowels Are Empty for Colonoscopy?
What Can You Eat the Day Before a Colonoscopy?
The day before the colonoscopy, you will need to change your diet to a fully liquid diet.
Patients must follow a liquid diet. That means no solid meals.
A fully liquid diet that is fine to consume a day before your screening is:
Clear broth, including chicken, beef, or vegetables
Clear, light-colored juices such as apple, white grape, white cranberry, and lemonade without pulp
Any water (plain or carbonated)
Jell-O or other gelatin without fruit
Popsicles without fruit or cream
Water
Soda
Sports drinks such as Gatorade
Black tea (without cream)
Black coffee (non-creamer)
Ice pops without milk, bits of fruit, seeds, or nuts
Clear, fat-free broth (low-sodium ingredients)
Also Read: How to Avoid Vomiting During Colonoscopy Prep?
5 Days Diet Plan to Follow Before Colonoscopy
For a colonoscopy to be effective, the bowels must be completely clean.
Your gastroenterologist's ability to observe the surface of your large intestine might be restricted by any sort of waste in your colon.
Your colonoscopy will be canceled if you are unable to properly prepare.
Worse, the doctors may not be able to complete the colonoscopy while you are undergoing the surgical procedure.
You will obviously be annoyed if you have to reschedule and finish your treatment later.
That is why it is important to keep track of your diet strictly.
I have developed a 5-day pre colonoscopy diet plan here for you, so you can easily follow it without having to worry about it.
Days Before Colonoscopy
Breakfast
Lunch
Snack
Dinner
5 days before

Eggs
Bacon
White Toast
Milk

Tortellini with pesto

Salmon with lemon juice & dill
White rice

4 days before
Greek yogurt with bananas and honey topping
Tuna with olive oil and lemon juice on sourdough bread

Salmon
Sauteed spinach with garlic

3 days before

Half cantaloupe
Greek yogurt with honey topping

Hard candies
Ravioli pasta
2 days before

Eggs
White toast
Smooth peanut butter

Ice cream

Grilled chicken
Sauteed mushrooms
Boiled white rice

1 day before (clear liquid diet)

Black coffee or tea
Apple juice
Lemon Jell-O

Chicken broth
Lime Jell-o
Sports drink

Beef broth
Orange Jell-o
Soda
Day of Colonoscopy
You must not eat anything on the day of your colonoscopy
no food or liquid two to three hours before your scheduled procedure time.
You will be given your bowel emptying medicine along with the diet to follow. It is to ensure that you are completely cleaned inside.
It might be difficult for you to understand that you will be given some sort of medicine to assist prepare your bowels. Then, why is your diet important?
According to research, poor bowel preparation is expected to affect 20-25 percent of colonoscopies(3).
Following a proper colonoscopy diet will help you prepare for your procedure and have a successful colonoscopy.
Also Read: What to do When You are Still Pooping Morning of Colonoscopy?
What Can You Eat for Breakfast the Day Before a Colonoscopy?
You can eat chicken or beef broth for breakfast the day before a colonoscopy, but it is recommended to only drink liquids like apple juice.
Why Can't You Have Milk Before a Colonoscopy?
You are not permitted to consume dairy products such as milk, yogurt, cream, and cheese or non-dairy products such as almond milk, rice milk, or soymilk before a colonoscopy.
Can I Eat 24 Hours Before a Colonoscopy?
No, you cannot eat solid food 24 hours before the colonoscopy. You should avoid solid meals for at least 24 hours before a colonoscopy and follow a clear liquid diet for breakfast, lunch, and dinner.
Bottom Line
A colonoscopy can be a pain to prepare for. Your colon must be as empty as possible for your doctor to check for polyps and other cancer symptoms. While most individuals fear the test, it is definitely worth the effort.
Eating low-fiber foods solely for five days before your colonoscopy facilitates bowel preparation. It reduces the quantity of undigested food that must pass through your digestive tract.
It does not have to be difficult to stick to a colonoscopy diet. Planning early will go a long way toward ensuring your success as you prepare for your colonoscopy.
Hopefully, this information has assisted you in determining the best way to approach a colonoscopy diet. Do not forget to comment below if you found this article helpful in any way.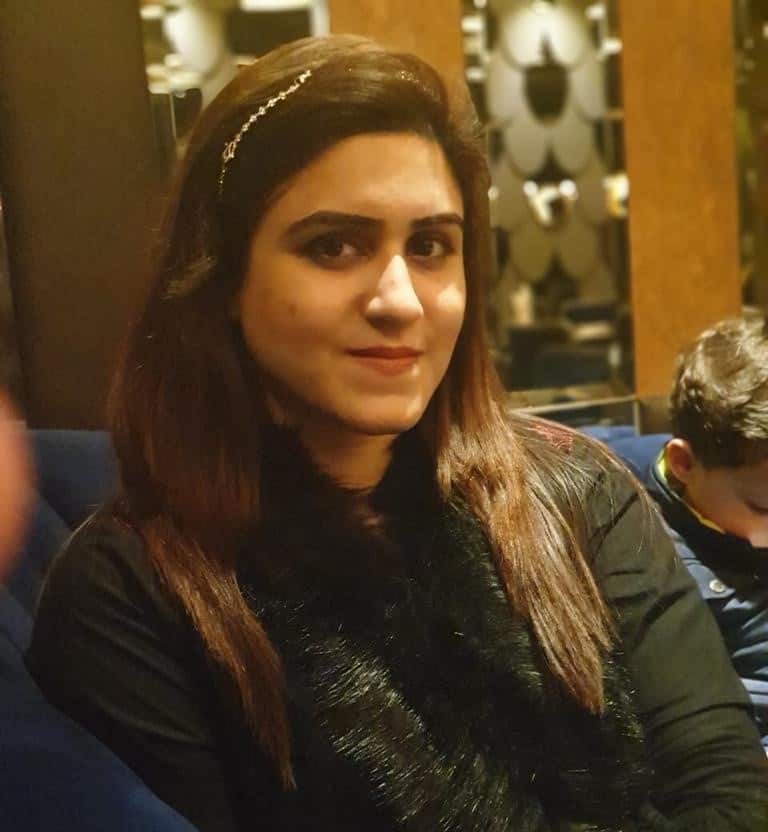 A nutrition degree holder and a foodie by heart, Madiha Saad loves to inspire people through her writings and uses her knowledge and experience to write articles on trending nutrition topics. She loves to develop new recipes in her pastime. Read More…