Wearing braces for a long time can be frustrating. The first few days can be miserable for kids as well as adults. But luckily, this condition does not last forever.
You don't have to cut out your favorite foods entirely while on braces. But opting for healthier choices is wiser because certain foods get stuck in the braces, which causes damage to them.
It takes few days to get adjusted with new braces as they put pressure on teeth. This extra pressure irritates gums and prevents them from eating normal food for few days.
Sensitivity, soreness, and bite disorientation are the problems to be faced for few days after braces installation or tightness. Eating softer foods provides comfort and prevents further damage to the brackets and wires.
Orthodontists recommend soft foods for the first few weeks that are easy to chew. So, the question you must be asking yourself after getting braces is, "what are the best soft foods to eat with braces?"
Some of the highly recommended soft food choices for people of all age groups wearing braces are as follows:
Mashed potatoes
Smoothies
Pudding
Yogurt
Soft Cheese
Soft Meat
Meatloaf
Eggs
Soups
Steamed Vegetables
Moist Cakes
Pasta
Ravioli
Soft Tortillas
Ice Cream
Baked Beans
Fish
Oats
Soft Fruits
Pancakes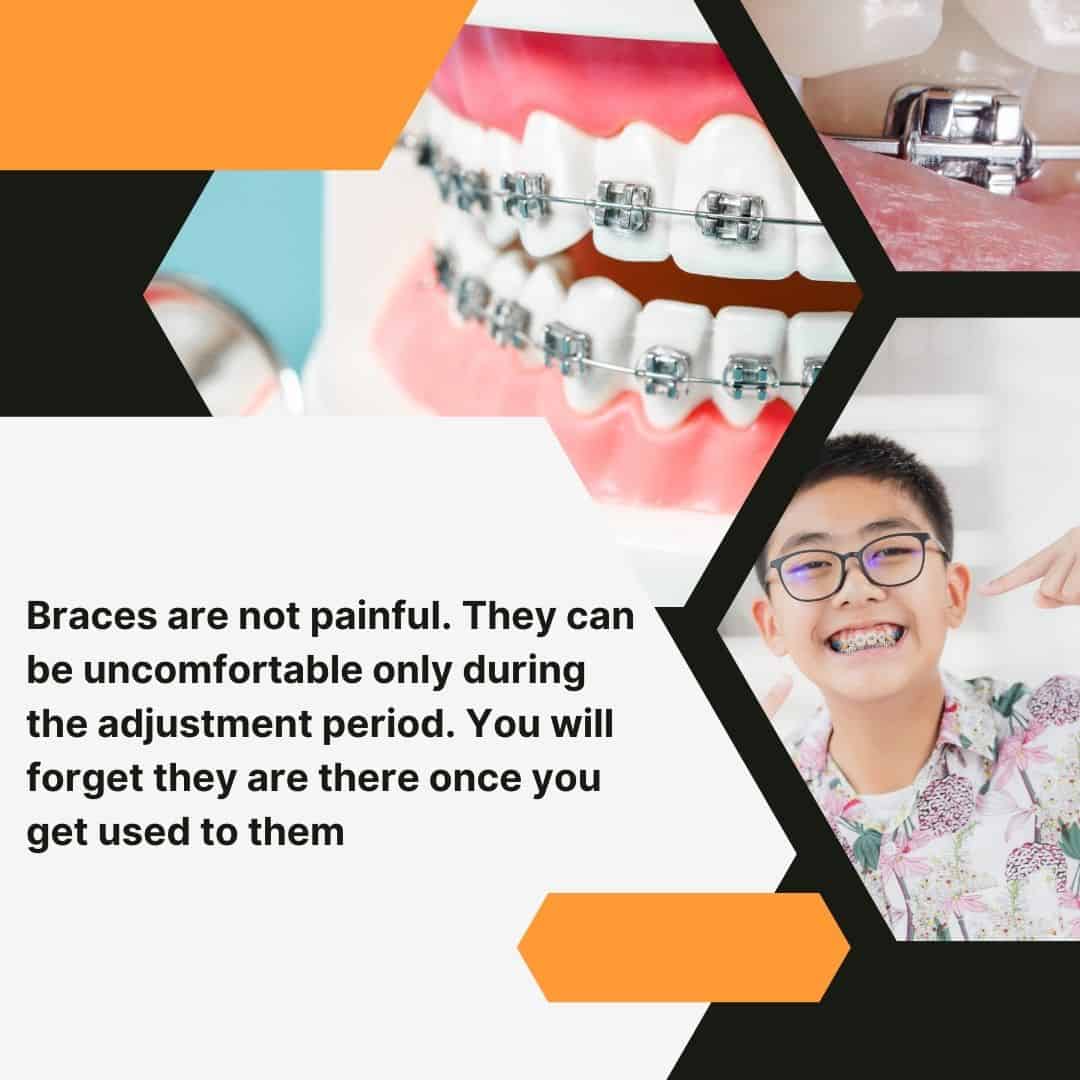 Soft foods speed up the healing process as they are easy to chew and swallow. They provide time to repair muscles and tissues, taking a break from normal food.
Eating healthy and soft food is important to keep braces well. It does not mean to eat only pureed or mashed food.
Soft yet delicious food choices can be opted for home, school, and office time. It is important to get complete nutrition from the foods you are eating.
People make wrong eating choices with braces as they start preferring ice creams and sugary puddings to fill their stomachs. This practice is wrong. It creates malnourishment in the body, and high sugar content damages the braces further.
Teeth become sensitive while wearing braces. They become harder to clean.
If we eat the wrong food, it gets stuck under the wires of braces. These particles can cause tooth decay when not cleaned properly. (1)
So, we must make those food choices that are eaten easily and are not able to be trapped in between wires. In this way, we can preserve our teeth and braces.
Also Read: What to Eat with Braces and What Not? A Definitive Guide
Best Soft Foods to Eat with Braces
Eating soft food does not mean you have to survive on bland and pureed food. Get creative. But always keep in mind the limitations that can pose a risk to the health of the braces.
Figuring out what to eat with braces can be challenging. Fortunately, there are plenty of delicious, healthy, and easy-to-prepare options that can help round out your diet and keep your braces intact.
It is important to consume colorful foods when initiating a soft diet to guarantee adequate vitamin intake.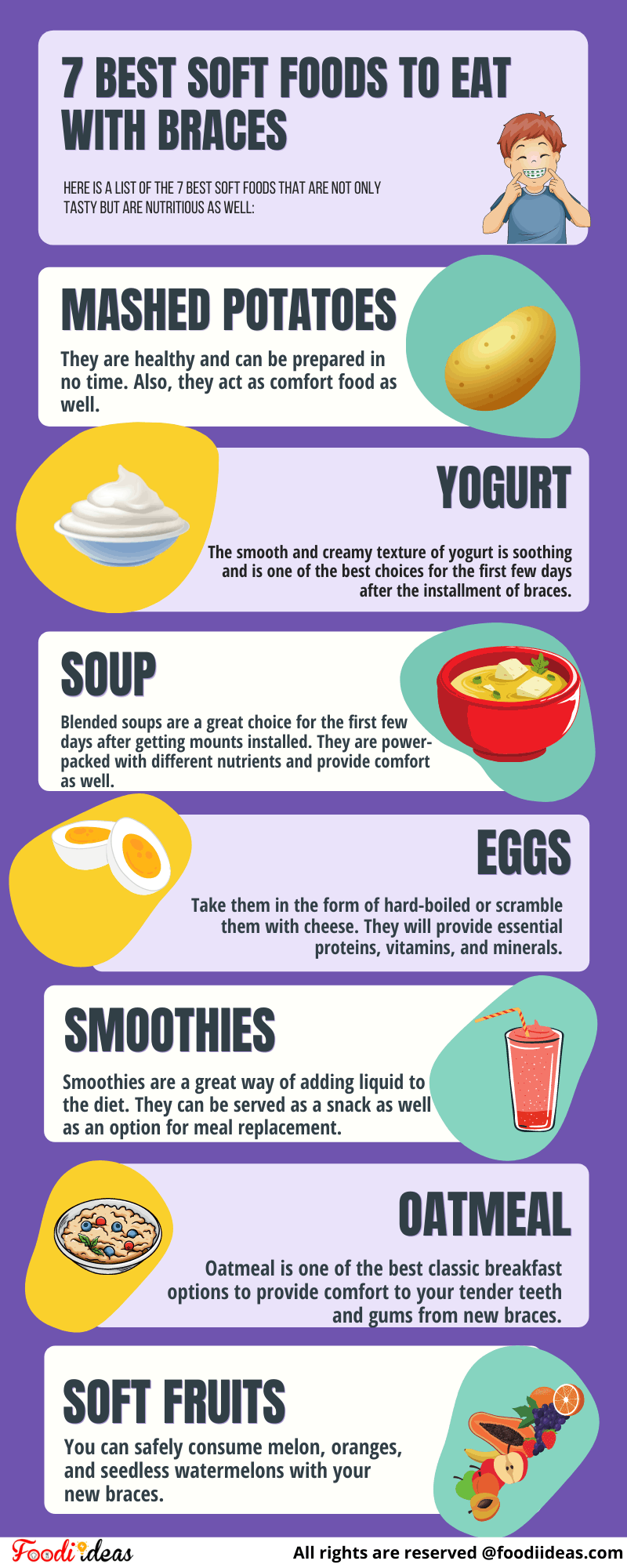 Here is a list of the 10 best soft foods that are not only tasty but are nutritious as well:
1. Mashed Potatoes
They are cost-friendly and easy to prepare. Mashed potatoes paired with cheese or butter provide a wholesome meal.
They are healthy and can be prepared in no time. Also, they act as comfort food as well.
2. Yogurt
The smooth and creamy texture of yogurt is soothing and is one of the best choices for the first few days after the installment of braces.
You can eat yogurt for lunch with soft rice. Or can take it as an afternoon snack. It can be an easy grab-and-go breakfast choice as well.
Also Read: 12 Fast Foods to Eat with Braces Without Causing Pain
3. Soup
Blended soups are a great choice for the first few days after getting mounts installed.  They are power-packed with different nutrients and provide comfort as well.
You can make soup for lunch and dinner. Blend the ingredients or chop them down; however, your personal preference is how you take them.
It is better to start with blended soups and gradually move over to chunky ones.
Some of the healthier soup choices to take with the braces are:
cream of hatch chile soup
broccoli cheddar soup
creamy roasted garlic cauliflower soup
curry pumpkin soup
creamy tomato basil parmesan soup
4. Eggs
Protein is essential for healing and is recommended for patients with braces.
Their soft texture makes it easier to chew and does not bother gums much. The best part of eggs is that you can take them any time of the day.
Take them in the form of hard-boiled or scramble them with cheese. They will provide essential proteins, vitamins, and minerals.
Also Read: What Can You Not Eat with Braces?
5. Smoothies
Smoothies are a great way of adding liquid to the diet. They can be served as a snack as well as an option for meal replacement.
A glass of less sugary and nutritious smoothie can help in the discomfort experienced after braces installment.
Some of the best smoothie choices to take with the braces are:
Strawberry and oat smoothie
Pina colada green smoothie
Peanut butter, banana, and flax smoothie
Mixed berry green smoothie
Also Read: What to Eat After Tooth Extraction? 10 Best Foods to Eat Right Away
6. Oatmeal
Oatmeal is one of the best classic breakfast options to provide comfort to your tender teeth and gums from new braces.
Oatmeal is high in fiber and low in calories. You can pair them up with milk, mashed apple, or pear. Sprinkle some cinnamon on it, and your power breakfast is ready in no time.
7. Macaroni and Cheese
Macaroni and cheese is a treat for sensitive teeth and gums and serves as true comfort food.
Loved equally by children and adults, mac and cheese is a braces-friendly food. Its creamy and smooth texture makes it easy to chew from sore teeth and gums.
Make it as dinner at home or pack it in a school lunch; mac and cheese make a good, fulfilling meal in terms of a soft diet.
8. Steamed Vegetables
Vegetables are nutritious and are a safe food when eaten in steamed form. Steaming vegetables can preserve all the nutrients and minerals present in them.
Add a variety of vegetables into your diet at lunch or dinner, and make sure to cut small pieces of any large vegetables.
9. Soft fruits
You can safely consume melon, oranges, and seedless watermelons with your new braces.
They can be a perfect snack or can be eaten in the form of salad. Make sure to cut up fruit pieces into a smaller size.
Avoid biting into hard fruits like apples and pears. It is better to steam them or cut them into tiny pieces before eating them.
10. Pasta with Ground Chicken
Pasta is a soft grain and can be chewed easily with sensitive and sore teeth. Add some ground chicken into your pasta to make it a wholesome meal for dinner.
Also Read: What To Eat After A Root Canal?
Soft Foods to Eat with Braces at Home
You need all sorts of nutrients in your diet while sticking to softer foods. The soft diet must fulfill the daily requirements of protein, carbohydrates, and good fats.
Your soft diet must contain all essential vitamins and minerals to thrive. All food groups such as fruits and vegetables, proteins, fats, grains, and dairy products must be combined to make your meal.
I have compiled a list of 10 nutritious soft foods that can be easily prepared at home.
Meatloaf
Baked beans
Steamed salmon
Pancakes
Soft bread or tortilla
Macaroni and cheese
Soft casseroles
Ice cream
Chicken noodle soup
Four cheese baked eggs
Soft Foods to Eat with Braces at School
Kids can become fussy after sporting braces. The pain and discomfort can irritate them.
Adjusting to new braces can be stressful to both kids and parents. But it can be minimized by giving plenty of food options that keep your child energized and satisfied.
Packing a lunch for school can be a bit tricky. But you can choose from healthier and go-to options, keeping in mind all the restrictions for braces.
Want to pack braces-friendly lunch for school? Here are the few options which are loved by kids as well:
Egg salad
Pasta and cheese
Sandwiches with soft filling
Applesauce
Yogurt
Jell-O
Pudding cups
Soft fruits such as berries and bananas
Hummus with soft pita
Scrambled eggs with melted cheese
It is better to wait for 2 weeks until the soreness goes away before giving normal foods at lunch.
Soft Foods to Eat with Braces at Office
Managing your time for preparing lunch for the office can be seen as a hassle. But you must have soft food to protect your braces health.
Plan and prepare your lunch overnight. When you seem to be in a hurry, you can easily grab and eat yogurt or pudding cups.
Some hearty, soft foods to eat with braces at office are:
Protein shake
Steamed vegetables
Quinoa
Sliced lunch meat like ham, turkey, or bologna
Creamy butternut squash pasta
Banana and berry salad
Jell-O or other dessert cups
String cheese and soft crackers
Moist baked items like tea cake or banana bread
Soft tortillas
Soft Foods to Eat After Braces Tightening
Usually, braces get tightened after every 6 weeks to ensure proper adjustments for the braces.
You will have to take non-sugary, non-sticky, and softer foods after tightening the braces to make sure they do not cause any discomfort.
You can experience some soreness or sensitivity in teeth and gums after every tightening of braces. So, you need to be careful while planning your meal for the next few days.
Some of the food choices after the braces tightening procedure can be:
Noodles
Rice
Soft flatbread
Fish without bones
Moist cakes or soufflé
Bone broth
Roasted winter squash
Pasta salad with chicken
Wholewheat sandwiches
Tuna
Liquid Diet for Braces
It is essential to keep in check your liquid intake while on braces. This is to prevent dehydration.
It is best to take healthy liquids with meals that can provide nourishment, electrolytes, and hydration to the body.
A 7-day plan of liquids intake are provided below, which can go easily with your soft meals:
| Day | Breakfast | Lunch | Dinner |
| --- | --- | --- | --- |
| Monday | Strawberry and carrot smoothie | Tomato orange soup | Watermelon ginger lemonade |
| Tuesday | Pineapple coconut smoothie | Pomegranate frozen yogurt | Red pepper soup |
| Wednesday | Strawberry lime smoothie | Berry and lime punch | Iced caramel latte |
| Thursday | Whipped dalgona coffee | Cherry fruit smoothie | Vegetable clear soup |
| Friday | Spinach, avocado, and kale smoothie | Butternut squash soup | Strawberry shake |
| Satureday | Iced mocha | Turmeric tea | Pizza soup (blended) |
| Sunday | Banana split smoothie | Peach iced tea | Mango and coconut smoothie with chia seeds |
Soft Fast Foods to Eat with Braces
I would never recommend any fast food or junk food due to its harmful nature for the general health. Still, if you nevertheless have to have one occasionally, make sure it does not fall in the category of 'hard, tough & sticky.'
But if you still want to fulfill your cravings, then these are the few safe fast-food options that you can eat with braces:
Pizza- you must avoid the crust
Brownies with no nuts
Chicken nuggets- you should cut these into pieces to avoid damaging your braces.
Soft tacos- avoid hard shells at all costs
Ice-cream and popsicles
Baked chips- remember to eat one chip at a time
Cotton candy
French fries- non-crispy
Pop-tarts
Bacon
It is better to keep the consumption of fast food to the minimum to keep your braces healthy. Try to brush or floss immediately after taking any of those above foods while on braces.
Braces-Friendly Snacks to Eat
Eat smartly while snacking. Healthily satisfy your cravings.
There are foods that you can still enjoy as snacks. Stocking them in your pantry allows healthy and safe snacking while wearing braces.
Hoard these braces-friendly snacks, so you do not remain hungry in between meals.
I always urge to eat healthily so, some of the healthy braces-friendly snacks are as follows:
Soft fruits such as oranges, bananas, peaches, and grapes
Soft raw vegetables such as cherry tomatoes and cucumbers
Frozen yogurt
Cheese puffs
Soft dairy foods such as yogurt, cottage cheese, and string cheese
Roasted, grilled, or steamed veggies with hummus
Fruit smoothies
Hard-boiled eggs
Cup pudding
Soft crackers
Take a break from chewy, sticky, and hard foods. Never munch directly on hard things like apples, carrots, or corn on the cob. Cut them into smaller pieces before munching.
Rinse your mouth properly if you grab a much sugary snack. Otherwise, try to avoid them as much as possible because they pose a risk of tooth decay if not cleaned properly.
Also Read: 15 Reasons Not To Get Braces
What to Take Away
A soft diet does not always have to mean boring food. You can create new recipes keeping in mind the restrictions for braces.
The key to your orthodontic treatment is keeping excellent oral and dental health. No matter what you eat, remember to brush your teeth thoroughly after every meal or snack.
Make sure there are no lingering food particles trapped in your braces. Always cut hard food into smaller pieces while on braces.
Follow the above-provided ideas and food choices to avoid any painful experience after the orthodontic procedure.
Braces can improve your teeth condition, but if not taken care of properly, they provide more risks than benefits.
Only eat soft foods for few days after braces installment. In this way, you can have better oral and dental health.
Do not forget to comment on your personal experiences, and you are always welcome to ask your questions below.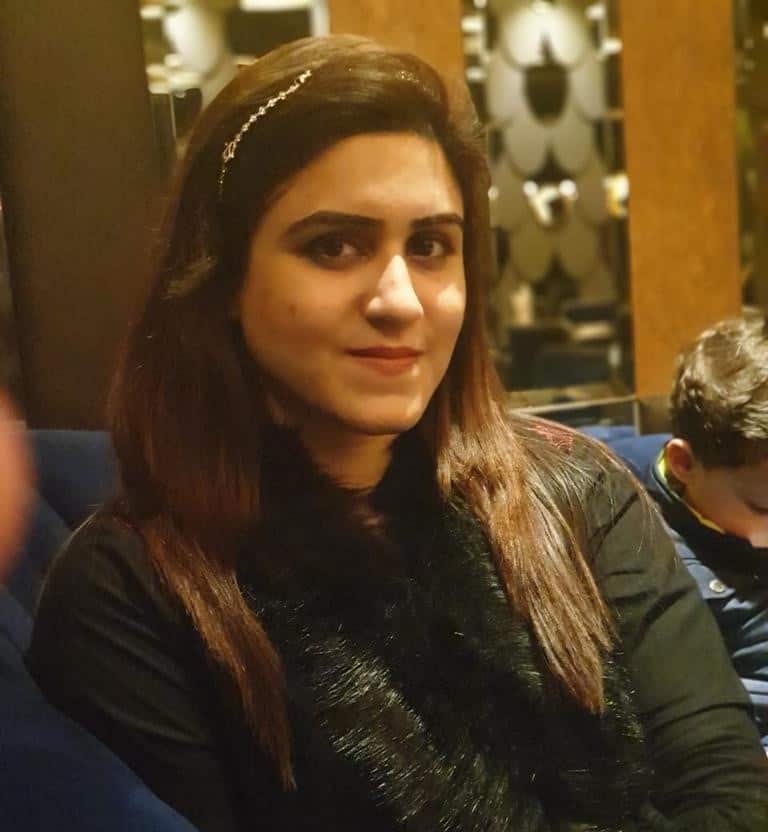 A nutrition degree holder and a foodie by heart, Madiha Saad loves to inspire people through her writings and uses her knowledge and experience to write articles on trending nutrition topics. She loves to develop new recipes in her pastime. Read More…