Eating with braces can be a task. But not if you choose the right foods. People often complain about the limited food choices when it comes to what to eat for breakfast with braces. However, if your journey with braces has just begun, you'll eventually learn what foods to eat and what best to avoid.
The foods that you can eat for breakfast with braces are chia pudding, cream cheese on a bagel (cut into bite-sized pieces), mashed potatoes, scrambled eggs, flavored yogurt, smoothies, pancakes, oatmeal, mac n cheese, french toast, muffins (without nuts), ripe fruits, and soggy cereal
Breakfast is the first meal of the day, and most of us like to enjoy it. But braces often make it impossible.
It might comfort you to know that I went through this ordeal personally. I figured that not only was the wrong choice of food causing me pain but also delaying my progress.
Now that you know what to eat for breakfast with braces, let's get into a little more detail about what each of these breakfast foods has to offer.
10 Tasty Foods To Eat For Breakfast With Braces:
Breakfast is the first meal of the day that ought to be healthy, fueling, and for people with braces, easy to chew because you best don't want to trigger pain or disassemble the wiring first thing in the morning.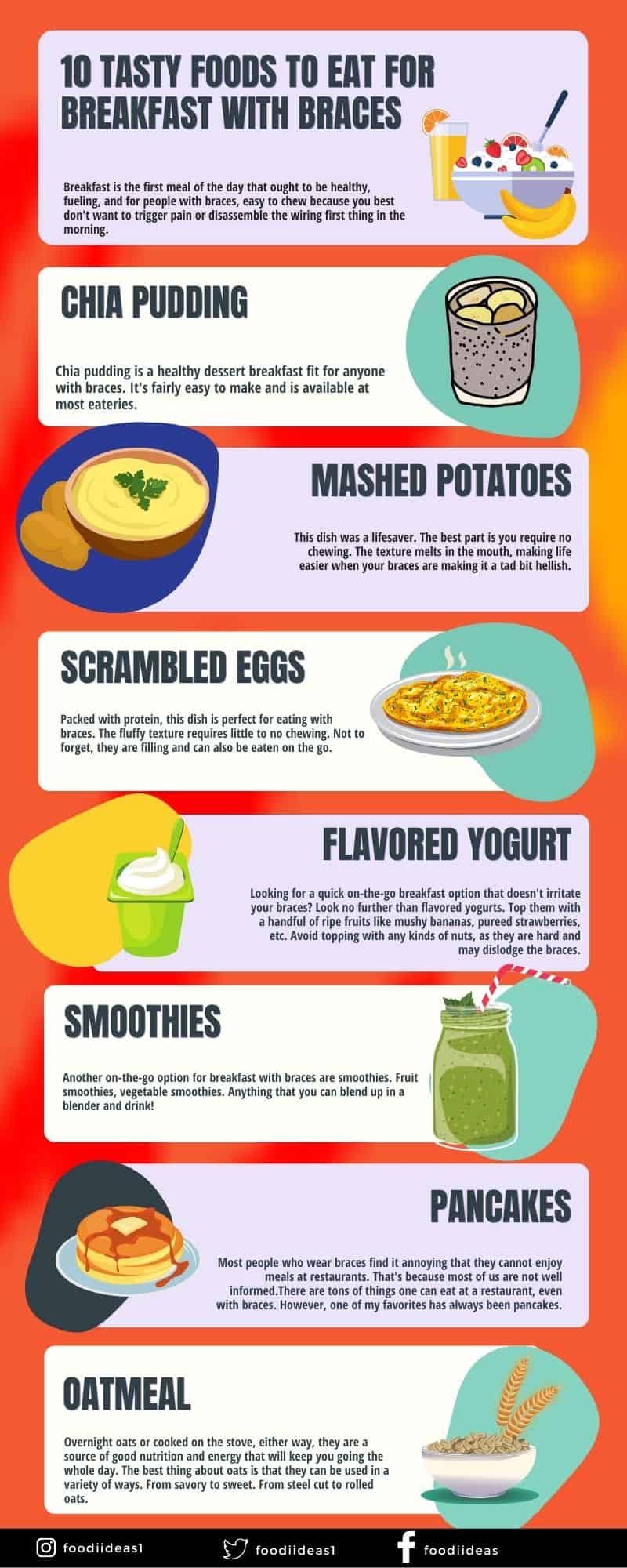 1. Chia Pudding
Chia pudding is a healthy dessert breakfast fit for anyone with braces. It's fairly easy to make and is available at most eateries.
A common misconception about chia seeds is that they may stick to the braces. The truth is that when soaked in water, they become soft and do not require a lot of chewing. So you can literally drink them if you want, without having to bite.
They are a rich source of protein, omega 3 fatty acids, calcium, and fiber. (1)
Do you complain of constipation as this problem is faced by over 20% of the population? (2)
Chia seeds are a healthy source of fiber, which may help reduce constipation. (3)
Also Read: What to Eat with Braces and What Not
2. Cream Cheese on a bagel (cut into bite-sized pieces)
Many consider bagels a no-go with braces. There is a general rule when it comes to eating bagels with braces.
They should be fresh and soft
They should be cut into small pieces
A hard bagel will obviously either break the brackets or cause pain.
While directly biting into a bagel might break the small wires causing unnecessary delay.
You can switch cream cheese with another choice of spread, like jam. Just make sure the spread is not crunchy or too chewy like peanut butter.
Also Read: What Can You Not Eat with Braces?
3. Mashed Potatoes
The list of what to eat for breakfast with braces usually sounds boring. But not when you have dishes like mashed potatoes on it.
This dish was a lifesaver for me.
It was both filling and absolutely delicious.
The best part is you require no chewing. The texture melts in the mouth, making life easier when your braces are making it a tad bit hellish.
Also Read: Soft Foods to Eat with Braces
4. Scrambled Eggs
Packed with protein, this dish is perfect for eating with braces. The fluffy texture requires little to no chewing. Not to forget, they are filling and can also be eaten on the go.
The best thing, though is, that they are readily available at all breakfast serving restaurants.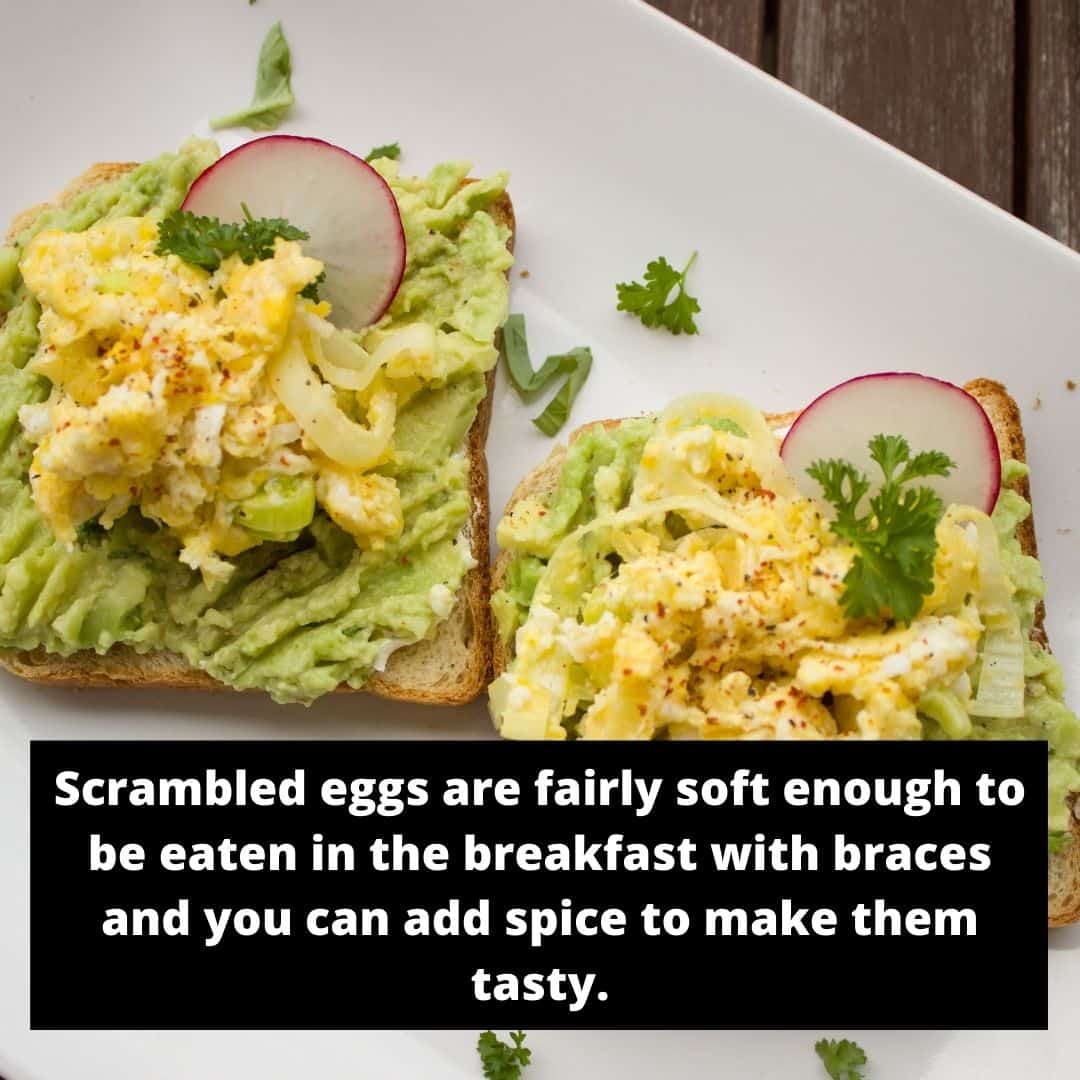 5. Flavored Yogurt
Looking for a quick on-the-go breakfast option that doesn't irritate your braces?
Look no further than flavored yogurts. Top them with a handful of ripe fruits like mushy bananas, pureed strawberries, etc.
Avoid topping with any kinds of nuts, as they are hard and may dislodge the braces.
Also Read: What To Eat After A Root Canal?
6. Smoothies
Another on-the-go option for breakfast with braces are smoothies. Fruit smoothies, vegetable smoothies – anything that you can blend up in a blender and drink!
Smoothies are an easy way to fill up without hassle. You can prepare for days in advance, and they are also readily available at cafes and bars. Making it a handy option for people with braces.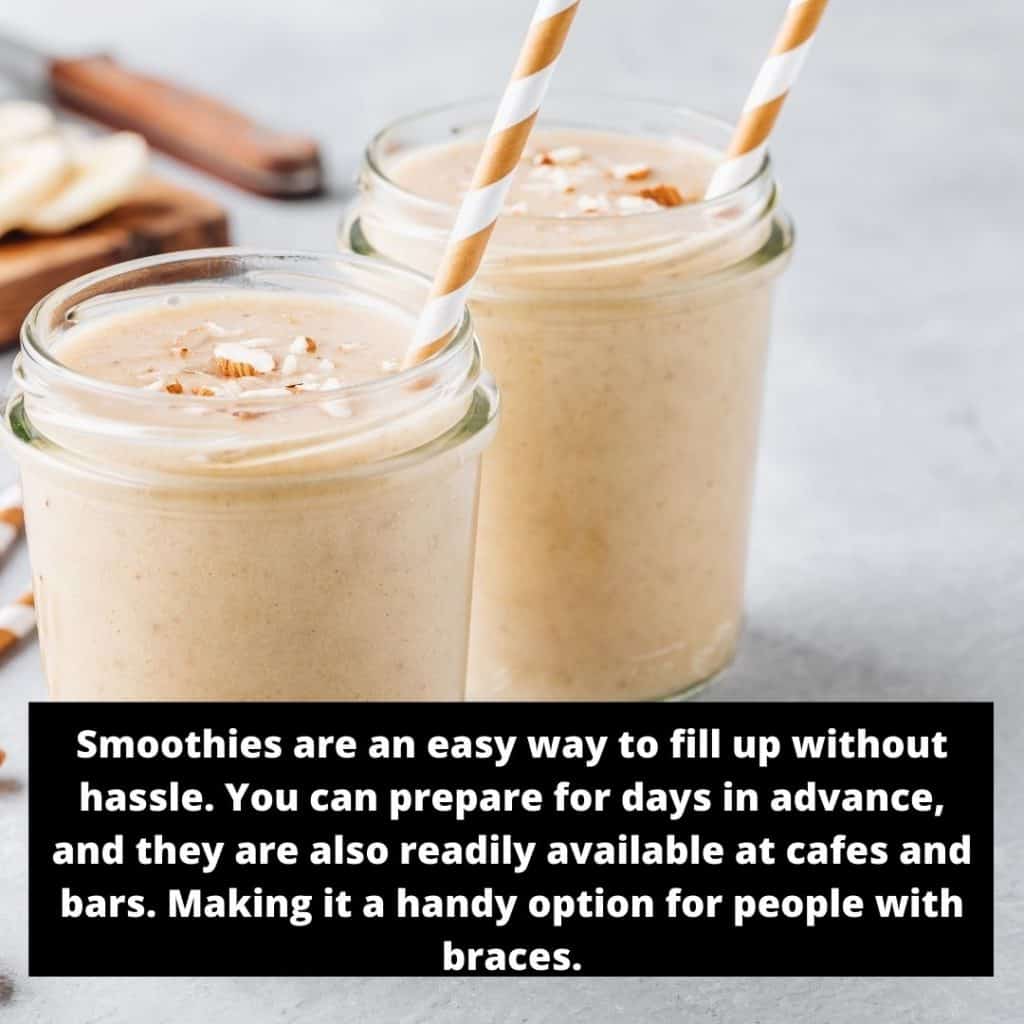 7. Pancakes
Most people who wear braces find it annoying that they cannot enjoy meals at restaurants. That's because most of us are not well informed.
There are tons of things one can eat at a restaurant, even with braces. However, one of my favorites has always been pancakes.
Also Read: What to Eat After Tooth Extraction
8. Oatmeal
Overnight oats or cooked on the stove, either way, they are a source of good nutrition and energy that will keep you going the whole day.
The best thing about oats is that they can be used in a variety of ways. From savory to sweet. From steel cut to rolled oats.
You can make yourself a fresh oats breakfast on weekends or prepare an overnight, on-the-go oats jar for weekdays.
Not to forget all of the recipes are readily available online and are super easy to follow.
9. Mac n Cheese
If you are more into cheesy goodness, first thing in the morning, this one is for you.
With braces, most options are a mix of bland, soggy foods. But not anymore.
You can now have your favorite mac and cheese. Pre-packaged or freshly made, you can enjoy a hearty breakfast of mac and cheese, even with braces.
Just make sure that the pasta is well cooked and not chewy. The cheese is also not crusty; instead, it is gooey.
Tip: Add some milk to attain the perfect smooth and velvety texture.
Also Read: Fast Foods to Eat with Braces
10. French Toast:
I had always been a team crusty french toast. Until I got my first set of braces. Yes, I have had braces more than once, but that's a story for some other time.
Light golden french toast with a drizzle of honey and fresh cream is the best way to make yourself feel special! Even with those braces on!
It's both filling and nutritious, not to forget the melt in the mouth texture and taste.
11. Muffins (Without Nuts)
Muffins are another grab-and-go option to eat for breakfast with braces.
Prepare them at home, or buy from a local cafe; this treat is a filling breakfast option.
I would always choose a healthier muffin option, like oat muffin, zucchini, and chocolate muffin, to add more nutritional value to my breakfast.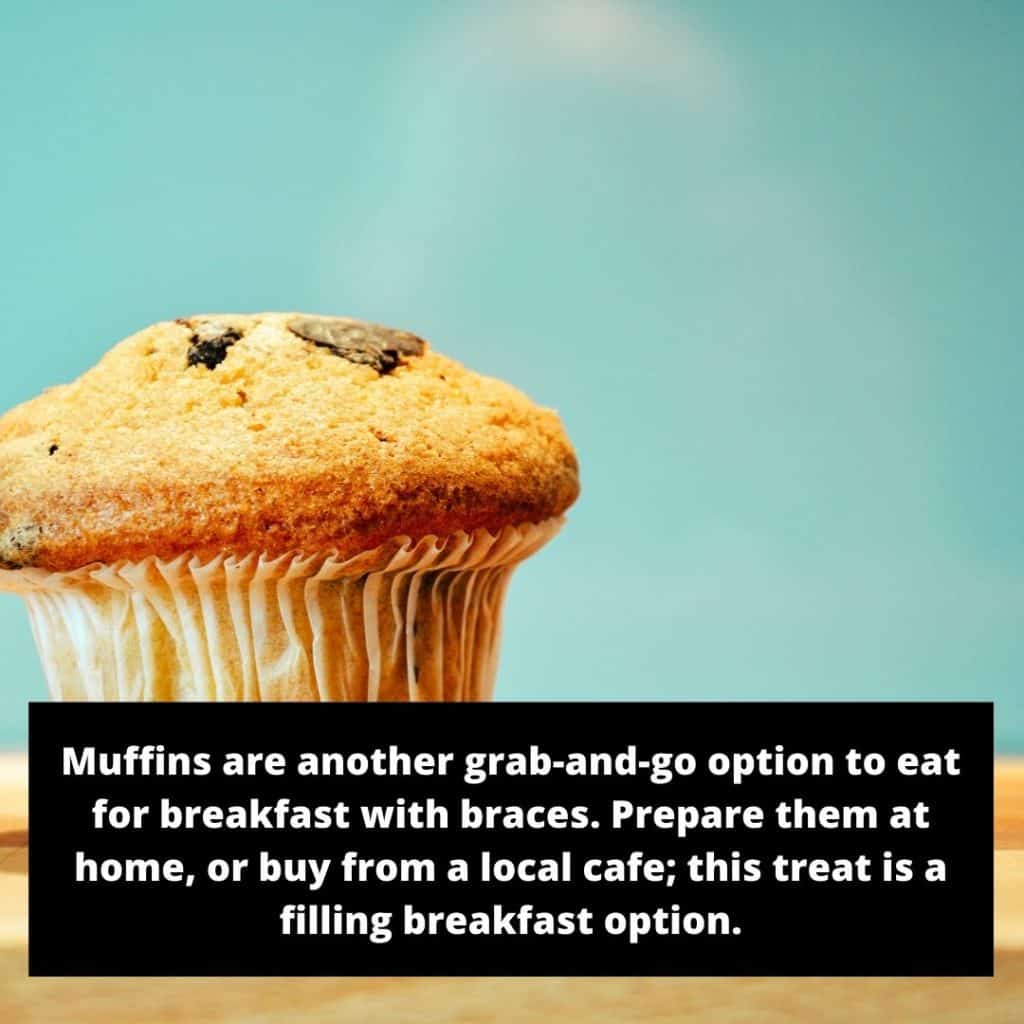 12. Ripe Fruits
If you don't like eating too much in the morning, a handful of fruits are a good option to give you the right amount of energy to kickstart your day.
The key is to choose ripened fruit and cut them into smaller pieces. Avoid anything too hard or chewy. Instead, go for simpler, stain-free options like bananas, watermelons, oranges, mangoes.
Just keep the pieces small to avoid biting too much or too hard.
13. Soggy Cereal
Does your day not start until you devour a bowl of cereal?
You must be in a fix now, especially if you are team Crunchy Cereal. Because I know I was!
But it turns out my love for cereal is far more than my love for crunchy cereal.
I made peace with soggy cereal, which, trust me, is not so bad.
The best way to prepare it is by letting the cereal soak for 10 minutes in milk. Warm milk will make the process fast. Either way, once the cereal has soaked well, begin eating!
What Foods To Avoid?
While we are at it, let's also answer the second most asked question – what kind of foods are off the menu for breakfast with braces?
Anything that is hard to bite, chewy, sticky, or requires a large bite are to be avoided when looking for breakfast foods to eat with braces.
Sticky foods can stick to braces, and cleaning can be a task.
Hard-to-bite foods break the brackets and can also cause unnecessary pain and inflammation.
Foods that require a large bite can dislodge the tiny wire mechanism of the braces, delaying the entire process.
Also Read: Reasons Not To Get Braces
Takeaway:
Whether you are a loader or an on-the-go breakfast eater, choosing what to eat for breakfast with braces can be overwhelming.
Also, each case is different, and so is each person's pain tolerance. So what foods might work for you might not work for others. So it's a trial and error thing. You will have to try out breakfast options to know what suits you best.
I hope this list of breakfast foods to eat with braces will help you decide better because it made my life easier.
Braces can be painful, restrictions on food make them even more troublesome!
Would you like to know more food options to eat with braces?
Let us know in the comment box below.
And while you are at it, help us grow by rating our content and sharing it with your friends and family. You never know there maybe somebody looking to make mealtimes easier and more cheerful with braces.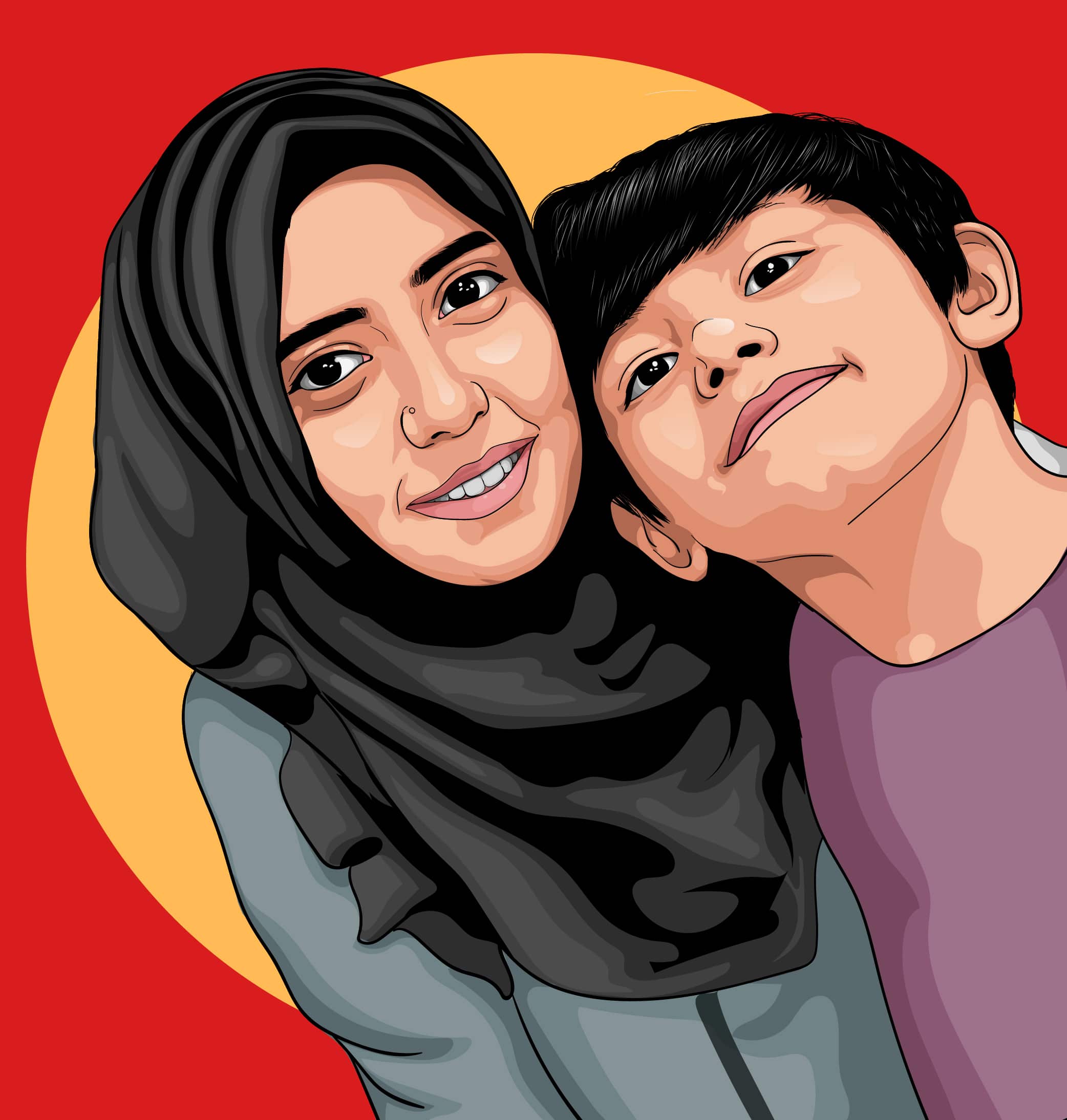 For the past three years, I have been consciously making efforts for a healthy lifestyle, and I must say it has done wonders! From the better appearance, energized body to a peaceful soul, It has helped me attain it all and Now I am here at foodiideas with all my expertise and experiences. Read More…