Deciding on getting braces can be challenging and tough. It can be an overwhelming experience as they need to be worn for a long period of time and can cause discomfort sometimes.
However, a key question arises here "why are braces important"?
Orthodontic braces are essential to align, straighten, and fix gaps between teeth and help them position according to a person's bite while improving overall dental health. The main goal of dental braces is to align your teeth and jaws properly to create an even bite and a pleasing smile(1).
With the correct knowledge and advice, you can increase the effectiveness of braces. There are several other solid reasons to invest in braces which will be explained later.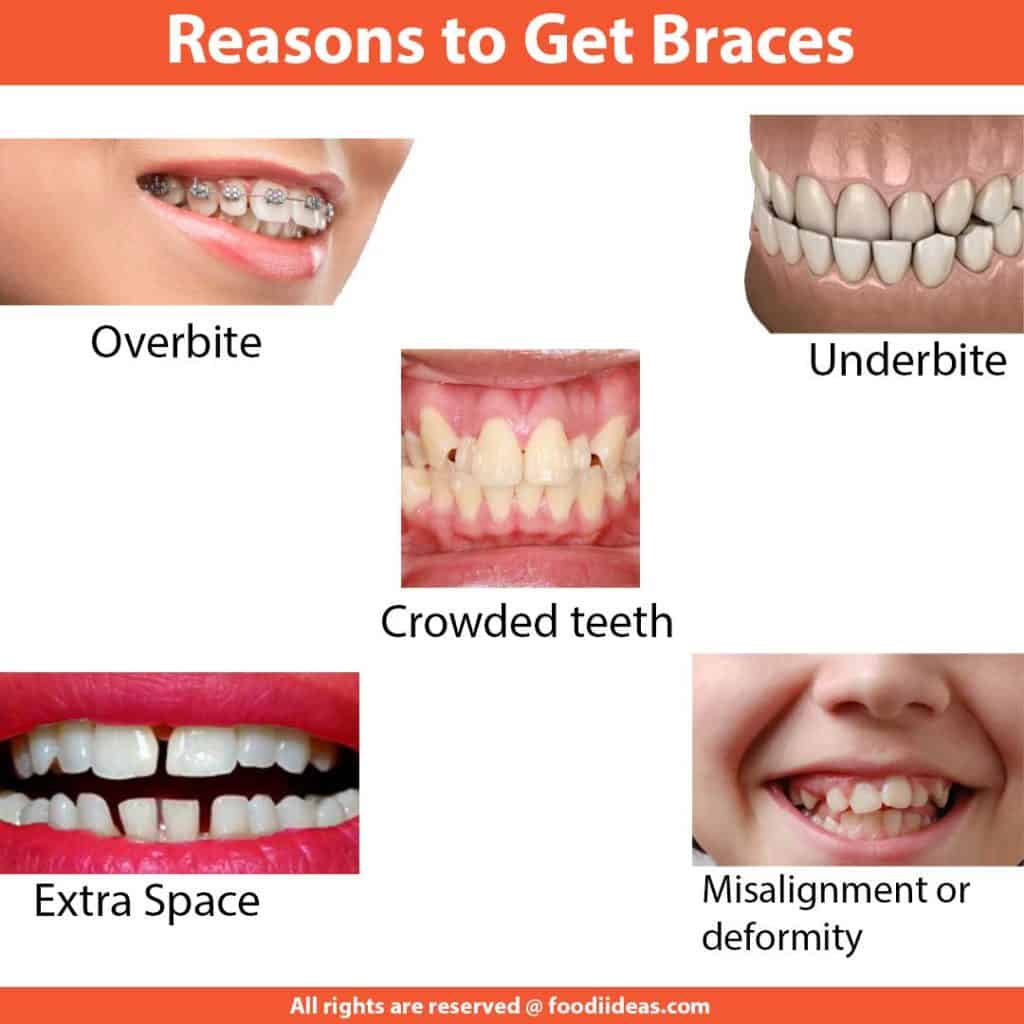 Why Choose Braces, And What Do They Do?
Crooked and improper spaced teeth can be an aesthetic concern, but deformity and misalignment of teeth and jaw are dental problems that should be addressed properly.
Problems such as tooth decay and gum disease easily set in when the teeth are crooked. Food gets trapped in the teeth, and they become harder to clean because of their crookedness. This causes plaque and ultimately gum diseases and even tooth loss.
Braces offer many advantages, which include:
Boost self-esteem. Individuals who have crooked and imperfect teeth suffer from a lack of confidence. You can feel an improvement in appearance within the first six months of wearing braces(2), making you feel better about yourself and making you smile again confidently.  
Improves oral hygiene. It is easier to clean your teeth and avoid tooth decay after getting straight teeth from braces. Overcrowded and crooked teeth make it difficult to reach inside spots of teeth while brushing, leading bacteria to grow, thus causing cavities and tooth decay(3).
Better digestion. Misaligned teeth make it unable to chew your food the right way, impacting your digestive system as it must put extra effort to digest improperly chewed food. Braces make chewing better, allowing the stomach to digest food faster.
Improve speech. Deformed and crooked teeth result in a distorted speech in some individuals. By straightening them with the help of braces, you can improve your speech and boost your confidence.
Increase the quality of life. Your appearance of mouth changes with braces. It enables people to smile again to convey their emotions confidently, increasing the quality of one's life.
You will experience less anxiety and more confidence to show off your smile after braces. It will bring a positive influence on your career, relationship, and social life(4).
Reasons To Invest In Braces?
Braces provide results that have far-reaching effects. They have become more affordable and attractive due to modern innovations in orthodontics.
There are many reasons which will make you want or advised to invest in braces. They offer treatment to the following alignment problems which are concerning for an individual's oral health:
1. Overbite
If your bottom teeth sometimes bite into the roof of your mouth, then you are suffering from an overbite. This must be treated with braces as leaving it untreated damages gum tissues and front teeth.
2. Underbite
If your lower teeth overlap your front teeth while smiling, you have an underbite problem. Underbites can be harmful during eating or talking, which increases the risk of an oral injury. It can be treated with the help of orthodontic braces that aligns your teeth and gives you a sparkly smile. 
However, there are few things that you cannot eat with braces and you have to avoid them for a certain period of time.
3. Misaligned or Crooked Teeth
Misalignment of two dental arches when the jaws are closed is called malocclusion(5). This sort of bad bite makes chewing and eating difficult. Extra pressure is put on jaw muscles which results in severe jaw pain in some cases headaches.
Misaligned or deformed teeth cause chronic discomfort. It often prevents individuals from smiling confidently. Orthodontic braces at an appropriate time can help reduce this distress.
Also Read: What to Eat with Braces and What Not?
4. Teeth Crowding
One of the many reasons for getting braces includes misaligned or deformed teeth. If there is not enough room for all your teeth in your mouth and teeth are overlapping, then you are dealing with overcrowding.
In such a case, plaque hides where toothbrush bristles cannot reach, and more chances of cavities arise. Fixing crowded teeth through braces do wonders to oral hygiene and oral-facial appearance.
5. Gaps In Between Teeth
Too much space between teeth affects jaw functioning and bite accuracy. Gaps occur due to missing or oversized teeth.
Spaces between the teeth mean that gums are unprotected, causing bacteria to grow. The risk of developing gum disease becomes higher. Braces assist in closing the gaps and protecting the gums.
6. Achieving Perfect Smile
Many people are obsessed with achieving a perfect smile. They want to align their teeth to get a beautiful smile appearance.
Having a straighter and healthier smile can make you feel beautiful about yourself. Braces can help you achieve this goal and make you feel more confident in your social interactions(6).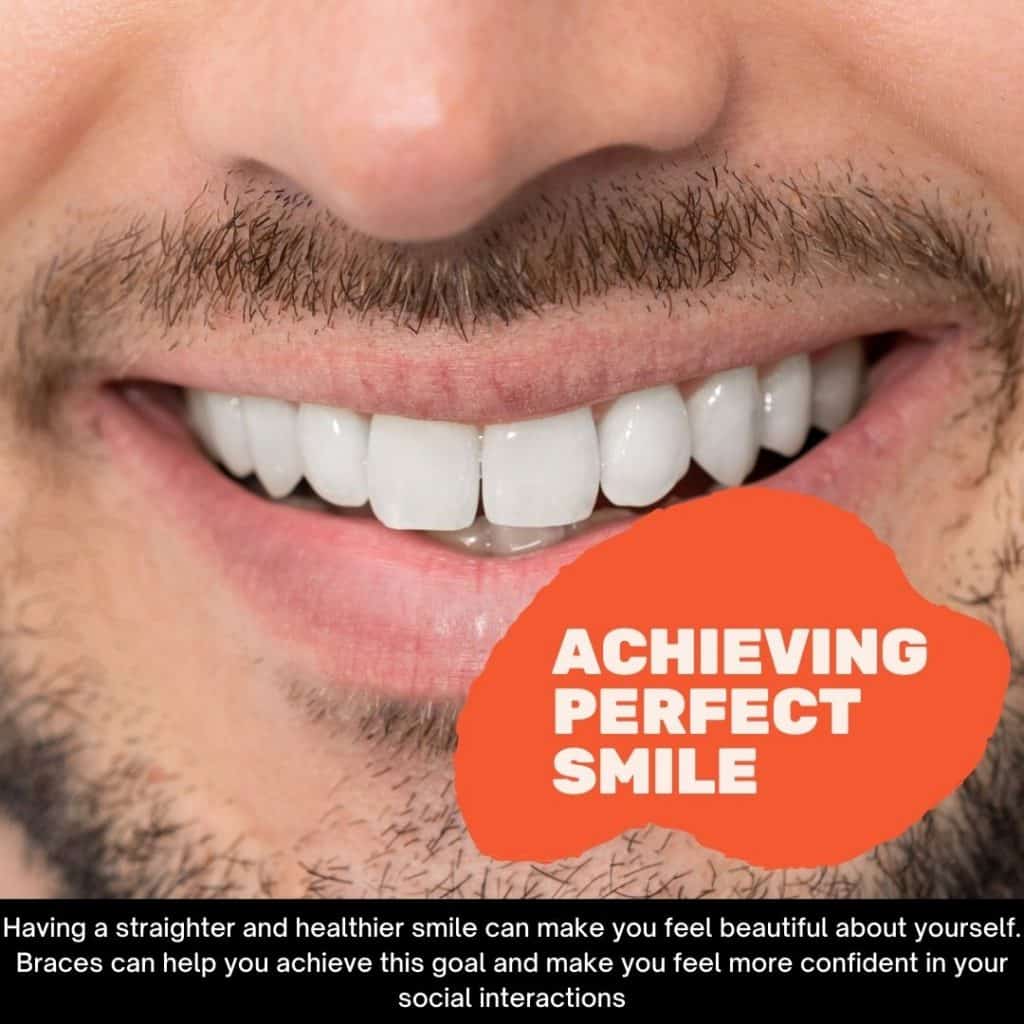 More Benefits Of Braces
Braces address several dental issues like deformity, a bad bite, and crooked teeth while offering numerous benefits associated with oral health.
Straight teeth are not the only benefit of orthodontic braces; there are other significant benefits and usefulness of braces.
1. Prevent Gum Disease
Increased possibility of gum infection occurs when spaces between teeth are small, and food particles are stuck into them.
Fortunately, with the straightening power of braces, your teeth will be properly spaced, leading to easier brushing and flossing. Hence, reducing the risks of gum diseases.
2. Prevent Tooth Decay
Tooth decay is the main issue of bad oral hygiene. Poorly cleaned teeth cause bacteria to gather in tiny spaces of overcrowded teeth that promote acid production.
This acid then multiplies and wears out the enamel of teeth, causing tooth decay. This enamel is like a protective film for your teeth which is necessary for oral health(7).
Braces facilitate proper positioning of teeth leading to better oral health and preventing the complications of tooth decay. 
Also Read: What To Eat For Breakfast With Braces
3. Prevent Cavities
Cavities are treatable if found early but cause challenges when left to grow within the teeth.
Braces position your teeth in line, which helps to clean the mouth easily and prevent cavities. Thorough cleaning between small spaces of teeth ensures its health and longevity.
4. Help With Teeth Adjustments/Teeth Straightening
Braces add constant pressure on the teeth for extended periods where the jaw starts to adapt to the pressure, making teeth straightened and aligned gradually.
Braces help to align the teeth and adjusting them to their positions properly. It also helps to improve dental health.
5. Help with bad bites
A bad bite causes difficulty in eating and chewing, making your jaw tired, and causes more health problems such as malnutrition and tooth loss.
Braces assist in realigning the upper and lower parts of the mouth, preventing these problems in the long run.
Also Read: Best Soft Foods to Eat with Braces at Home, School, or Office
6. Help In Speech Improvement
Misaligned teeth affect the pronunciation of words. Air or saliva can pass through poorly aligned teeth while speaking, causing much embarrassment to the person.
Having straightened teeth through braces will improve the sound of your words, making you more self-confident in your interactions.
Commonly Asked Questions
It is natural for a person to be inquisitive while getting braces installed. Here are some commonly asked questions about braces that can help your curious mind:
When Do Teeth Start to Straighten with Braces?
You start noticing a change within four to six weeks. After few months, there will be a visible change in your teeth.
Whenever you readjust your braces by your orthodontic, you will notice straighter and aligned teeth.
Do Braces Move Your Teeth Every Day?
In a literal sense, yes, braces move your teeth every day. You can notice minor shifts in your teeth almost after four weeks.
Greater shifts are more visible after 2-3 months.
What Age Is Best for Braces?
It is never too late for an adult to get braces. Modern orthodontic techniques offer braces for every age. The procedure for getting braces in adults is the same as in children(8).
But teens and children get faster results as their growing jaw is easy to control. Adults may have to wear braces for a bit longer time depending upon their teeth condition.
What To Take Away?
Braces are designed according to one's unique needs to provide beautiful smiles. But being committed to your treatment is a prerequisite for it to be successful.
The decision to get braces installed can be due to aesthetic or even cosmetic reasons, but misalignment or deformity is far more than just appearance. A single wrongly positioned tooth can cause many dental problems, which should be addressed at its earliest.
Braces offer a wide range of benefits that extend beyond a picture-perfect smile. It helps in improving dental hygiene as well as enhance the quality of your life by boosting your confidence about your look.
Do not forget to comment below to share your thoughts about the importance of braces.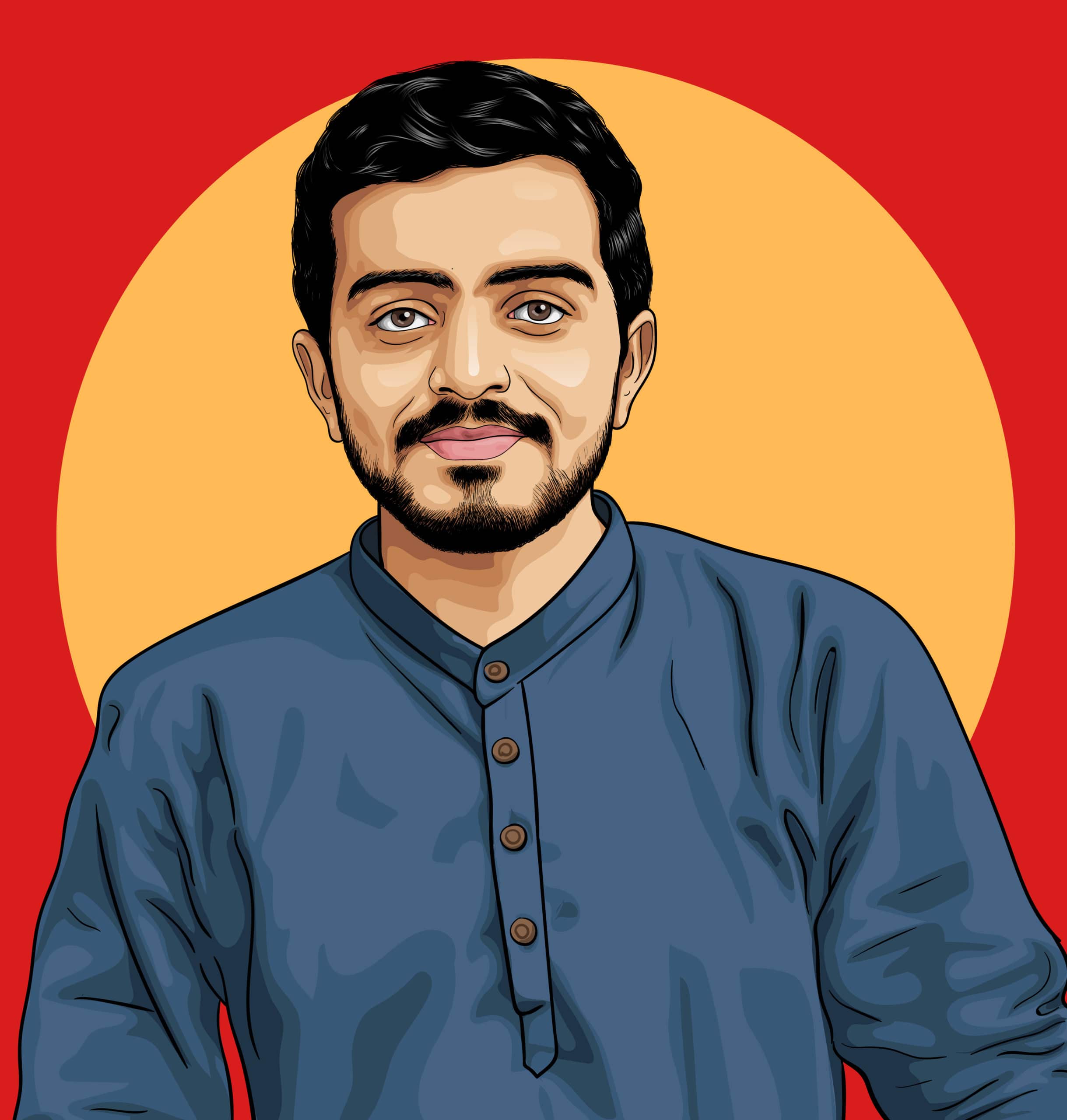 Tauseeq Magsi is the owner of Foodi ideas and a digital marketer but he loves to learn about health, food, and nutrition and he is just crazy to share his findings with you guys about it.