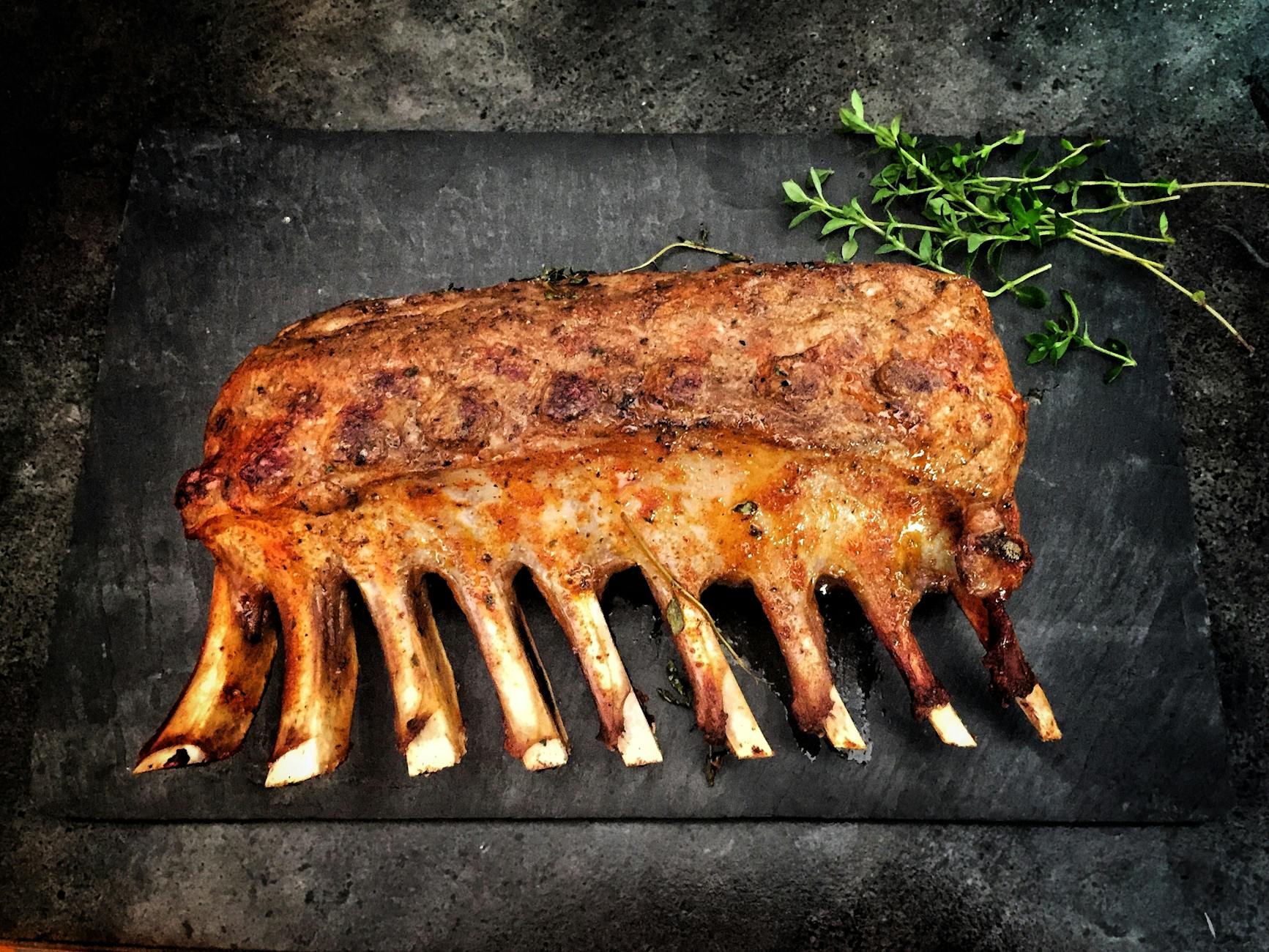 Tomahawk Steak is a juicy on-the bone piece of meat cut from the center of the fore-rib that imparts great flavors from the great bone when cooking, thus, providing a sweet gelatinous flavor. This steak is called a tomahawk steak because it comes with a long bone and thus is similar to the single-handed axe.

You can ask the butcher to cut the perfect tomahawk steak for you. As an alternative, you can also cut the right tomahawk steak after on your own watching the below video.
Tomahawk steak price:
You can get a prime grade tomahawk steak $49.99/lb from your nearest butcher's shop.
Also read: 3 Tips For Mung Beans Recipes You Can Use Today
How to cook Tomahawk Steak:
Cooking tomahawk steak asks for proper attention. In order to cook the tomahawk steak in the right way, you need to follow these steps:
Take a grill and heat it to the highest flame.
Also, preheat oven to 375 degrees.
Subsequently, use salt and pepper to season the steaks thoroughly. It will take a generous amount of seasonings to season the thick steak.
Next step is to put the steak on heat for around 3 to 4 minutes. Easy releasing of the steak after flipping indicates its readiness.
Afterward, put the steak on a baking sheet. Then keep it in a preheated oven for around half an hour.
Finally, take it out and allow it to rest for about 10 minutes prior to slicing.
Note: Let Tomahawk steak rest for about 10 to 15 minutes every time after cooking to cherish its moistness to the fullest. One tomahawk steak can serve for two.

Adding tomahawk steak to your diet provides you with an ample amount of protein and fats. Moreover, it is quite palatable and tasty to many people all over the world. Furthermore, it looks extremely great and, hence is a very appealing food. We've got some amazing and scrumptious tomahawk steak recipes for you here.
Dry Aged Tomahawk Steak:
Serves: 2
Ingredients:
2 tbsp. coriander seeds
1 tbsp. paprika (smoked)
2 tbsp. mustard seeds
3 tbsp. black peppercorns
100 grams olive oil
½ tsp garlic cloves
3 unpeeled shallots (split into halves)
Salt
Fresh cracked black pepper
2 tablespoons canola oil
One Tomahawk steak (dry aged and of prime grade)
2 cups watercress
4 tbsp. Roasting Spice
6 halves roasted shallots (warmed)
2 tbsp. extra-virgin olive oil
1 lemon
2 tbsp. balsamic vinegar/sherry vinegar
Fleur de sel
Salt (to taste)
Fresh cracked black pepper (to taste)
Procedure
First of all, preheat oven to 375 degrees for roasting the spices.
Put all the spices in a bowl and combine well by tossing. Subsequently, put the spices on a big baking sheet. Then toast it for around 10 to 15 minutes. Let the aroma come.
Next, put these spices in a grinder and grind until coarse. However, do not grind it too fine.
Now, preheat oven to 400 for roasting shallots. Along with a parchment paper line one big baking sheet and sprinkle it with olive oil. In addition, sprinkle it with seasonings also.
Put the halves of shallots on it and roast them until tender. It will take around 30 to 40 minutes.
Subsequently, heat an oven to 400° for making the beef. Heat it as well as add seasonings also. Let it cool to the room temperature. Also, use roasting spice to season all the sides.
Now heat the oil in a big roasting pan over moderate to low high heat.
Place the steak in the pan once it got smoky. Start roasting it.
Caramelize the beef over moderate to high heat by flipping it repeatedly.
Put garlic, herbs and butter in it after caramelization. Let it grease for 2 minutes.
Put the beef onto a rack for roasting and oven cook it until the inside temperature becomes 125 degrees. It will take about 10 minutes to temper the beef properly. Let it rest for 8 to 10 minutes.
Take another small bowl to make a salad dressing by combining vinegar, olive oil and watercress. Additionally, add salt and pepper also as seasonings.
Cut the steak crosswise to have 6 larger slices of it. After slicing, make use of fresh cracked black pepper and fleur de sel to season it.
Finally, dish it out and garnish with the shallots, lemon and watercress.
 Tomahawk steak and roast tomatoes with rosemary:

Eating meat with roasted vegetables is always a smart way to maintain health and good taste at the same time. Keeping this in mind, the following recipe meets your requirement of having a healthy yet delicious dish.
Serves: 2
Ingredients
1 tomahawk steak
2 garlic cloves (finely sliced)
1 tbsp. olive oil
A bunch of chard leaves (trimmed and coarsely chopped)
Roast tomatoes with rosemary
250 gm truss tomatoes
1 red onion (wedges
½ cup rosemary sprigs (leaves removed)
2 small red chilies (finely sliced)
1½ cup extra-virgin olive oil
Procedure
First of all, thoroughly season the tomahawk steak with sea salt as well as black pepper.
Then, grill it by flipping repeatedly over moderate to high heat. It will take around 40 minutes for thorough cooking. Subsequently, put the steak on a tray and let it rest for around 15 minutes.
In the meantime, place tomatoes in single layer in a heatproof pan to prepare roast tomatoes with rosemary. Subsequently, keep this pan on the grill. Alternatively, you can roast it in an oven at 200 degrees. Then, drain it and keep it warm.
Next, take a separate pan and heat olive oil over moderate heat. Afterward, put garlic and chard leaves in it and heat until wilted. Keep stirring it repeatedly. It will take maximum 4 minutes.
Finally, slice the steaks and serve them with roasted tomatoes.
Tomahawk steak with salsa verde:

Having tomahawk steak with salsa verde can be a great option for dinner. Salsa verde is a brilliant complement to your meal as it is a fine blend of herbs which is also having an amazing nutrition content.
Ingredients:
1 tbsp. truffle oil
3 sprigs of thyme
2-inch tomahawk steak
1 garlic clove
30 g herb and garlic butter
Sea salt (to taste)
To make the salsa verde
1 cup coriander leaves (coarsely chopped)
1 tbsp. dijon mustard
½ garlic clove
One anchovy fillet
1 ½ tbsp. truffle oil
One cup parsley leaves (coarsely chopped)
Sea salt (to taste)
1 tbsp. lemon juice
1 ½ tbsp. olive oil
Procedure:
To begin, preheat the oven to 180°C.
Afterward, rub both sides of the steak with a pinch of salt and truffle oil. Then place it in an oven-safe pan over moderate to high heat.
Next step is the caramelization. So, caramelize each side for 2 minutes prior to putting it in the oven for 12-14 minutes.
In order to prepare salsa verde, combine all the ingredients to a chopper and chop until mixed well.
Take the steak out of the oven and place it again on heat over moderate to high flame.
Then add butter in it with the addition of garlic and thyme. Melt them.
Finally, dish it out and let the steak rest for 5-10 minutes.
Note: you can also use some salsa verde as a spread on the center of the dish and place the steak on it.
Chargrilled Tomahawks in Herb Infused Oil: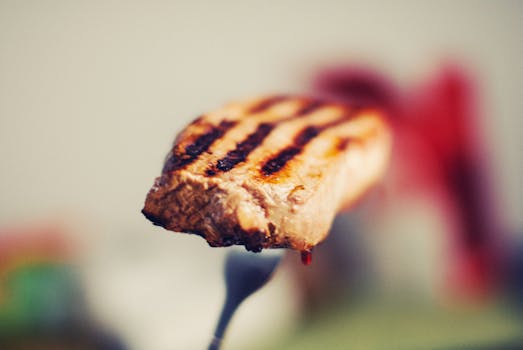 Using herb infused oil with tomahawk steak makes a healthy and nutritious meal. So, we brought this recipe to provide you with healthy tomahawk steak option here:
Ingredients
1 bunch thyme
1/3 cup olive oil
1 bunch oregano
4 x 400-450g tomahawk steaks
Salt and black pepper (for seasoning)
Procedure:
Initially, take a meat mallet to lightly bash the herb's bunches on a chopping board. Break off some leaves and sprigs also. Then tie the bunches together at the top by using a rubber band or a string. Make a big herb brush for basting the steaks through this.
Secondly, chop the loose herbs in a fine manner and put them in a small bowl. Also add salt, pepper and olive oil in it.
Next, heat a chargrill plate or a big frying pan over high flame.
Just before placing the steaks in the pan/plate, sprinkle half of the herb oil on both sides.
Then, cook the steaks by flipping repeatedly. It will take almost 5 minutes for thorough cooking.
Use the oil dipped herb brush for continuously brushing the steaks throughout cooking.
Now, take it off from heat and cover it with a foil. Keep it aside for around 5 minutes.
The last step is slicing the steak prior to serving and placing it on a dish.
Tomahawk Steak and Sautéed Spinach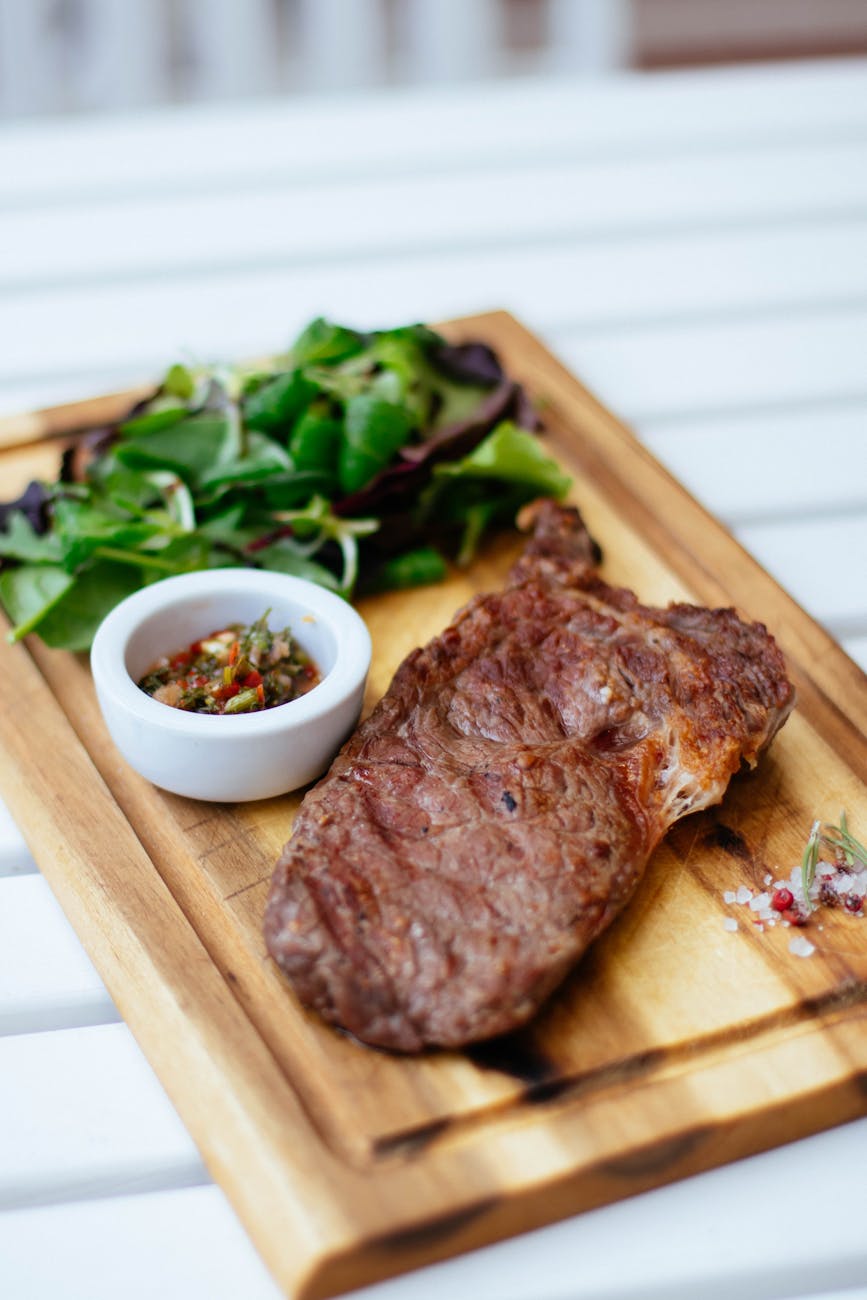 Having tomahawk steak with sautéed spinach enhances the nutrition profile of this dish. This is for the reason that, spinach is high in nutrients whereas low in calories. Moreover, it is also a wonderful source of iron and protein. Follow the recipe for having this amazing dish:
Ingredients:
tomahawk steak
Salt (for seasoning)
black pepper (freshly ground) (for seasoning)
Olive oil (for sautéing)
½ tbsp. minced garlic
2 cups baby spinach
Procedure:
To start, turn on the flame high and heat the broiler over it.
Secondly, drizzle salt and pepper over the steak.
Thirdly, place the seasoned steak in the broiler and cook it until the desired tender. According to estimation, it will take about 8 minutes for each side.
In the meantime, add olive oil in a saute pan and heat it until hot.
Then, add garlic and saute it.
Subsequently, add the spinach and saute until wilted.
Then season it with pepper and salt.
To end, dish it out and serve with the steak.
Also read: Swai Fish: 8 Healthy Swai Fish Recipes You Must Try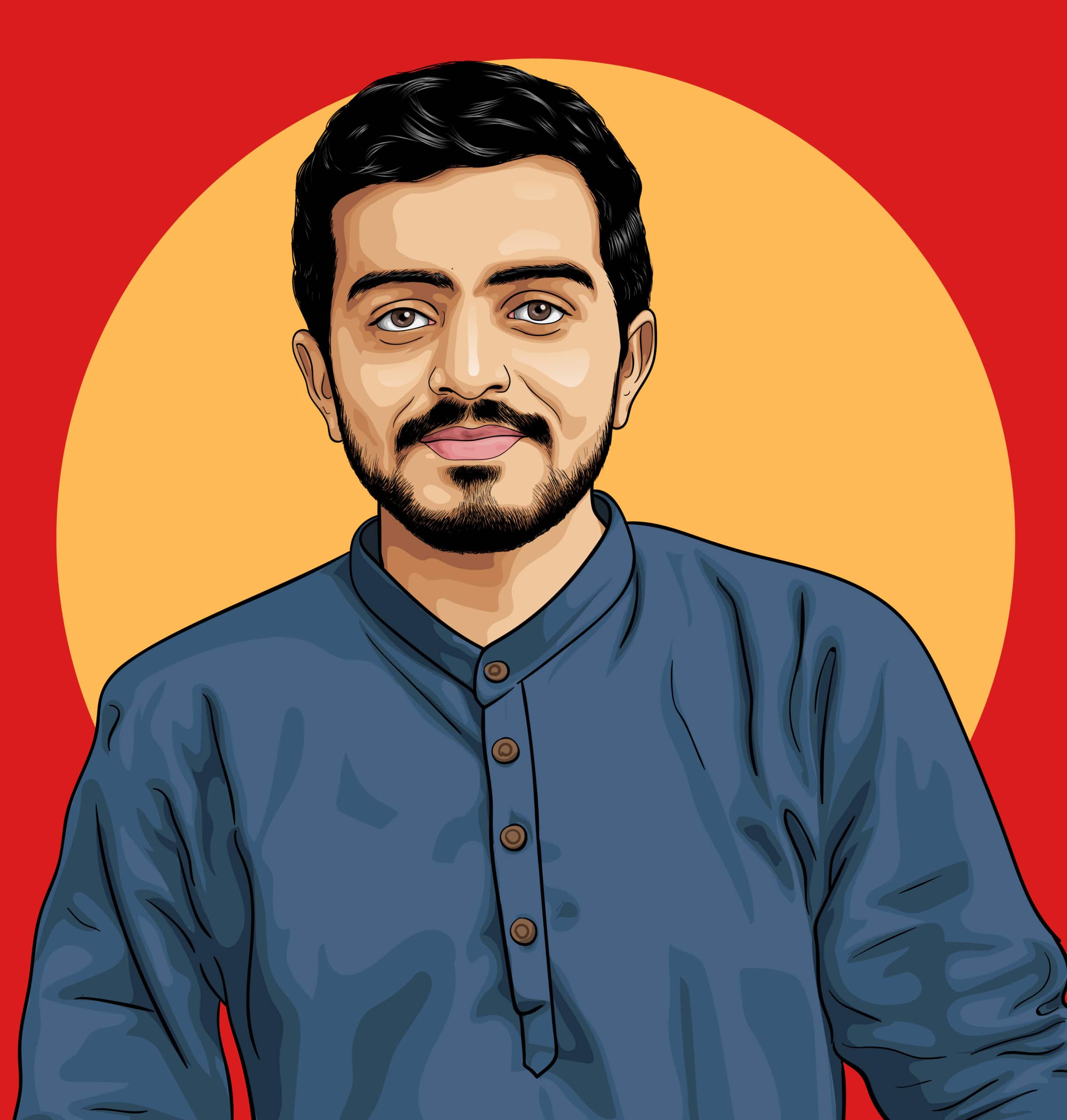 Tauseeq Magsi is the owner of Foodi ideas and a digital marketer but he loves to learn about health, food, and nutrition and he is just crazy to share his findings with you guys about it.