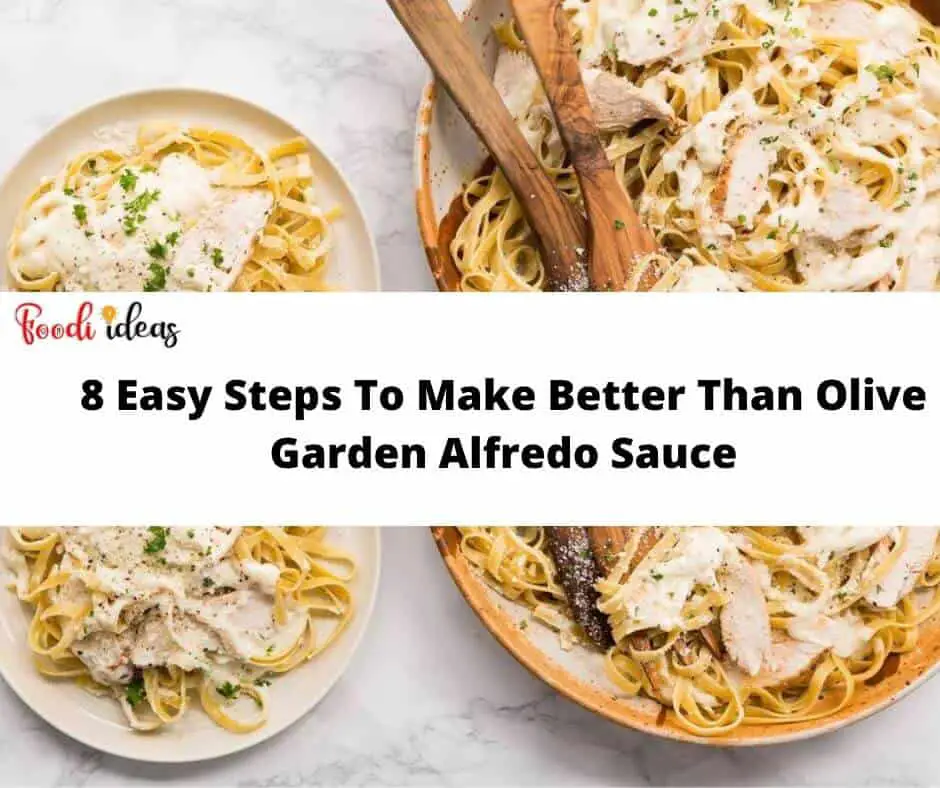 Whether you are planning a cozy dinner for two at home or throwing a grand tea-party, this Better Than Olive Garden Alfredo Sauce Recipe is a must to make!
Serve it up on a bed of Al-dente pasta or with a portion of grilled chicken and sautéed vegetables. Either way, this dish will be the talk of the night!
This brilliant recipe makes for a rich and flavorful sauce, which is, in fact, better than Olive Garden alfredo Sauce, especially when you get 10 times the amount served at Olive Garden for less than $15!
Read About: Alfredo Sauce Recipe With Milk – A Quick And Easy Method
It's a clear winner, you see!
Are you ready to unravel the secret and learn how to make better than Olive Garden alfredo sauce?
Well, keep reading!
Nutrition Facts
10 servings per container
---
Calories310
Amount Per Serving% Daily Value *
Total Fat 42.1g

65

%
Cholesterol 138mg

46

%
Sodium 565mg

24

%
Amount Per Serving% Daily Value *
Potassium 109mg

4

%
Total Carbohydrate 3.4g

2

%

Dietary Fiber 0.1g

1

%
Sugars 0.4g

Protein 13g

26

%
Vitamin A

34

%
Vitamin C

9

%
Calcium

48

%
Iron

5

%
Magnesium

9

%
Zinc

0.5

%
* The % Daily Value tells you how much a nutrient in a serving of food contributes to a daily diet. 2,000 calories a day is used for general nutrition advice.
Can I use mozzarella instead of Parmesan in Better Than Olive Garden Alfredo Sauce Recipe?
The answer to this question is, YES. You can use any cheese you like. Though each of the cheese has its own texture and flavor, but you can use either. Or even both!
Mozzarella is a soft, mild-flavored cheese, which will though add a mild flavor to your sauce but will give it that stringy, texture. This sort of texture goes perfectly well with different types of steaks.
Also Read About: Olive Garden Fettuccine Alfredo Pasta Recipe
On the other hand, parmesan is a hard, aged and flavorful cheese. It will give your sauce a burst of umami flavor. However, it won't make much of a difference in texture, hence best for when served with pasta.
Three products that can amp up your Alfredo sauce:
1. Hoosier Hill Farm Cream Cheese powder
This recipe calls for two heaping spoonfuls of cream cheese. And Hoosier Hill Farms cream cheese powder gives the right amount of creaminess and flavor that combines the whole dish together, gorgeously well!
Click HERE to get this from Amazon at a discounted price.
2. Julian's Valley Clarified Butter or Ghee
A fine quality butter is a must for making, better than Olive Garden alfredo sauce, hence we choose Julian's Valley Clarified butter. This is an all-natural, gluten-free butter. It will not only help give the richest flavor to your sauce but also help attain a velvety smooth texture.
Get it at a discounted price from Amazon by clicking HERE.
3. Fermentaholics: DIY Fresh Cheese Making Kit 
As mentioned earlier, the key to making an extraordinaire alfredo sauce is fresh produce. Especially, fresh cheese. Here's a DIY kit that makes amazing cheese at home, without much hassle. And guess what, 30 minutes is all it takes! Click HERE to get it from Amazon at a discounted price.
Read About: Authentic Italian Chicken Pasta Recipe
Conclusion:
Now that you have learned how to make better than Olive Garden Alfredo sauce, go and try it out and let us know how it turned out for you in the comments section below and rate our recipe as well.
Also, try out our Olive Garden Fettuccine alfredo recipe, if you are looking for comfort food recipes, without having to waste your money and time, ordering out!
Stay tuned for more knock off recipes!
For the past three years, I have been consciously making efforts for a healthy lifestyle, and I must say it has done wonders! From the better appearance, energized body to a peaceful soul, It has helped me attain it all and Now I am here at foodiideas with all my expertise and experiences. Read More…